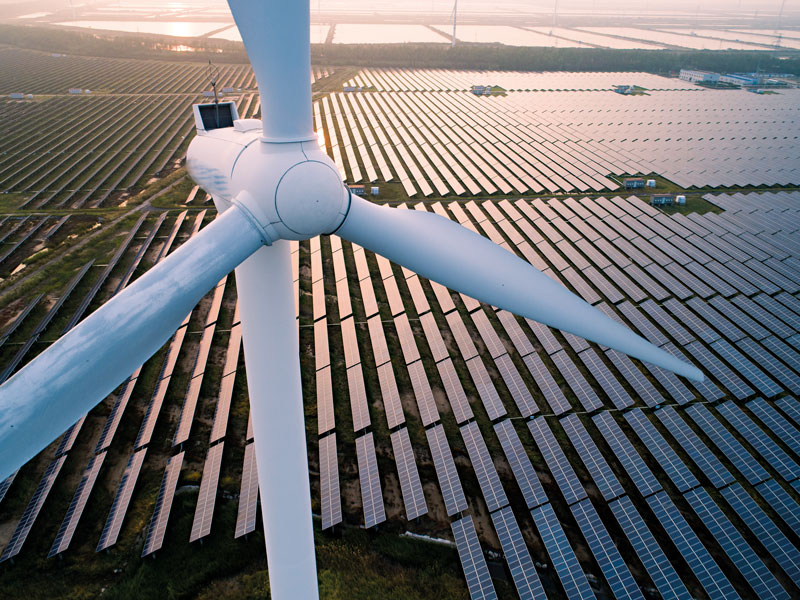 &nbsp
Sustainability is not a separate strategy at KBC Asset Management, but an integral part of the overall workings of the KBC Group. As such, sustainability is embedded in KBC's corporate strategy, central to our relationship with our clients as we strive to offer them a unique bank-insurance experience.
We are convinced that our strategy – powered by our business culture and the contributions made by our people – is instrumental in earning, keeping and growing trust day by day. It's helped us become the 'reference' for sustainability in financial management in our core markets of Belgium, the Czech Republic, Slovakia, Hungary and Bulgaria. For us playing our role in society means responding to the expectations of all stakeholders, not only today, but also going forwards.
Investors expect the countries and companies in which they invest to have a positive impact on our society and the environment
At the heart of our sustainability strategy are three key ideas: boosting our positive impact on society; limiting our negative impact on society; and encouraging responsible behaviour among all our employees. We make a positive impact partly through ensuring that our sustainability strategy focuses on local communities and economies.
We are conscious of the impact of our operations on society and respond to societal needs and expectations in a balanced, relevant and transparent manner. In doing so, we acknowledge the special approach required in each of the local economies of our core markets.
When it comes to mitigating our negative impact on society, strict sustainability policies and guidelines enable us to address challenges close to home and further afield. On the one hand, we're working hard to reduce the environmental footprint of our business, with actions such as switching to 100 percent renewable energy in 2021, installing solar panels on more and more of our buildings, and incentivising low carbon travel for our employees.
Responsibility as a philosophy
Looking beyond our own front door, our attitude towards responsible investments continues to effect real change. This philosophy has been part of KBC's make up for a long time now, having launched the first Responsible Investing fund in Belgium in 1992.
Since then, we have regularly brought new solutions to the market, with our methodology becoming increasingly stringent as the years have gone by. KBC Asset Management was the first financial institution in Belgium to have its own Responsible Investing research unit. We endorse the six UN Principles for Responsible Investment and have enshrined them in our general investment policy – incorporating ESG issues into investment analysis and decision-making processes, and promoting acceptance and implementation of the principles within the investment industry, to name just two.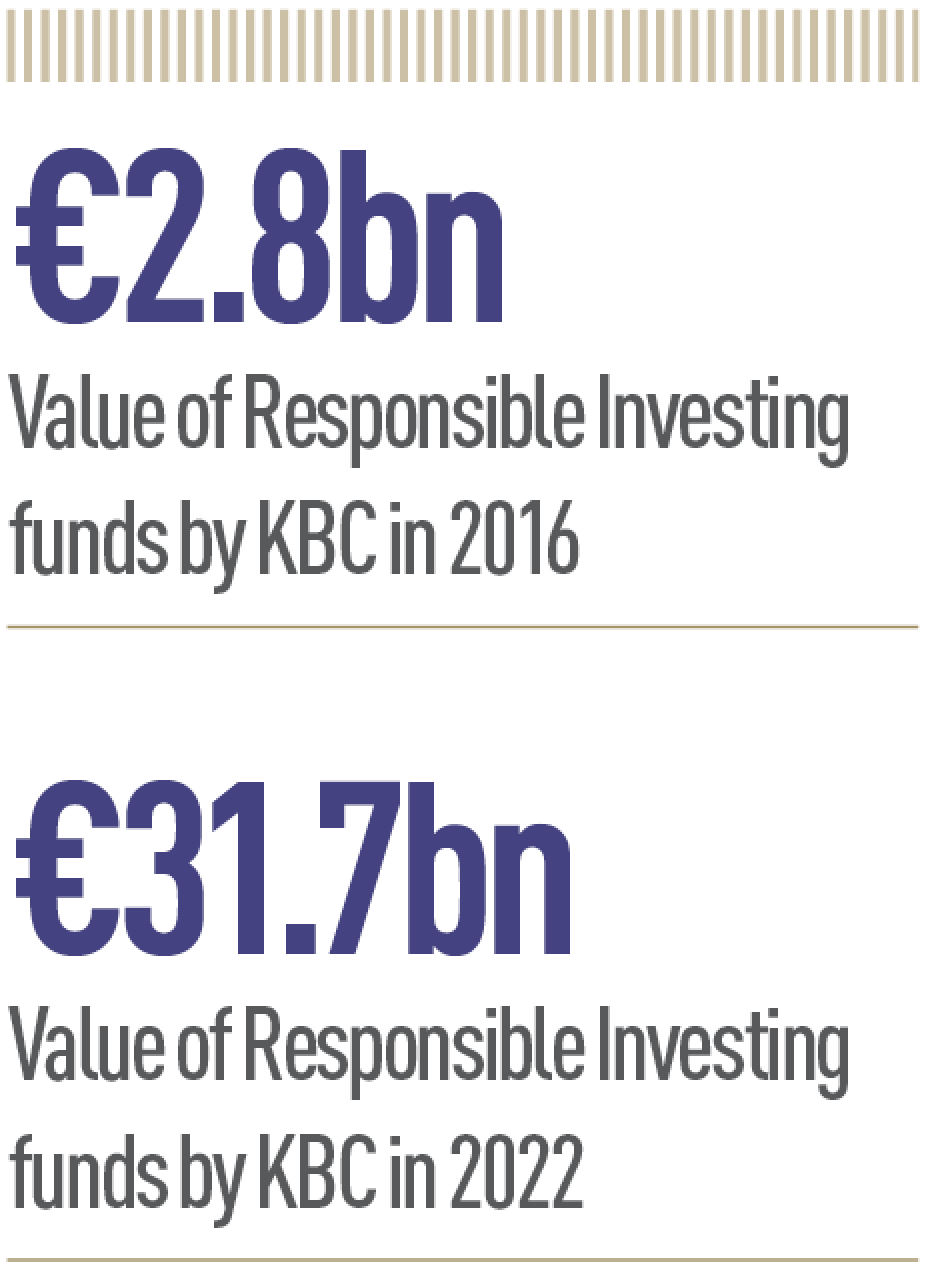 We are proud of sustainability milestones such as the fact that all our Responsible Investing funds have been fossil fuel-free since November 2017. In addition, in May 2018 KBC launched Pricos SRI, the first Responsible Investing pension savings fund on the Belgian market. And in 2019, all our Responsible Investing funds in Belgium obtained the 'Towards Sustainability' label, an initiative of Febelfin (the Belgian Financial Sector Federation).
To service our clients in the best possible way, KBC offers a wide variety of Responsible Investing solutions, ranging from traditional Responsible Investment funds and Thematic funds, to the Impact Investing funds. Responsible Investing funds invest in companies or countries that – compared to peers – are the best performers in terms of sound corporate governance, the environment and social themes. Thematic investment funds, on the other hand, invest in companies active in areas such as climate change, the looming shortage of potable water or the quest for alternative energy sources. The third category, Impact Investing funds, invests in companies whose goods and/or services demonstrate a clear positive influence on our society. We look, in other words, for companies that make it their core business activity not only to generate a financial return, but also to contribute positively to society or the environment.
Credibility is another core value. Our sustainability policy and criteria are therefore monitored by the Responsible Investing Advisory Board, which is fully independent of KBC. The body consists of leading academics who are experts in fields like human rights, business ethics, biology and ecology. Operating in a personal capacity rather than representing the institutions at which they are employed, our board members decide which screening methodology we should use and set the criteria for rating the companies we are considering making investments in. They also ensure that screening is complete, thorough and accurate, with board meetings taking place quarterly to enable us to be as responsive as possible to changing circumstances.
Changing expectations
Over the past five years, KBC has systematically strengthened its sustainability policies, taking into account society's constantly changing expectations and the growing body of research that demonstrates unequivocally how burning fossil fuels contributes to global warming. It was this process of learning and adapting that led us to divest completely from fossil fuels in all funds – not just RI funds – this year, with other examples being our new negative screening criteria around palm oil for RI funds and tobacco, thermal coal and human rights policies for all funds.
We will continue to make these changes when required going forwards, thereby maintaining our position as reference in the market regarding sustainability. Responsible Investing is not just another trend – it is here to stay. In addition to financial returns, investors also expect the countries and companies in which they invest to have a positive impact on our society and the environment. KBC Asset Management pursues an active policy of proxy voting and engagement. By exercising the rights attached to shares held by the investment funds and by making its voice heard at the annual general meetings of these companies, KBC aims to defend the interests of its clients and investors. KBC Asset Management applies this active voting policy to several different themes, recognising that business, corporate governance and sustainability issues all determine the value of a company in the medium and long term. All these factors can have a significant impact on value creation or the return enjoyed by clients and investors. In 2021, we participated in 351 general meetings and voted on a total of 4,165 resolutions.
Responsible Investing is becoming the new standard at KBC, the choice for 64 percent of new investments by Belgian clients in 2021. In the first quarter of 2022, it was as high as 74 percent. RI funds are now the first option offered to clients, with the result that assets under management have risen considerably over the last few years. We're even promoting our Responsible Investing solutions via digital channels, with Kate, KBC's virtual assistant, helping our clients navigate investment options remotely.
Since 2021, the KBC Pension Fund in Belgium (Pricos) has consisted entirely of Responsible Investments, while as a group our total investment in such funds has grown from €2.8bn in 2016 to €31.7bn. Since the launch of the first Responsible Investing fund in 1992, we have broadened our offer and refined our methodology, for example our recent decision to exclude fossil fuels from all our funds.
New challenges
We are proud of our progress but we are not stopping there. New challenges are around the corner and, as always, we will be facing them head-on. Responsible Investing is a fast-changing environment due to its vast growth, its variety of approaches and its changing regulatory landscape. The introduction of the EU taxonomy for sustainable activities, which will establish a list of environmentally sustainable economic activities, and the ESG changes to the Markets in Financial Instruments Directive (MiFID), are just two of the challenges we face.
Anticipating these changes, we have created a vision that is based on two pillars. The first is the introduction of KBC Asset Management's 10 Principles of Responsible Investing. The ambition behind the principles is to ensure that KBC can explain, in a comprehensive way, where it stands when it comes to Responsible Investing, taking into consideration landmark regulations like Sustainable Finance Disclosures Regulation (SFDR), the Task Force on Climate-Related Financial Disclosures (TCFD) and ESG in MiFID.
We are also introducing a new Responsible Investing methodology, setting a high standard that is aligned with the new regulations and the 'Towards Sustainability' label in Belgium. The new methodology will enable us to better integrate climate change mitigation measures in Responsible Investing assessments, and to promote Responsible Investing while leaving sufficient room to integrate the risk and return preferences of our clients. All these actions will allow us to act even more in the best interest of our clients and their needs. We are ready for the future.