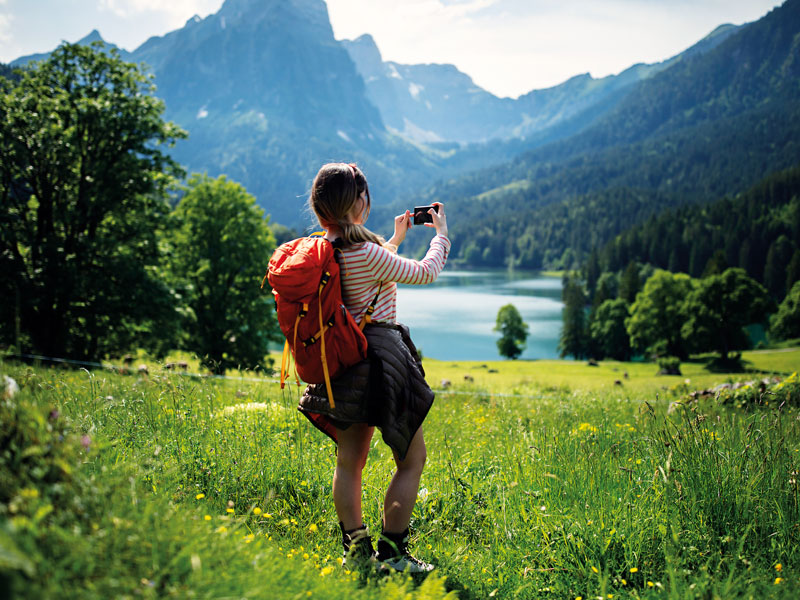 &nbsp
As Switzerland's leading ICT company, Swisscom aims to exploit the opportunities of the digital transformation for the country's prosperity, but also to minimise potential risks and help shape the future. To this end, we promote digital skills in the wider population, protect the climate, advocate fair and climate-friendly supply chains and maintain a reliable, high-performance ICT infrastructure.
Embracing sustainability
Swisscom has been committed to sustainable business practices for over 20 years. Our journey began in 1998, when we became the first telecommunications company to receive ISO 14001 certification for our environmental management system.
Embracing our responsibilities towards the environment in this way kickstarted a chain reaction that led to many achievements such as in 2010 when we sourced 100 percent of our electricity from renewable energy sources. In 2014, we followed up by opening one of the most modern and energy-efficient data centres in Europe, at Berne-Wankdorf, a building whose eco-innovations include being integrated into the city of Berne's heating network, so that its waste heat can be used directly to heat neighbouring homes and offices.
In 2016 we were among the first global companies – today there are well over 1,000 firms involved – to commit to an emissions reduction path based on the Science Based Targets initiative (SBTi) in line with limiting global heating to a rise of no more than 1.5 degrees Celsius above pre-industrial levels. We were proud to meet and exceed our initial targets, and continue to engage with the initiative to this day.
In 2018 we introduced energy-efficient cooling systems for our mobile base stations and in 2020, as our operations became climate neutral, we were named 'Most Sustainable Company in the Telecommunication Industry' in the World Finance Sustainability Awards. As of 2021, we have 80 electric vehicles in operation as part of our 2,400-strong fleet, an important first step on the road to switching to zero-emission mobility by 2030. Elsewhere in the business, our entire network went climate-neutral earlier this year – all calls, streaming and surfing on the Swisscom network by Swisscom customers are now automatically climate neutral, at no extra cost.
When it comes to other aspects of the drive for greater sustainability, achievements include the launch of our 'schools on the internet' initiative in 2002 – since then we have helped over 5,000 schools get online, free of charge. First and foremost we support children and teenagers but also their parents and teachers in dealing with risks and opportunities on the internet.
We have a wide range of courses and initiatives set in place in order to address topics such as hate speech, cyberbullying but also the world of eSports. Our commitment to young people went one step further in 2012 with the launch of the Swisscom Mobile Aid programme, through which revenue from the recycling of donated old mobile phones helps disadvantaged children in the developing world. We've funded three million meals for children in need since 2012.
Going forwards
Swisscom's 'Sustainability Strategy 2025' contains three pillars – 'Ready for People,' 'Ready for the Environment' and 'Ready for Switzerland' – all with ambitious goals aligned with the UN's Sustainable Development Goals. 'Ready for People' will see us opening up secure and barrier-free access to the digital world for everyone in Switzerland.
By 2025 at the latest, the company will support two million people a year in using digital media – primarily children and young people. Swisscom actively promotes diversity and combats all forms of discrimination.
As a pioneer in climate protection, meanwhile, Swisscom is making a contribution to capping the global temperature increase at 1.5 degrees Celsius. 'Ready for the Environment' is our plan to become climate-neutral across the entire value chain – including supply chains or equipment from external partners – by 2025. Operational CO2 emissions will be reduced by over 90 percent compared to 1990. To achieve this, we are relying on 100 percent renewable energy, an emission-free vehicle fleet, heat pumps and, thanks to digitalisation, a climate-friendly way of working.
We are systematically maximising energy efficiency in our operations and supply chains in order to limit our CO2 emissions from our operations and supply chains to a total of 235,000 tons, which corresponds to a reduction path of well below 1.5 degrees Celsius. Any remaining unavoidable emissions from our value chain will be offset.
In addition, customers should be able to reduce their carbon footprint thanks to our climate-friendly ICT solutions. We aim to save one million tons of CO2 per year by 2025, a figure that corresponds to around two percent of all greenhouse gas emissions in Switzerland. We will achieve this by empowering our customers to reduce their own carbon footprint through our products and services, whether that's technology that allows them to participate in virtual meetings, thereby reducing the need for business trips, or IoT (Internet of Things) – supported services for the optimisation and remote monitoring of traffic, building technology and devices.
We are also driving forward digital product innovations: since 2022, business customers have been able to measure the ecological footprint of their employee mobility thanks to the 'Swiss Climate Challenge' and create incentives for a reduction by means of a challenge. We are also actively investing in digital climate-friendly technologies – such as Ecorobotix and Daphne recently.
Finally, our reliable, secure and climate-friendly ICT infrastructure forms the basis for competitiveness, added value and quality of life in Switzerland. As part of 'Ready for Switzerland,' we plan to have 50 to 60 percent of all homes and businesses connected with a bandwidth of up to 10 Gbps by 2025.
Only when everyone steps up and plays their part will the next generation inherit a liveable world. Here at Swisscom we're delighted to be leading that change.