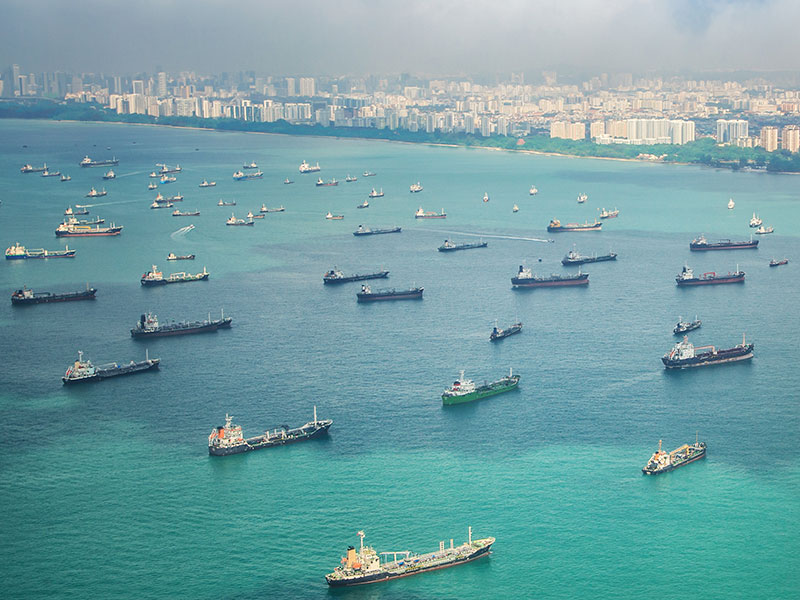 Cargo ships transporting oil to China and Singapore. China will benefit greatly from the Myanmar pipeline as it will no longer have to rely on unstable shipping routes for its crude oil imports&nbsp
On April 10, a new oil pipeline that will allow China to import crude oil from the Middle East without relying on politically precarious shipping routes was officially opened.
The pipeline, which has been dogged by years of delays, starts in Myanmar's Made Island and leads to China's Yunnan province. At its end point is a refinery built by PetroChina, which has been heavily contested and became the target numerous street protests. The agreement to build the link was signed in 2009, but it has since received substantial opposition in both Myanmar and China.
The long-standing absence of a viable sea route has remained a central issue for China as the world's greatest importer of crude oil
The pipeline is 771km long and is designed to have a transmission capacity of 22 million tons a year. The link could supply as much as six percent of Chinese crude imports once fully operational, while the refinery is built with the capacity to process 13 million tons of crude oil per year.
Operations began immediately following the signing of a transmission agreement, with a 140,000-ton tanker offloading crude oil at a port in Myanmar later that same day.
The pipeline is a part of China's broader economic and diplomatic strategy, named the One Belt, One Road plan, which looks to invest in infrastructure projects stretching across Asia to Africa and Europe. The pipeline is likely to be beneficial for Myanmar economically, as it will provide energy infrastructure that could be vital in the future. It also has the potential to provide the country with two million tons of crude oil annually.
"It may send a message to those countries that are still hesitating about whether to participate that the initiative is China's top national strategy and can bring economic benefits to participants", said Fan Hongwei, an international relations professor at Xiamen University, as cited in Bloomberg.
For China, the pipeline is a breakthrough. The country has for decades been heavily dependent on oil imports passing through the chokepoint of the Malacca straits and the politically contentious South China Sea. The long-standing absence of a viable alternative sea route was dubbed "the Malacca Dilemma" in 2003 by then-Chinese President Hu Jintao, and has remained a central issue for China as the world's greatest importer of crude oil.