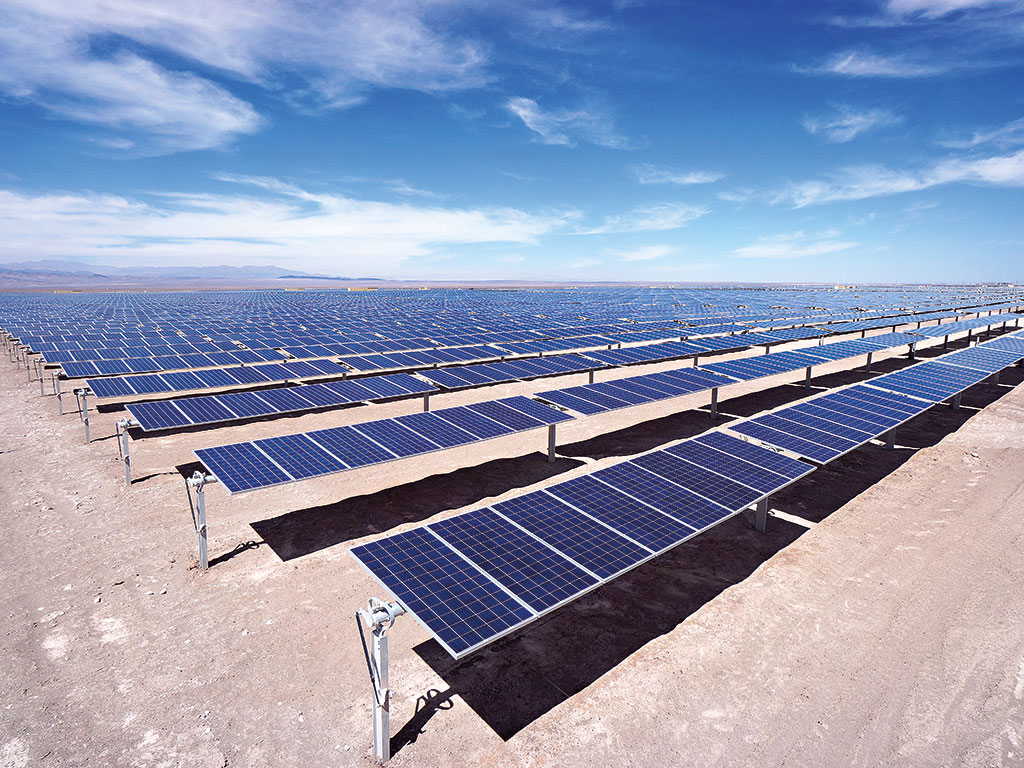 &nbsp
Solar energy costs have dramatically been reduced over the past year, up to a point where in many countries it is today cheaper to use solar power than to use electricity coming from traditional sources. This incredible milestone has been possible thanks to the contribution of pioneering solar energy companies such as SunEdison, and the support of governments all over the world that are aiming to cover a significant portion of their growing energy demand through renewable technologies. This is the case in Chile, a country that has recently announced its plans to produce 70 percent of its energy through wind, hydro, biomass and solar technologies by 2050.
SunEdison holds the distinction of being the largest global renewable energy development company. Founded in 1959, SunEdison has been active in the solar market for more than 55 years, and its track record serves to underline its reputation as one of the most important renewable energy developers of our time. Over the course of its existence, SunEdison has developed a vision of what the clean energy market should look like, and the Javiera solar power plant in Chile is perhaps the clearest indication of how solar energy can compete alongside traditional energy sources, even without subsidies.
The Javiera project is further proof of the ability of solar photovoltaic energy to compete with rival traditional energy sources in Chile
Systems in motion
Less than a year ago one of the biggest solar photovoltaic (PV) plants in Chile entered into its operational phase in the Atacama region. Today, the 69.5MW solar PV plant, known as Javiera, provides clean energy to Minera Los Pelambres, part of the largest privately held mining group in Chile, Antofagasta Minerals.
What's impressive is that in less than a year, SunEdison was able to clear all the permitting processes, find financing for the project, build it and operate it. Work first began on the project in mid-2014, when the Greenfield permitting and the negotiation of the Power Purchase Agreement (PPA) started. Then, on September 3 2014, the agreement between Los Pelambres and SunEdison was signed for the long-term sale (20 years) of clean energy.
Taking a closer look at the project, it's clear that one of its most remarkable aspects was its financing model. SunEdison exhibited unparalleled abilities in this space by creating bankable structures to finance projects portfolios and, to date, the company has facilitated almost $10bn in solar financing globally. It also has close relationships with major financial institutions – including multilaterals, commercial banks and ECAs – as well as equity funds, which has contributed some to its financial competencies.
In October 2014 at the same time as the construction process, SunEdison announced the closure of a $130m non-recourse debt financing arrangement with CorpBanca and BBVA. Javiera became the first solar project in Chile where only commercial banks were involved in its financing. This marked a milestone for SunEdison and, more than that, the solar industry in Chile overall. The company's previous projects in the country, including 100MW Amanecer Solar CAP, 72.8MW María Elena and 50.7MW San Andrés, all had the involvement of multilateral banks in their financing.
In Javiera's financing, CorpBanca acted as underwriter and mandated lead arranger, and also participated as administrative and onshore collateral agent, whereas BBVA acted as mandated lead arranger. Both of the lenders also provided a local Chilean Peso VAT facility to the tune of $30m.
Thanks to Javiera, SunEdison has reinforced its positioning as a leading renewable energy company in Chile with almost 300 MW interconnected. SunEdison's projects include the largest solar power plant in Latin America, Amanecer Solar CAP (Copiapó, Atacama), San Andrés (Copiapó, Atacama), María Elena (María Elena, Antofagasta), and Javiera (Chañaral, Atacama). SunEdison also has contracts in place to build an additional 350MW in Chile throughout 2016 and on into 2017, in order to provide clean energy to regulated clients.
SunEdison was able to arrange financing for all these projects by involving national and international financing institutions. In 2013 it reached a financing agreement with Amanecer Solar CAP with IFC and the Overseas Private Investment Corporation (OPIC) for $212.5m and San Andrés, also with IFC and OPIC, for $100.4m. Also, in June 2014, the company obtained financing for the Maria Elena solar PV plant with BID, OPIC and CorpBanca for $190m.
Multinational benefits
The Javiera project is further proof of solar photovoltaic energy's ability to compete with rival traditional energy sources in Chile, and demonstrates how clean energy technologies can contribute to the growing energy demand of the country's mining industry. This energy solution model is replicable in other industrial sectors and in other countries across the region, and it is this model that is fast changing the energy landscape in Latin America.
Chile's announcement to produce 70 percent of its energy through wind, hydro, biomass and solar technologies reflects that a renewable 'hybrid solution' model, which combines a number of different clean energy sources, is the path to benefit from clean energy 24 hours a day, seven days a week.
Latin America – especially Chile – is one of the countries where the 24/7 hybrid solution can be implemented, and even improved, which is SunEdison's goal. The company has a deep expertise both in solar and wind technologies. Projects like Javiera demonstrate the viability of solar energy in the region and, in this sense, SunEdison has positioned itself as a path-opener for a whole new world of possibilities that right now renewable energy solutions can offer.
The clean energy market is growing daily in Latin America, and the potential for participating companies and developers is huge. Easy access to cheaper, cleaner energy solutions is now a possibility, and we will no doubt be seeing more projects and successes like Javiera in Chile and worldwide as this realisation takes hold.