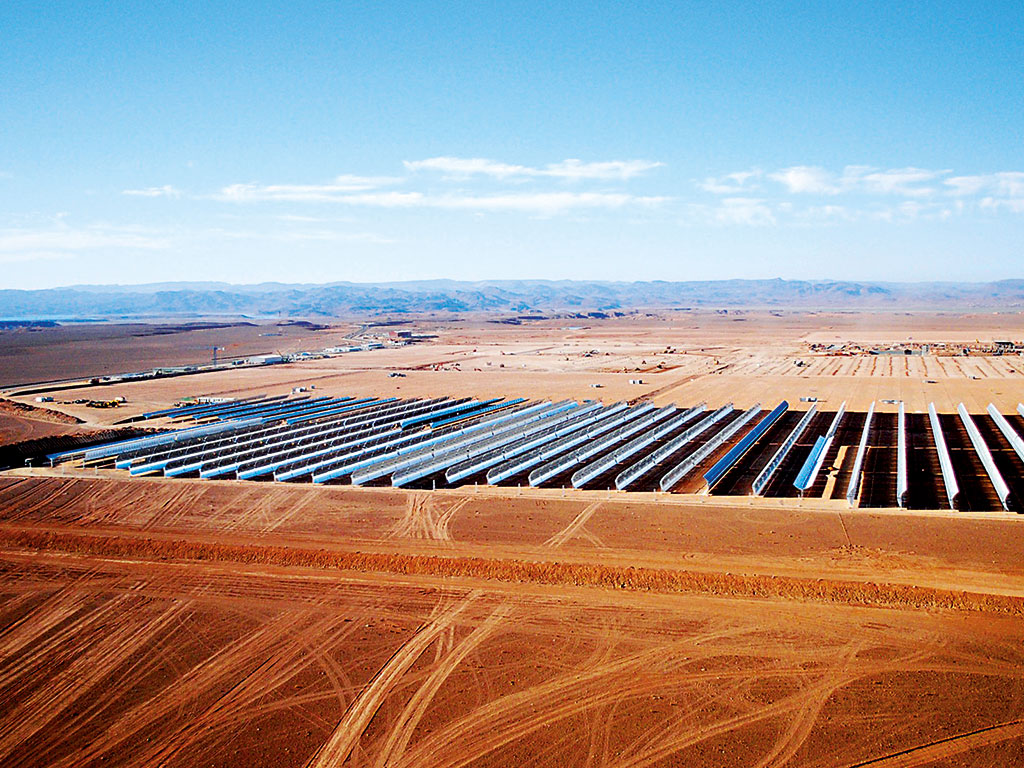 &nbsp
Confronted with energy demand increasing approximately six percent per year for the last 10 years and drawing on imports for 94 percent of its energy needs, Morocco has engaged in a sustainable development dynamic, focusing on renewable energy development. Blessed with strong hydro potential, wind sweeping in from the western Atlantic and substantial exposure to solar radiation, Morocco is well placed to make use of hydro, wind and solar power. According to the IAEA, it boasts a "natural advantage" and looks soon to become a regional leader in the renewables sector, buoyed by an ambitious government strategy to ensure that 42 percent of its energy stems from domestic renewables by the year 2020.
A key part of this initiative is the NOOR Ouarzazate Complex, part of the NOOR Solar Plan and the winner of the Project Finance Solar Deal of the Year. In all, the plan aims to install a minimum of 2,000MW in additional capacity, generating investments of more than $9bn along the way. The deployment of the NOOR Solar Plan will help Morocco meet its rising energy demands, greatly improve its energy security while addressing climate change issues. NOOR also follows an integrated and sustainable approach, through the support of a competitive industrial network, meant to maximise local industrial integration tied to the development of solar power plants, but also through the development of local solar-related R&D and skills.
Located in Southern-Central Morocco, Ouarzazate is best-known as a filming site for various desert-based movies and televisions shows, from Black Hawk Down to Game of Thrones
Masen, a joint stock company created in 2010 and consisting of 110 employees in both Rabat and Ouarzazate, oversees the NOOR Solar Plan. Through the successful implementation of NOOR, the company will act as a catalyst in the launching of other effective local development solutions, while also, through its commitment to environmental sustainability, providing a clear picture of responsible corporate citizenship. By keeping to the world's much-changed global energy landscape and the economic priorities set out by the Moroccan State, Masen aims to make good on the country's energy promise and, in doing so, further its economic and social development.
Door to the desert
Located in southern-central Morocco, Ouarzazate is best-known as a filming site for various desert-based movies and televisions shows, from Black Hawk Down to Game of Thrones. Yet its location, 1,160m up and in the middle plateau, south of the High Atlas Mountains and just north of the desert, makes it the perfect location for solar energy development. Known as the door to the desert, the area enjoys over 3,400 hours of sunshine a year and looks set to play a decisive part in Morocco's low-carbon transition.
For these reasons, Ouarzazate was the first site selected and qualified by Masen for the development of solar plants in the NOOR Ouarzazate Complex, and NOOR Ouarzazate I (NOORo I) represents the first of four. This concentrated solar plant (CSP) makes use of parabolic troughs, and has a capacity of 160MW, as well as three hours of thermal molten salt storage, which sees energy retained for later use. Covering 450 hectares and composing over half a million mirrors, NOORo I was, at the time of its launch, the largest parabolic CSP in the world in terms of capacity.
With NOORo I successfully under its belt, next on the agenda for Masen are three more projects. NOORo II will make use of the same technology, increasing both capacity and storage, with a 200MW gross capacity and a minimum of eight hours of storage; the 20,400 thermal solar collectors span a surface of 680 hectares. NOORo III will see new solar technology in the form of a CSP tower, which will provide an additional 150MW capacity and a minimum of eight hours storage time. Both NOORo II and III reached financial close in May 2015. Finally NOORo IV introduces further technological diversification, with the use of the photovoltaic methods, in which solar energy is converted into direct current electricity by using semiconducting materials and generating a maximum capacity of 70MW.
Enticing investors
Each of these projects have been developed within an innovative financial and institutional framework that has allowed for significant cost reductions, as well as risk allocation optimisation.
For the financing of NOORo I, Masen, with the support of the Moroccan State, has been able to mobilise more than €800m ($900.5m) of concessional financing from major international financial institutions, with the support of ONNE, which it then transmitted to the project company through equity and debt.
The NOORo I plant was developed in independent power producer mode based on a double PPA of 25 years duration. This scheme clearly outlines the risk allocation for each stakeholder. In order to entice developers and investors, Masen ensures the provision of land with a mechanism securing its ownership and it also undertakes the construction of the solar complex's infrastructure, , which it deemed essential for the proper operation of the plants. This process encompasses roads, reli- able access to electricity, drinkable water, telecoms, drainage, landline telephone access, security, and raw water infrastruc- tures. For the latter, Masen has connected the complex to the nearest dam, which is the first time such an initiative has been undertaken in Morocco.
Integrated implementation
Masen has been instrumental in encouraging Moroccan industry to learn more about the solar power plants' value chain and understand better the underlying opportunities it presents locally. By acquainting developers with the capacities of the Moroccan solar sector, the commitment to procure goods and services in Morocco for the construction of the first NOOR projects reached 30 percent for NOORo I and 35 percent for NOORo II and NOORo III.
Beyond the obvious benefits of added electricity generation, Masen aims to bring economic, social and environmental benefits to the local area. NOORo I, for example, saw the creation of 2,000 jobs in construction, 85 percent of which were for locals, while NOORo II and III are expected to employ around 3,500 people.
Looking to the future, Masen acts as the Moroccan solar industry's catalyst and co-develops with its partners the training and R&D capacities in educational institutions, with a view to nurturing solar power related skills and training. For instance, located within the Ouarzazate solar complex is the R&D Platform.
By contributing to the deployment of new solar capacity in Morocco, Masen has boosted not just the country's renewable credentials and energy security, but furthered sustainable development throughout. Its mission is to value solar resource in each of its aspects, which should help address Morocco's domestic energy needs, but allow it also to become a world leader in solar power; a sun-shining example to the world.