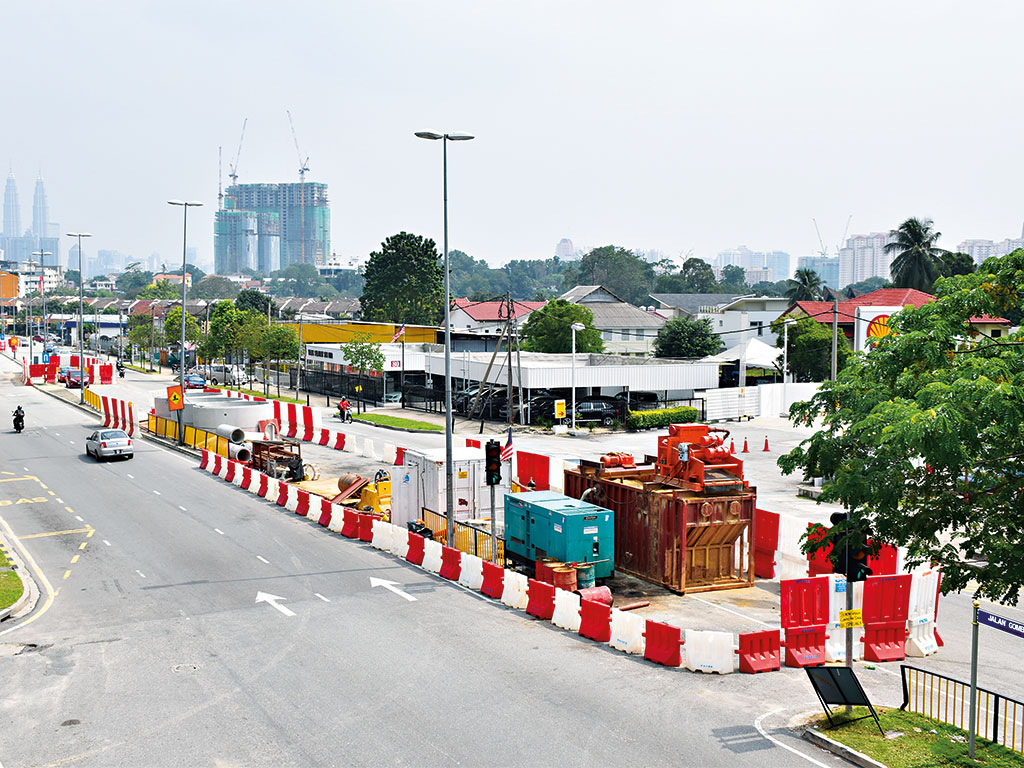 &nbsp
Malaysia's Puncak Niaga Holdings Berhad Group (PNHB), which was established in 1997, has become a leading integrated water, wastewater and environmental solutions provider in the region, as well as an emerging player in the oil, gas and construction sector. With a market capitalisation of MYR 1.23bn ($2.8m) and an employee base of more than 4,000, PNHB has done much to address the region's prevailing challenges and lay the foundations for future generations.
PNHB subsidiary Puncak Niaga (M) Sdn Bhd (PNSB) was founded by Tan Sri Rozali Ismail, one of Malaysia's brightest minds with experience in law, banking, water, and, more recently, construction, oil and gas. Not content with achieving the technologically advanced supply of treated water, Ismail later moved to take over water distribution in Selangor, the Federal Territories of Kuala Lumpur and Putrajaya in 2005. There he was forced to confront Malaysia's water supply issues, and Ismail and PNSB have resolved to improve the country's infrastructure deficiencies and, in doing so, ensure adequate and safe water for all.
In 2013, Jernih was put to the test when Typhoon Haiyan hit the Philippines and the water supply in several areas was completely cut off
A responsible enterprise
The company's ambitions and that of its subsidiaries are closely in keeping with its commitment to CSR, as the group strives to realise a sustainable and ethical way of doing businesses. Crucially, the group makes sure it gives back to the communities in which it operates, and supports a number of programmes and services intended to strengthen these communities. In 2014, the PNHB Group – including its subsidiaries – contributed MYR 4.3m ($98,000) to various CSR programmes via sponsorship and community care.
The River Rescue Brigade, for example, is a club that was founded in March 1998 by the PNHB Group's Executive Chairman, and was intended to educate the public, particularly children and young people, about the importance of preserving the environment. As of 31 December 2014, there were 9,905 members comprising of students from 480 primary, secondary and tertiary schools in Selangor, Kuala Lumpur and Putrajaya.
Tabung Budi, founded in 2010, is another CSR initiative focused on those in need of financial aid in and around the region. Throughout 2014, the programme reached communities under stress owing to water-related issues, and MYR 469,008 ($107,24) has been contributed as part of the said programme since its inception. In November 2013, the company participated in Pasukan ATM Untuk Misi Bantuan Bencana Alam at Tacloban, Philippines, in which the group delivered 'Jernih' field water purification system tanks to the areas worst affected by the Haiyan Typhoon, providing clean water for the victims. Again, at the end of last year, the group attended to flood victims in Kelantan and Pahang. Far from excluded to the above initiatives, the group's impressive financial performance and strong commitment to environmental and social preservation means that it is often seen as a major contributor to the region's continued development.
Completed projects
PNSB holds five water treatment concessions with the Selangor State Government and is today the nation's second largest water supply concessionaire, operating, managing and maintaining 29 water treatment plants with a combined capacity of 1.9 million litres per day. The company last year delivered 716.2 million m3 of treated water, and completed a string of plant improvement works. Over the course of the year, PNSB also initiated further projects in a bid to enhance operational reliability and efficiency, enabling the company to achieve some of its key performance parameters for water quality and production.
Under a separate concession agreement with the Federal Government and the Selangor State Government – another of PNHB's subsidiaries – Syarikat Bekalan Air Selangor Sdn Bhd (SYABAS) supplies treated water to consumers in Selangor, Federal Territories of Kuala Lumpur and Putrajaya, or 7.5 million users, including industrial and commercial users. SYABAS also undertakes the maintenance of 27.4km of water pipes, 1,561 service reservoirs, elevated water tanks and suction tanks and 632 booster pumping stations in the same areas.
Elsewhere, Puncak Niaga Construction Sdn Bhd (PNC), a wholly owned subsidiary of PNHB and the group's construction arm, has entered into its second full year of operation, undertaking several construction projects for PNHB.
Going back to 2010, under the Malaysian Federal Government's initiative to upgrade the living standards of the rural population of Sarawak, the company was awarded a contract worth MYR 422.6m ($96.5m) by Konsortium Puncak Niaga Holdings Berhad–Quality Concrete as per the state's Rural Water Supply Project.
Completed in February 2014, the project's benefits extend to 23,650 homes across six divisions in Sarawak, and have contributed to the supply of clean piped water to some 91,356 homes, increasing the water coverage of the state from 59 percent to 90 percent. In May of last year, the Malaysian Ministry of Rural and Regional Development appointed PNHB as the contractor for a project to upgrade the Bayong WTP at Sarikei, which includes the construction, testing and commissioning of a new 30 MLD WTP, a five million litre reservoir at Kim San, the upgrade of the existing raw water intake and the laying of 14 kilometres of new pipeline. Worth approximately MYR 97m ($22.1m), the project is due for completion this year.
Not long after, in June 2014, KKLW awarded PNHB a rural water development project in Pakan, Sarikei, encompassing the supply, jointing and delivery of pumping and gravity pipelines; the construction, testing and commissioning of three water reservoirs and booster stations at Pakan, Wuak and Engkamup; and the supply and installation of mechanical and electrical equipment. This MYR 53.4m ($12.2m) contract is scheduled for completion by September 2015.
In development
In 2014, the Malaysian Sewerage Division of the Ministry of Energy, Green Technology and Water selected PNHB as the contractor for Package D44, which leads to the construction of sewer pipe networks at Bunus, Kuala Lumpur.
This project includes the design and construction of sewerage works in the Bunus catchment area; the upgrade of two existing sewage pumping stations; the construction of seven new sewage pumping stations; the decommissioning of 73 or more existing sewerage treatment plants; construction of 600 new manholes; and the construction of new and extension of existing sewerage lines. Covering 72 square kilometres in Kuala Lumpur and Ampang Jaya, the MYR 394m ($90.2m) project is slated for completion in February 2018. In 2010, Prasarana Malaysia Berhad (Prasarana) awarded the Kelana Jaya Line LRT contract project, entailing the construction, completion and commissioning of a water and sewer pipe relocation works LRT extension.
At MYR 15.3m ($3.04) the project was originally slated for completion September 2011. However, additional requirements imposed by the local and utility authorities mean that the completion date was extended and the additional works completed in May of last year. Another project of note is a PNC collaboration with the Malaysian Armed Forces to develop Jernih units, which is a portable field water purification system capable of producing 3,000 litres per day of treated water, described as 'novel, efficient, robust, innovative and handy'. In response to recent floods, the company deployed five Jernih units to flood-stricken states, namely Kelantan and Pahang, to facilitate clean drinking water for affected communities. In 2013, Jernih was put to the test when Typhoon Haiyan hit the Philippines and the water supply in several areas was completely cut off.
PNHB's oil and gas division, meanwhile, is interested in the provision of services for offshore logistics and marine management. The company is now in its third full year of operation in the domestic transportation and installation market, having earned its credibility through effective and efficient project delivery for PETRONAS and its contract partners.
In 2014, the company supported the proposed restructuring of the water services sector in the state of Selangor, Federal Territories of Kuala Lumpur and Putrajaya, having signed a conditional sale and purchase agreement with the Selangor State Government for the proposed disposal of its entire equity interest, including its 70 percent in SYABAS. As a result the company can focus on expanding its existing oil and gas business, further develop its construction business and explore opportunities in new sectors and new locations.