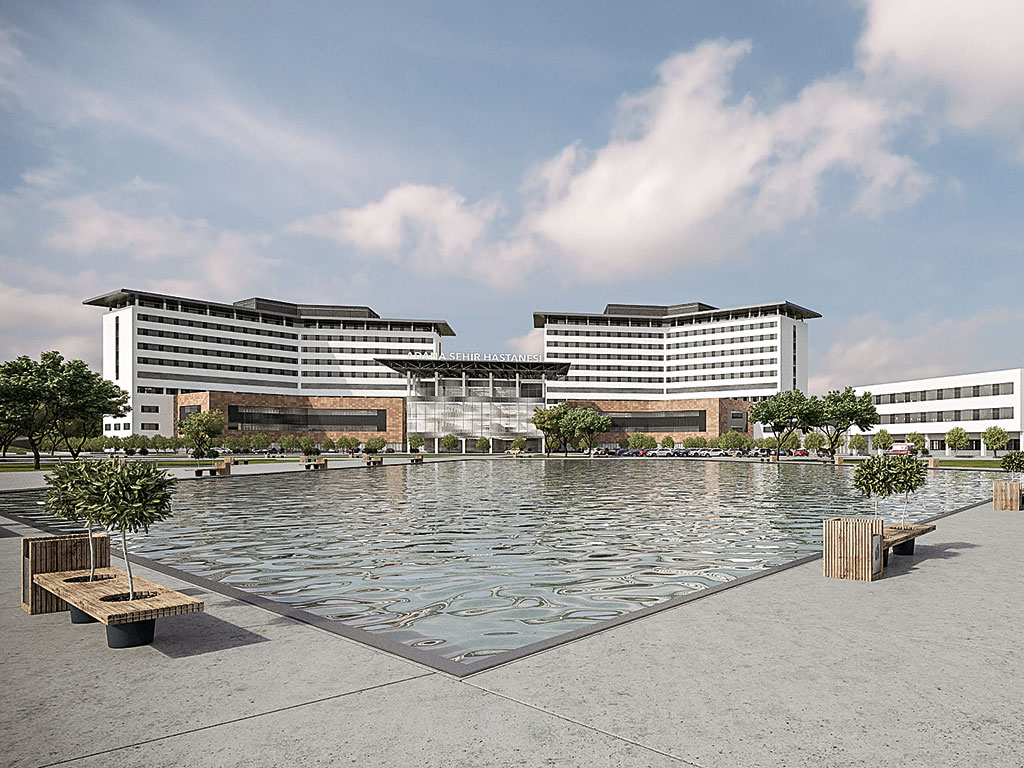 &nbsp
Over recent years, Turkey has become increasingly aware of the need to improve its healthcare infrastructure; the number of hospital beds for every 1,000 people in the country amounts to just 50 percent of the OECD's average, and demand is growing. With that in mind, the government launched a €12bn Healthcare Transformation Programme in 2003 in order to improve, modernise and expand its hospital infrastructure across the country through public-private partnerships (PPP).
It took some time for that to take off, however, and in December 2014 Turkey's healthcare sector achieved its first financial close of a PPP project; the Adana Integrated Healthcare Campus (IHC) – helped along through backing from the European Bank for Reconstruction and Development (EBRD). The €542m hi-tech hospital, which has been under construction since March 2015, is set to take three years to build and will be leased to the Ministry of Health under a 28-year concession.
Improving the quality of essential infrastructure through private sector participation is one of the EBRD's priorities in Turkey
Private eye
Under the innovative PPP model, private developer ADN PPP Saglik Yatirim – comprised of a consortium of Turkish and global companies – will provide some of the financing and manage the design, construction, facilities and maintenance, while the Ministry of Health will be responsible for its medical services. The consortium includes Turkish infrastructure company Rönesans Holding, SAM, TTT, Sila and international leading infrastructure firm Meridiam, which will see its first foray into Turkey, and which will become the first global investor and asset manager to finance a PPP project in the country.
A further nine financial institutions will provide the rest of the funding through a €433m long-term package, with the International Finance Corporation, Germany's development bank DEG and French development institution Proparco providing combined parallel financing of €120m. EBRD, Siemens Financial Services, BBVA, HSBC, Sumitomo Mitsui Banking Corporation and Korea Development Bank will supply the rest of the debt facility. Among those, EBRD will be the largest lender, providing €100m through its A loan, syndicated to commercial banks for 15 years, and €115m through its 18-year maturity B loan.
The EBRD believes the PPP model will ensure a higher-quality service at all stages of development and operation. "The partnership between the public and the private sector will deliver better hospital facilities for a community of almost two million people living in Adana," said Jean-Patrick Marquet, EBRD Director for Municipal and Environmental Infrastructure. "The arrangement allows the Ministry of Health to focus on what it does best – providing healthcare – while working with private investors doing what they do best – raising finance, and designing, constructing and managing what will be a state-of-the-art hospital facility." According to the EBRD, the project will ensure better value from an all-in cost service perspective than public funding might, guaranteeing high-quality and efficient equipment, medical technologies and overall business practice and monitoring.
The new health complex seeks to meet growing need in the Adana area – a city located in the southeast of Turkey – providing 1,550 additional hospital beds in the region. It will be located in the Yuregir District, where it's set to spark other infrastructure development, including the construction of a new access road.
Spread across more than 250,000m2, the campus will house a general hospital (with 584 beds) alongside a 349-bed women and children's hospital, a 185-bed cardiovascular hospital, a 182-bed oncology hospital, a 150-bed physical medicine and rehabilitation hospital, and a 100-bed forensic psychiatric hospital. "Designed as an integrated campus, the project will deliver a full range of healthcare services with state-of-the-art equipment in a single location, thereby affording patients in the region efficient access to high-quality healthcare", said infrastructure firm Meridiam.
The project's potential environmental and social impact has been put as a top priority, with an Environmental and Social Impact Assessment (ESIA) carried out which looked at effects on biodiversity, noise, geological impact and other factors. The campus was shown to be in accordance with the EBRD performance requirements, as well as Meridiam's ESG requirements, the IFC performance standards and the World Bank's Environmental, Health and Safety Guidelines. A stakeholder engagement plan was drawn up in October 2013 based on meetings with NGOs, government authorities and a public consultation meeting on the draft ESIA.
Growing PPP trend
The EBRD hopes the project will inspire other PPPs and concession contracts to unfold across Turkey. The bank has been collaborating with the Ministry of Health over the past couple of years to encourage more cooperation between the private and public sectors, and its participation in the Adana project has already, as intended, helped to attract other private investors, including infrastructure funds – most notably from Meridiam.
"By supporting – both through investment and advice – Turkey's vast programme of hospital-building under a PPP scheme, we want to promote the role of the private sector in developing and financing these essential infrastructure projects", said Michael Davey, EBRD Director for Turkey. "Improving the quality of essential infrastructure through private sector participation is one of the EBRD's priorities in Turkey", the bank added. Under the Health Transformation Programme, the Turkish government aims to create 30 new health complexes across 22 provinces while expanding existing hospitals through further private partnerships.
It's part of a wider trend, according to the EBRD: "In response to the need for large capacity investments in healthcare systems, governments are seeking to tap private sector resources and knowhow to construct and manage infrastructure related facilities more rapidly and more efficiently, while medical service provision remains under the responsibility of the state." Other PPP projects currently at the development stage across the country include the Istanbul Ikitelli hospital, the Ankara Etlik Health Campus, the Mersin Integrated Health Campus and the Bilkent Integrated Health Campus, which reached financial close in May. The government is also embracing the PPP model outside of the healthcare sector, with financing for a $5bn motorway (Gebze-Orhangazi-Izmi) and for a Petlim container terminal signed through a combination of private and public sector engagement.
The EBRD effect
EBRD's influence is clearly having an impact, and it intends on continuing to support projects to help realise the government's goals in the times ahead. "The bank aims to finance several other hospital PPP projects in the future and will continue backing the Ministry of Health with technical assistance and advice", said Davey. The bank has invested €4.5bn in the country since 2009, when it first began financing ventures there, funding over 130 projects spanning industries as diverse as infrastructure, agribusiness, energy and finance. That makes Turkey one of its biggest focuses in terms of the number of schemes it has backed – which is significant given its investments in 30 countries across Europe.
In backing this latest project, EBRD is setting a precedent for others to follow in Turkey's project finance field at large, as Meridiam recognises: "The closing… represents a milestone for the local project finance market, bringing together development institutions such as EBRD and IFC as well as global commercial banks for debt financing over long-term tenors", said the firm. By combining various private sources together with operational input from the government, the Adana project is leveraging the strengths of both sectors. In so doing it's taking a leap of faith, but it's one that looks set to pay off – both in terms of financial and, importantly, developmental, progress.