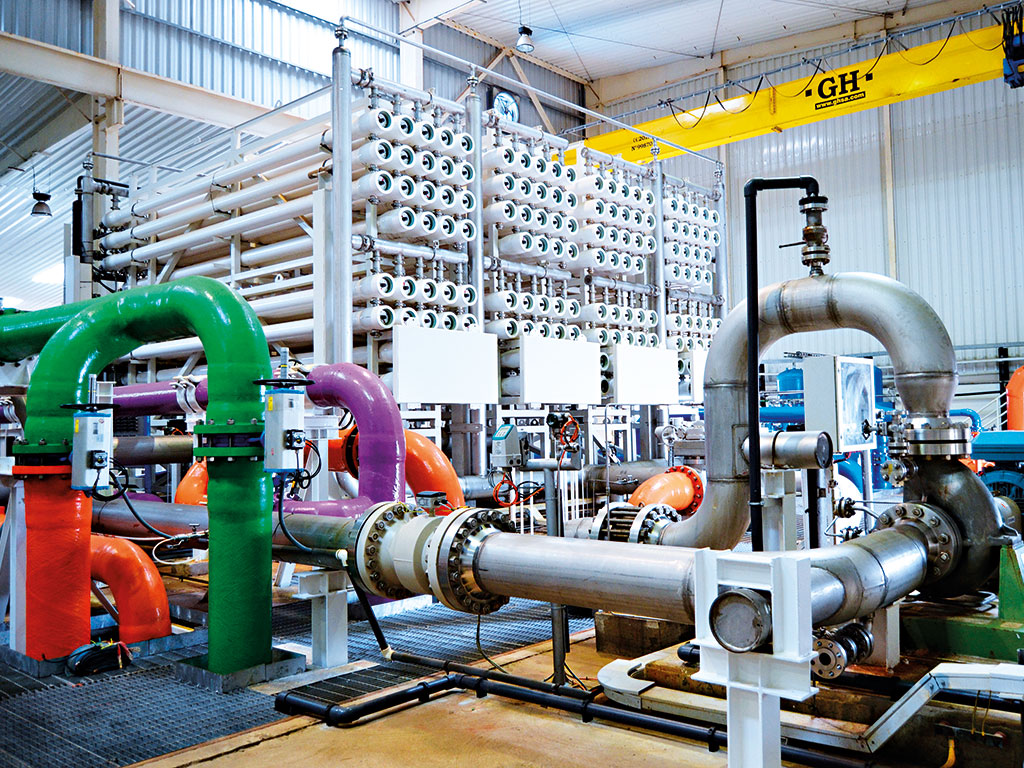 &nbsp
Morocco is one of the world's most affected countries in terms of water shortages. According to the Social Watch Report 2012, supply capacity in dams is becoming ever more restricted, and 35 percent of piped drinking water is wasted due to poor maintenance. The World Bank estimated water supply per head in the wider North Africa and the Middle East region would be just half of its 2008 baseline by 2050 as a result of a growing population and climate change, stressing the importance of new infrastructure projects to help solve the problem.
One solution is the use of desalination plants: complex systems that turn seawater into safe drinking water. These systems have begun cropping up in Morocco, but the Agadir region on the southern Atlantic coast – where demand is soaring as a result of the booming tourist industry – has until now remained severely undersupplied.
In 2008, water stocks in Agadir's farming regions were seven times lower than in 1982
Project desalinate
Earlier this year, construction began on a new desalination plant that is set to supply over 500,000 people with 100,000 m3 of safe drinking water per day: giving the plant the largest desalination capacity in the region. The €842m project will use an innovative pressurised ultrafiltration membrane system to treat the seawater, which will be collected via a 1,150m-long underground pipeline and reverse osmosis to desalinate it. The plant will operate for a period of 20 years.
Located 42km from the city of Agadir, the project is being led by global firm Abengoa, which develops technologies to promote sustainability in the environment and energy sectors, and has already worked on a number of other water supply projects across the world. Abengoa was chosen to manage the design, construction, technology, maintenance and operation of the project by Morocco's National Power and Drinking Water Office (ONEE) – which is responsible for water supply and distribution throughout the country and is involved in the project's development.
The project is being financed by investment fund InfraMaroc alongside a consortium of local banks, led by Banque Marocaine du Commerce Extérieur (BMCE). This PPP model marks a milestone in the region, according to Abengoa. "This is the first project that the National Power and Drinking Water Office has developed under a public-private partnership system, putting Abengoa at the forefront of this model in Morocco", the company said.
Socioeconomic development
As well as supplying much-needed potable water to households, the new plant is set to help the fast-developing Agadir region grow on a socioeconomic level, supporting the industries upon which its economy lies – most notably tourism and agriculture. The latter accounts for 80 percent of water usage in the country as a whole, according to the Social Watch report, but its access to safe water is declining. In 2008, water stocks in Agadir's farming regions were seven times lower than in 1982. That's likely to become yet more of a concern as yearly average rainfall drops. One study (Climatic Change and Drought Mitigation: Case of Morocco) predicted a 10 percent reduction in the country's precipitation between 2021 and 2050.
The difference the Agadir desalination plant will make to those sectors and the region's economy at large is clear, and it's part of a global effort. "The Agadir desalination project is part of a strategic plan to solve water supply problems in those parts of the world most affected by water shortages", said Abengoa. It's also a means of bringing local partners in Morocco together through an innovative financing model that combines public and private expertise to provide help where it's most needed. That's a move that should inspire other such partnerships throughout the country and beyond, as investors seek to support infrastructure projects that have a real impact on the communities in which they're built, and which leave a lasting change on the countries in which they operate.