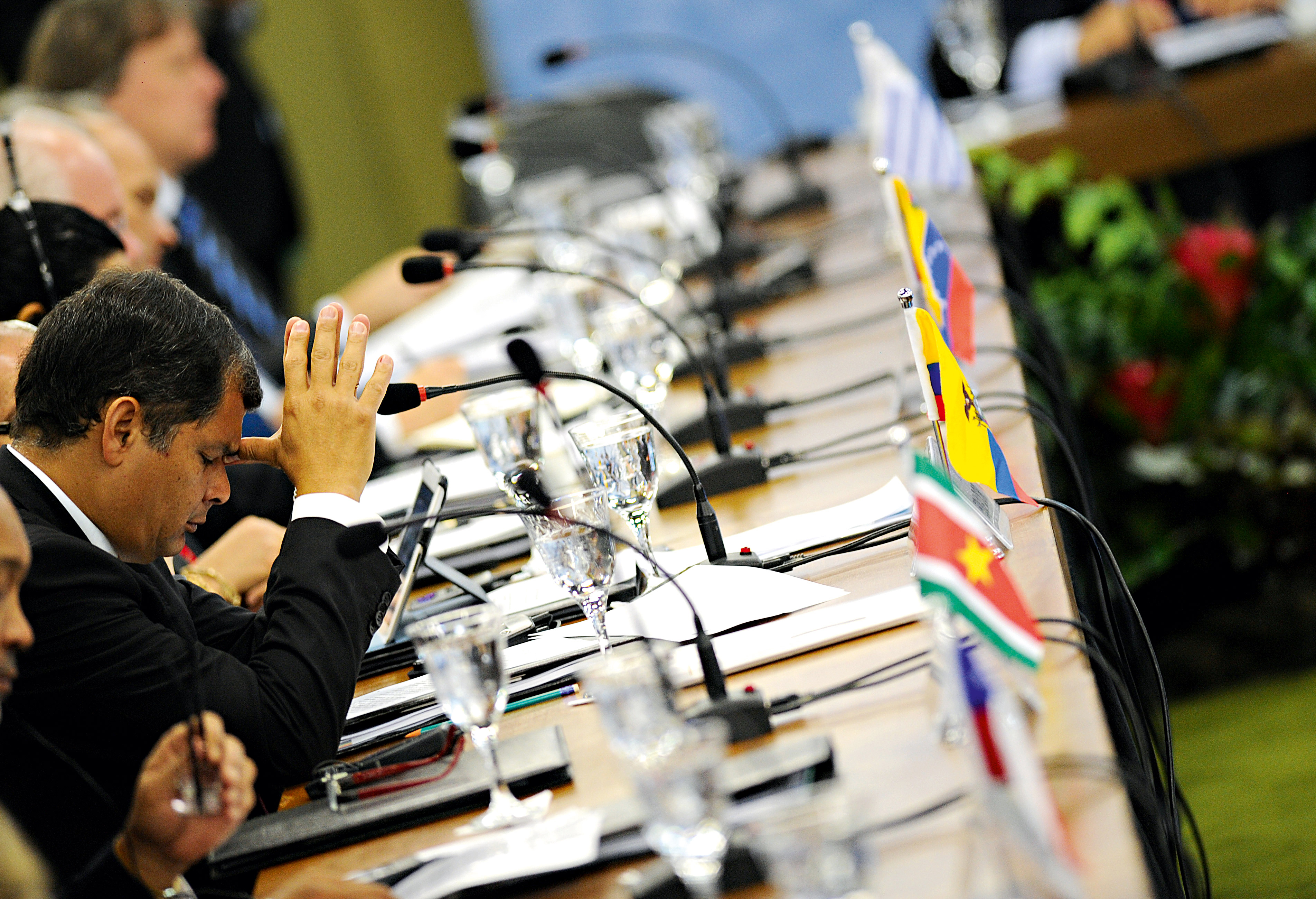 Ecuadorian President Rafael Correa reacts during a summit meeting of the Mercosur trade bloc&nbsp
Trade deals are becoming an increasingly popular way for economies to foster growth and promote exports in a globalised world. The new kid on the trade block is the Pacific Alliance, which is set to become a chief trading organ for the dealing with Latin American region. The potential is enormous, as the four founding nations of the Pacific Alliance – Chile, Colombia, Mexico and Peru – represent nearly 36 percent of Latin American GDP. Yet other country leaders from the continent have voiced concerns that the new trade bloc is not so much an economic initiative, but a political tool to circumvent certain Latin American countries.
Notably, Bolivia's President Evo Morales said at the São Paulo Forum in 2013 that the Pacific Alliance was a "geopolitical scheme" through which the US could oppose the left-wing governments of Brazil, Argentina, Uruguay, Bolivia, Venezuela and Ecuador.
The Pacific Alliance, which was created on April 28, 2011, aims for deep economic integration among its member states through free trade, visa-free travel, a common stock exchange and joint diplomatic representation. In its initial 'Declaracion de Lima', which established the alliance, the bloc also said that it would have a clear orientation towards economic integration with Asia. As such, its observer states include Japan, South Korea, China, Singapore, India, Australia, New Zealand, the US, Canada, several South American states, as well as the UK and a plethora of European countries as well.
With its main goal set as reducing trade barriers, the Pacific Alliance sealed a deal in February to eliminate tariffs on 92 percent of goods and services traded between the four founding countries and soon-to-be member, Costa Rica. The accord was reached at the alliance's eighth summit in Cartegna, Colombia, and has boosted free trade between Chile, Colombia, Mexico and Peru, which together represent more than half of total Latin American exports, at $550bn alone in 2012.
"The Pacific Alliance could become the largest intra-regional agreement in the Americas since NAFTA," says Scotiabank's Latin American economist, Daniela Blancas. "In our view, the importance of the alliance goes further than just a hoped-for increase in intra-regional trade flows; we think that the goal of improving supply chains will lead to creating products capable of penetrating other markets, particularly in the Asia-Pacific region. Additionally, the trade negotiations have been advancing relatively quickly, implying that results can be achieved in shorter periods of time when treaty aims are modest and major political obstacles are absent."
This stands in stark contrast with regional economies such as Brazil and Argentina, which are employing inward-looking policies, as well as protectionist stances reducing cross-border trade, which has impaired their economic growth. This is interesting, given that both nations are key members of rival Latin American trade bloc, Mercosur.
Political tool?
As mentioned, several heads of state have criticised the alliance for being a political tool, rather than solely an organ to promote economic cooperation. The São Paolo forum, which is a conference of leftist political parties and organisations from Latin America and the Caribbean, hosted a heated debate discussing the goals and impact of the Pacific Alliance, which state leaders said was an attempt at recreating the Washington Consensus in South America. In its closing statement, the forum defined the alliance as an "opportunistic, interventive, anti-leftness approach to attack the sovereignty of South American nations."
The statements raised the concern that both Mercosur and the Pacific Alliance are moving in an increasingly political direction. What's more unsettling, said the Director of Latin America studies at the Council on Foreign Relations, Julia Sweig, in a recent commentary on the São Paulo Forum, "is the frequent suggestion that the Pacific Alliance is the 21st-century cool-kids fraternity of capitalist freedom, while Mercosur has become the club of stuffy socialist militants who would rather read Lenin and Galeano than Hayek and de Soto".
Many of the nations at the forum are currently members of the South American trade bloc, Mercosur, which was set up in March 1991 by Argentina, Brazil, Paraguay and Uruguay and later developed into a fully fledged customs union. Bolivia, Chile, Colombia, Ecuador and Peru have since joined as associate members able to participate in free-trade agreements, which regulate imports and exports and arbitrate trade disputes. Similar to the Pacific Alliance, Mercosur set out to create a continent-wide free-trade area (see Fig. 2), including the establishment of a development bank. However, following serious disputes between members, as well as public critique that the economic organ had a political agenda, the bloc's initiatives have stagnated.
The main point of contention occurred in 2012, when Paraguay was suspended from Mercosur, allowing Venezuela to become a full member. Paraguay objected to the move, which it considered an institutional blow to the union, as it did not consider Venezuela a democratic state. Furthermore, disputes have arisen among member states after the question was raised as to whether Mercosur should adopt a political stance in addition to its economic goals. This was further aggravated when Venezuela's President Hugo Chávez said that "Mercosur should prioritise social concerns," by moving "farther away from the old elitist corporate models of integration that look for financial profits, but forget about workers, children, life, and human dignity."
Honing in on economics
By comparison, the Pacific Alliance, despite the claims of some sceptics, has refrained from any official political commentary. Instead, the alliance is becoming increasingly pro-business and private sector, promoting foreign investment into member economies and pushing for less government intervention in economic affairs.
"Based on the similarities of these four economies and the main objectives of the Alliance, this treaty will likely be more functional than Mercosur. Mexico, Peru, Colombia and Chile have been very active in increasing their free trade agreements with other regions. These economies enjoy a positive economic outlook, solid public finances, relatively high foreign reserves as a percentage of GDP, manageable current account balances, central bank credibility and relatively stable electoral cycles, which is not necessarily the case for all of the Mercosur members," says Blancas. She emphasises that "business-friendly policies for investors have been implemented in the last decade, with all the PA countries now in the top-third of the World Bank's 'ease of doing business' ranking (see above)."
Bolivia's President Evo Morales said…the Pacific Alliance was a "geopolitical scheme" through which the US could oppose the left-wing governments of Brazil, Argentina, Uruguay, Bolivia, Venezuela and Ecuador
Similarly, Chile's new Foreign Minister Heraldo Muñoz wrote in a column in the Spanish newspaper El Pais in March that he values the economic integration scheme and a trade platform, which allows for "collective projection towards the Asia-Pacific region". He also rejected claims that the Pacific Alliance functions as an excluding ideological or antagonist trade bloc and argued in favour of further Latin American integration. "As a matter of example we should discuss the possibility of materialising a convergence of the Pacific Alliance with Mercosur," Muñoz said.
Key initiatives
As such, the alliance has worked on strengthening its ties across borders through the establishment of The Mercado Integrado Latinoamericano (MILA), which currently integrates the Colombia, Santiago and Lima Stock Exchanges, making it the largest market in Latin America by number of issuers, the second by market capitalisation and the third by turnover. What's more, the Mexican Stock Exchange is in the process of being fully incorporated into MILA by the end 2014, having already acquired shares in the Lima Stock Exchange in order to develop joint business activities.
In addition, the Pacific Alliance has furthered the creation of joint embassies and consulates that will help provide citizens of Pacific Alliance member countries with needed diplomatic services. In the Declaration of Cali, the alliance highlighted the importance of opening an embassy shared between Chile, Colombia, Mexico and Peru in Ghana, as well as the agreement between Chile and Colombia to share embassies in Algeria and Morocco and between Colombia and Peru to share an embassy in Vietnam.
According to the alliance's website, the member states also hope to promote larger growth, development and economic competitiveness, achieving greater welfare, overcoming socioeconomic inequality and achieving greater social inclusion of their inhabitants. To this end, the Latin American leaders said at a panel discussion at the World Economic Forum in January, that the alliance poses the opportunity to learn from the other members' good practices.
Mexico's President Enrique Peña Nieto argued that "the Alliance goes beyond a free trade agreement" by strengthening the relationship among the four countries and fostering social development.
Disproving sceptics
For sceptics questioning the relevance of the Alliance, this has become a key point of interest. Sweig argues that trade agreements such as these are strictly investment strategies that are "not intrinsically designed to substitute for public policies key to human development, citizen security, or fiscal solvency."
However, the Pacific Alliance seems to be blissfully aware of this, and as such is attempting to go above and beyond the normal grasp of trade unions. Crucially, the alliance will have to refrain from engaging in ideological spats, which could put a damper on momentum and shift focus away from integrative initiatives, if it is to achieve the economic ambitions its members are hoping for.
"Mexicans, Chileans, Colombians and Peruvians know full well that trade alone cannot substitute for a smart state and that growth without social inclusion and strong institutions is a recipe for violent conflict and instability. By comparison with the growth-at-all-costs gestalt of just a few years ago, the relatively strong consensus among the citizens and leaders of Pacific Alliance countries around investing in the education and wellbeing of people, and in strategies to reduce poverty and inequality, reassures this skeptic," Sweig wrote in an analysis in June 2013.
The alliance itself stipulates that in order to create business potential and meet the challenges of the global economy, its members are working for free mobility of people, preservation and respect for the environment including a network of scientific research on climate change, cultural promotion, the integration of securities markets, improved competitiveness and innovation of micro enterprises and SMEs, as well as enforcing tourism as a key driver for growth alongside trade. With the latter as a key focus, Blancas believes there's no doubt that the alliance can reach its goals of significantly boosting its members' economies.
"Trade flows among the PA economies are relatively low as a share of their total trade, although the levels have been expanding rapidly. Intra-regional trade between the PA economies reached $45bn in 2012, significantly higher than the $8.6bn registered in 2000. The creation of a regional supply chain and the development of economies of scale will be the key benefits for each economy," says Blancas.
Joining the alliance could prove "vital" for ascending member Costa Rica, said President Laura Chinchilla when officially announcing the country's intention to join the Pacific Alliance in February. In order to become a full member, Costa Rica must adopt the alliance's framework agreement, which is estimated to take about a year.
"This is the best way to project Costa Rica to the world. Costa Rica considers full membership in the Pacific Alliance vital, and we can only hope that this proposal will attract more countries," Chinchilla said, reiterating the alliance's ambitions to expand its reach even further.
Blancas adds that there is no downside in this respect: "Economies will benefit from agreements like this, as they will have the opportunity and the means to target other markets that maybe by themselves will be harder to reach."
With the potential to grow further as more states move towards full membership, the alliance will represent a bigger market than any other Latin American bloc or country, seemingly becoming the regional one to watch.
Pacific Alliance member performance
Mexico
Population: 116 million GDP (USD, 2013 current prices): $1.3trn Exports (2013): $396.4bn Exports (percentage change 2012-13): +6.9% Imports (2012): $380.5bn Foreign direct investment (2012): $12.7bn
Colombia
Population: 47.2 million GDP (USD, 2013 current prices): $394bn Exports (2013): $65.1bn Exports (percentage change 2012-13): +7.9% Imports (2012): $59.1bn Foreign direct investment (2012): $15.8bn
Peru
Population: 31 million GDP (USD, 2013 current prices): $200bn Exports (2013): $49.3bn Exports (percentage change 2012-13): +8.1% Imports (2012): $42.5bn Foreign direct investment (2012): $12.2bn
Chile
Population: 17.8 million GDP (USD, 2013 current prices): $292bn Exports (2013): $81.8bn Exports (percentage change 2012-13): +4.5% Imports (2012): $79.5bn Foreign direct investment (2012): $30.3bn Source: International Monetary Fund, UNCTAD, World Trade Organisation