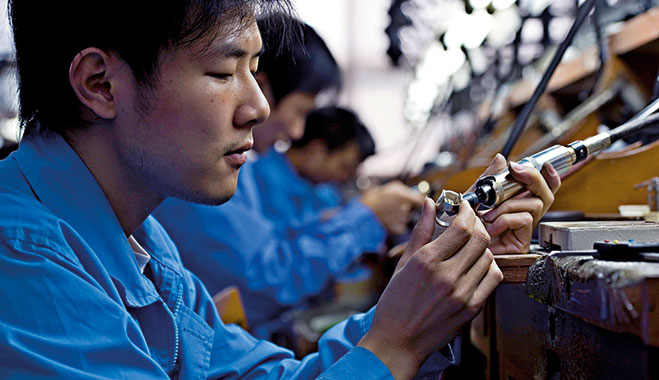 A farmer in Longsheng, Guangxi Province. Before manufacturing, agricultural jobs were the norm in China&nbsp
China muscled in on America's hard-earned manufacturing dominance in 2010 when the news broke that the resurgent eastern superpower had clinched a title held by the US since 1895. Powered by a mass migration of people from rural farmland to inner city factories, along with a record investment drive at home and abroad, the world's number two economy became the world's number one manufacturer (see Fig 1).
The news item was one that took very few by surprise. Back in 2000, the powers of Western Europe, North America and Japan accounted for 72 percent of manufacturing output, though by 2010 their collective share of the market was down to barely more than half. China's factory output, meanwhile, tripled, and multinationals from around the world eyed its cheap and plentiful supply of labour with keen interest. Responsible for a measly three percent of global production in 1990, today its share borders on a quarter.
Manufacturing now makes up approximately one third of China's GDP, far and above any other economy of its stature, and locals – for whom simple manufacturing jobs no longer cut it – are looking to advance up the ladder. Where photos of workers scrambling for an early morning shift or penned tightly on a factory floor were once commonplace, the sector's barebones make-up and lack of governance are no more. Auto manufacturing, robotics and consumer electronics all feature in the modern-day picture, and the sector's simple beginnings are today but a distant memory.
Manufacturing now makes up approximately one third of China's GDP
With this, workers' rights are more stringently upheld and their pay more plentiful, and this newly anointed manufacturing powerhouse is losing jobs as a consequence. After a dramatic climb to the summit, China is no longer the world's factory floor, and given that the sector employs approximately 15 percent of the national workforce, continued declines could inflict serious pains on its population.
Falling factory output
At the turn of the year, manufacturing activity shrunk for the first time in more than two years, and the figures that followed served only to reinforce the reading that China was headed for its worst economic showing in almost a quarter of a century. After a three-decade-long stint of breakneck expansion, the country's factory output looks set to suffer the adverse effects of China's 'new normal': single-digit and sustainable growth.
Figures from HSBC's Manufacturing Purchasing Managers' Index (PMI) in April showed that job shedding was at its worst in seven months, as manufacturers offloaded positions in response to worsening market conditions and lacklustre demand. Capping a 17th consecutive month of contraction, insofar as manufacturing employment was concerned, the findings again signalled to policymakers that solutions must come soon if they are to stop the rot.
"Wage levels for factory workers increased rapidly during a period of high inflation in the early 2010s, but in the last couple of years, the rate of pay increases has dropped," said Geoffrey Crothall, Communications Director for the China Labour Bulletin and former correspondent for the South China Morning Post. And while the country is stabilising more so than it is collapsing, the same priorities remain: manufacturing must move on or die out.
For a country that has in recent times grown accustomed to double-digit growth and any investor of its choosing, its expansion remains largely dictated by simple manufacturing. For all intents and purposes, the age of cheap labour in China has come to an end, and a failure on the industry's part to either diversify or progress to the next stage could leave it dangerously exposed to the whims of low-cost manufacturing.
Rising wages
Where investors from across the globe in years past clamoured to get in on the building spree, mostly in and around coastal provinces and commercial centres, increased taxes, land prices and regulation ate into their margins. Workers that once toiled on the land for barely a basic day's pay have grown accustomed to regular working hours and branded goods, and inflated salary expectations have chipped away at its former competitiveness.
"The vast majority of the economy has seen double-digit wage growth for the past decade, with the minimum wage in many cities doubling in less than five years," according to a report authored by the Director and Chairman of McKinsey Asia, Gordon Orr. "This has created an expectation that this is simply the new normal for income growth. It is not." Looking only at average annual wages in manufacturing, the figure jumped to RMB 46,431 ($7,406) last year, up from RMB 15,757 ($2,527) in 2006 (see Fig 2).
"Manufacturing wages are up fourfold in dollar terms over the past decade. In recent years, private-sector enterprises have had to agree to annual wage increases three to four percentage points higher than state-owned enterprises in order to narrow the significant pay differential that had developed by 2010," reads the report.
Official figures state that monthly wages for factory workers last year were up 11.6 percent to RMB 2,832 ($457), although the figures vary greatly from region to region given that local governments stipulate the minimum wage. According to data from CBX Software's Q2 Retail Sourcing Report, wages have risen in 16 of 31 provinces, while Trading Economics statistics show that wages in select areas of the Northern Hebei Province were up 22 percent last year. Likewise, wages in Shaanxi and Tibet were up 16 and 17 percent, and in Guangzhou City base pay was up a mammoth 22 percent.
The wage situation is made even more problematic by a divergence of interests, with foreign investors on the one hand seeking an attractive home away from home, and the government on the other, whose ambition it is to lead the transition to consumer-orientated economy. The difficulty lies in striking the right balance between modest pay and maintaining an appropriate level of cost competitiveness. However, in promoting growth less driven by imports, the focus has fallen on industries outside of low-cost manufacturing; this, alongside regulatory reforms and an appreciating currency, has played a major part in discouraging low margin investment.
For any manufacturer under the assumption that China's is a passive workforce, make no mistake: its workers are militant and organised. There are few who shy away from worker action, and figures compiled by Voice of America recently found that there were nearly 1,400 strikes in 2014. Furthermore, looking at the opening two months of the year, the number has climbed higher still.
"A substantial number of labour disputes in the manufacturing industry are triggered by factory closures, relocation, mergers and acquisitions," said Crothall. "All too often, employers ignore employees' legal entitlements to severance pay, social insurance etc, but employees are very well aware of their rights and entitlements and are willing to take collective action to defend them."
Broken down into its simplest parts, China's budding geopolitical influence and economic clout has grown exponentially over the past few decades, and with this so too have worker expectations – not unreasonably so. The issue arises when foreign investors, whose reasons for being there are primarily the country's low-cost and loose-touch regulations, find that the benefits of a Chinese home away from home have escaped elsewhere.
Big names bow out
"Many foreign manufacturers are downsizing or leaving the country due to an increase in the supply of low-cost/low-quality products, as well as an increase in labour costs in China," said Melody Kong, Business Analyst for China Market Research Group. Foxconn, for example, has voiced concerns time and again that rising worker demands could eliminate its competitive advantage, and the firm, which assembles both the iPhone and iPad, has lately favoured markets outside China.
Going back to 2013, the company's founder, Terry Gou, spoke on the difficulty of convincing young workers to take low-paid assembly line jobs. "The young generation don't want to work in factories, they want to work in services or the internet or another more easy and relaxed job," were his comments, according to the Financial Times. "Many workers are moving to the services sector and, in the manufacturing sector, total demand [for workers] is now more than supply."
Having shifted Foxconn's manufacturing base away from its native Taiwan in the late 1980s, China's largest private sector employer looks to be doing much the same again in a bid to make peace with cheaper alternatives. "Probably the biggest challenge is moving away from the labour-intensive, low-cost, low-profit-margin model of production that fuelled China's boom years towards higher-value production that relies to a greater extent on skilled and experienced labour. There are fewer young people entering the work force and those [who] are joining tend to be better educated and have higher aspirations," said Crothall.
Microsoft has also been shutting up its Chinese factories lately, for fear of the country's spiralling wage demands and militant tendencies. If only to appease a workforce that in 2013 was reported by The Washington Post to have taken hostages in response to job layoffs, Microsoft handed out free Lumia 630 phones to the first 300 workers to leave, provided they left quietly. Plant closures in Beijing and Dongguan, both in China's expensive south-east, stink of a nationwide retreat, and the resulting 9,000 job losses make up half of the 18,000 announced in 2014. Where Foxconn has shifted its manufacturing operations to India, Microsoft has done much the same, though in Vietnam.
The decisions fall in step with that of fellow mobile manufacturer Samsung a year previous; made when the realisation hit that the low costs and slack regulations on which the market was built were no more. Constrained by the rising costs of Chinese production, it didn't take long for Vietnam, with its promise of cheap labour and generous tax incentives, to come calling. Speaking to Bloomberg about the move, Lee Jung Soon of the Korea Trade-Investment Promotion Agency, said: "The trend of companies shifting to Vietnam from China will likely accelerate for at least two to three years, largely because of China's higher labour costs [see Fig 3]." He added: "Vietnam is really aggressive in fostering industries now."
Rival names and regional expansion
Where China and Thailand's benchmark purchasing managers' index has contracted for months on end, neighbouring Vietnam has racked up a plus-50 reading every month since August 2013. New orders are flooding in and productivity is on the rise. Facilitated both by accommodating government policy and a robust workforce, Vietnam is fast emerging as Asia's latest manufacturing powerhouse.
Aside from Vietnam, major manufacturers are also looking to nearby Indonesia, Bangladesh, India and Thailand in keeping to their preferred margins. Rwanda, Ethiopia and Tanzania, meanwhile, have been received warmly by the garments industry. "A lot of industries that rely on low-cost labour, such as the garment industry, for example, have already relocated a lot of production to smaller Asian counties such as Bangladesh, Vietnam and Cambodia and even further afield in Africa. So the problem for manufacturers in China is not higher wages as such, but more to do with matching up the differing needs and requirements of employers and employees," said Crothall. "It is very common for employers to complain that they cannot find the right staff and for workers to complain that they cannot find the right job." However, while these countries and others better satisfy the financial specifications of low-cost manufacturing, they present new and often unseen challenges.
Reliable access to electricity, socioeconomic stability and a robust infrastructure network each underpin China's manufacturing superiority. Without them, investors run the risk of exposure to unforeseen losses and complications.
Easy to forget is manufacturing's contribution not just to the national economy, but also to the building of 'Factory Asia' as a whole, and for as long as the region continues to attract investment, China's prestige will remain. If not the immediate future of Asia's manufacturing push, China is most certainly the biggest beneficiary, and any branches added to the continental supply chain promise to stoke the engine.
For example, China's increased share of the global manufacturing pie means that its reliance on imported components is far less now than in years past – 35 percent, as opposed to 60 percent in the 1990s. Furthermore, the empowered Chinese consumer means that the country is today home today to both the making and selling side of the business, and any company privy to this information would surely see fit to stay loyal.
"Many Chinese manufacturers have realised these challenges, and they are making good progresses in improving the situation – they are becoming more competitive up the value chain, by investing heavily in hi-tech facilities such as robotics and state-of-the-art facilities so they can compete for higher value manufacturing contracts," said Kong. "For example, over the next decade we will probably see more Chinese factories capable of fabricating microchips, or making aerospace components. The process has already started, there just may be consolidation in the market as low-value manufacturers go out of business and hi-tech, high-value manufacturers expand."
With observers quick to cast China as a country whose attractiveness has faded in light of its inflated price tag, the focus should fall instead on whether the country can advance up the value chain in a way that its precursors could not. Unlike Mexico and South Africa before it, China must now make good on its standing at the helm of Factory Asia and make clear that its capacity goes beyond that of a low-cost manufacturing hub.
Made in China 2015
In a bid to take Chinese industry to the next level, policymakers in May unveiled the Made in China 2015 initiative, in the hope that the blueprint would offer some indication on how exactly manufacturing might go about extending its influence to new areas. With tighter constraints on resources, greater wage expectations and wave upon wave of regulatory reform to contend with, the State Council has set out a series of commitments to revitalise the sector.
"Increasing labour costs is one of the key factors that is causing China's manufacturing problems," according to Kong. "However, in order to solve these problems, Chinese manufacturers also need to focus on improving technology and try to become more competitive up the value chain, to meet the growing demand for high-quality products."
Homing in on a chosen 10 advanced industrial sectors, including robotics, aerospace, advanced transport and new-energy vehicles, the government has promised to boost its R&D spending to 1.68 percent of manufacturing revenues by 2025, up from 0.88 percent in 2013. Doing so, according to the blueprint, should whet investor appetites once again, and in doing so upgrade Chinese industry.
Labelled often, and unfairly so, as an industry past its better days, China's manufacturing sector is about to dive headlong into a multibillion-dollar modernisation process, from which there is no reasonable chance of return. Low-cost manufacturing – and all its trappings – will likely move inshore and abroad, as China takes heed of Germany's Industry 4.0 concept, if only to make good on Beijing's ambition to become an industrial superpower by 2049. In order to realise broad-based and sustainable gains, the country must forsake its low-cost supremacy and move its industry into the fast lane.