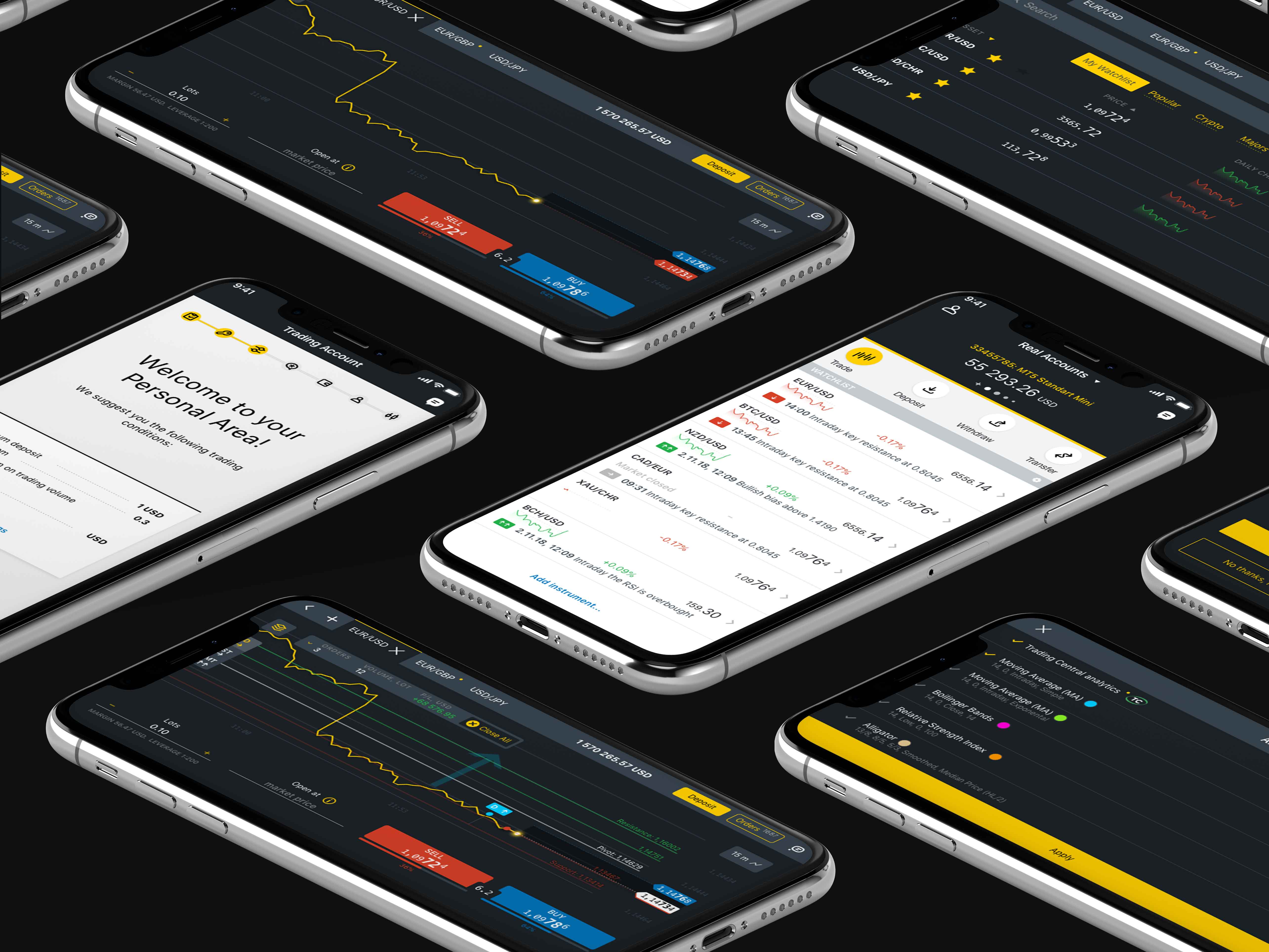 In September 2018, Exness launched its mobile app, Exness Trader, where clients can easily trade using the company's full suite of products &nbsp
Author:
Andrey Shamne, Head of Product, Exness
August 1, 2019
A mere decade ago, navigating our daily lives through our smartphones was still novel – compelling and convenient, but not yet of paramount importance. Apps were in their infancy across key industries such as banking and e-commerce, while numerous concerns and an abundance of apprehension existed about the safety and reliability of such apps.
Today we are faced with a different reality. As of Q1 2019, 2.6 million apps are available for download on Google Play (see Fig 1), while 1.8 million are available on the App Store. These figures bear testimony to the fact that the use of mobile technology is not just the norm, but is imperative. We've reached the age where mobile apps are indispensable. Naturally, industries follow the trail that technology has blazed; online trading is no exception.
While mobile might be the future, it is by no means the be-all and end-all of trading
In September 2018, Exness launched a mobile app, Exness Trader, through which we give our clients the opportunity to trade using our full suite of products, integrated into one easy-to-use app. Everything a trader needs can be found on the app, including fast, secure deposits and withdrawals, a live chat platform and easy Know Your Customer verification. In less than a year, the Exness Trader app has been downloaded more than 250,000 times, with 35,000 new customers registering to use the application on their mobile phones. We see an average of 4,000 real trades placed per day, while approximately 5,000 customers use the app on a daily basis. The app's functionality is designed to complement our overarching business mission: to make trading quicker, easier, more accessible and more transparent.
Fusing web and mobile
We recognise, however, that while some traders prefer the flexibility that a mobile app affords, others find that using a desktop provides them with a clearer and more expansive view. After all, while mobile might be the future, it is by no means the be-all and end-all of trading. Desktop is often the go-to platform for traders, as trading involves intricate analysis that frequently requires the use of charts. Desktop screens are best suited to this function.
Exness has sought to fill this need by developing and launching the Exness WebTerminal, designed first and foremost using the feedback we have been receiving from clients over the years regarding the complexity and limitations of existing platforms. Being user-centric has always been at the core of our offering, but in an era of unprecedented growth guarded by evolving rules and regulations, delivering both value and security to clients has never been more important.
Taking it one step further, our ultimate long-term goal is to fuse the worlds of web and mobile by designing a mobile platform that transcends the common screen limitations traders face and offers an unequalled experience of trading on the go and enjoying an all-encompassing functionality.
Until this point, the industry has relied heavily on the MetaTrader 4 and MetaTrader 5 platforms. While these have paved the way for brokers and traders alike to break into the industry, they have simultaneously monopolised a significant part of the trading world. The challenge now is to restructure the landscape that we have become accustomed to: we're seeking to create an environment where we can more effectively analyse user behaviour and thus tailor our products.
We are also aware that recently there has been an influx of individuals trying their hand at trading for the first time, some of whom may be dissuaded by the existing trading software, as it can be quite complex for a newbie. The key lies in creating a platform that is simple enough for new traders, but also advanced and sophisticated enough for experienced ones. This is exactly the challenge we have undertaken with the Exness Trader mobile app and Exness WebTerminal.
Delivering clarity
Having been named the most transparent broker of 2019 in World Finance's Forex Awards, we feel a stronger responsibility than ever before to build products that adhere to our key principles of transparency and accountability. There is much to be said about the responsible provision of information to clients in an industry too often defiled by unscrupulous brokers. But crucial as it may be, transparency is not just about adhering to rules, regulations and maintaining standards.
Global regulation, in its current restrictive state, has attempted and so far succeeded in glueing a fragmented industry back together and levelling out a very uneven playing field. But amid this sea of complex benchmarks and regulatory developments, it is imperative that we strip down the term 'transparency' to its simplest definition in order to understand what it means at an individual business level. At Exness, we believe transparency means clarity of all kinds and on all levels.
Our in-house teams have been hard at work trying to capture and deliver such clarity in the form of proprietary products such as the Exness Trader mobile app and the Exness WebTerminal. The approach we've taken is simple: a clean, minimal design and interface embodying the Exness brand and giving traders a sense of familiarity in their trading environment. We have adopted a 'less is more' attitude when it comes to design, integrating industry-favourite financial products such as cryptos, metals, forex, multiple time frames and chart types designed by our teams to be as simple as possible to view and use.
In just a few clicks, users can make deposits and withdrawals or gain rapid access to our support team. We don't believe in a singular, universal solution that works for all traders, therefore we have every intention of developing our terminals and introducing new products in the future according to our clients' needs. For now, we are honouring the title of 'most transparent broker' by offering the most user-friendly, accessible and intelligent products possible.
Legacy of innovation
It seems far too obvious to say that the future lies in technology when the very industry we represent is part fin, part tech. Nevertheless, the digitalisation of everything but the kitchen sink leaves little space to grow in any other direction. Technological possibilities are endless, whether in blockchain, artificial intelligence, electronic payment systems or new developments altogether. If anything, this places brokers at an advantage, as it gives them constant opportunities to create new products. As long as there is a gap in the market for something new, we can be sure that there is room for innovation and healthy competition.
Meanwhile, the prerequisites for a perfect product will always be the same: a marriage of speed, efficiency, ease and innovation. As for regulatory developments that are certain to keep unfolding over time, we should wholeheartedly embrace them and view them as liberating rather than restrictive. When the brokers left are the most upright and trustworthy market players, the competition will be more genuine and the chance to stand out more real. From the perspective of the client, they will be receiving nothing but the very best products the industry has to offer, from the most credible and reputable providers.
Exness will seek to be at the forefront of new industry developments while continuing its decade-long legacy of being an advocate for transparency and innovation. We plan to leverage new technologies, along with our pivotal advantage in studying user behaviour, to take our business to new heights.
As for the localisation and personalisation of products and services, we will remain committed to providing local payment methods, account types and conditions tailored to each region, and products suitable to clients with different investor profiles.
At the same time, we look forward to a new digital age that will enable us to delve deeper into client profiles, not just on the basis of geo-targeting and experience, but as individual journeys. Such examinations will allow us to deliver a customised experience to each investor in our global client base and to establish faultless client satisfaction.