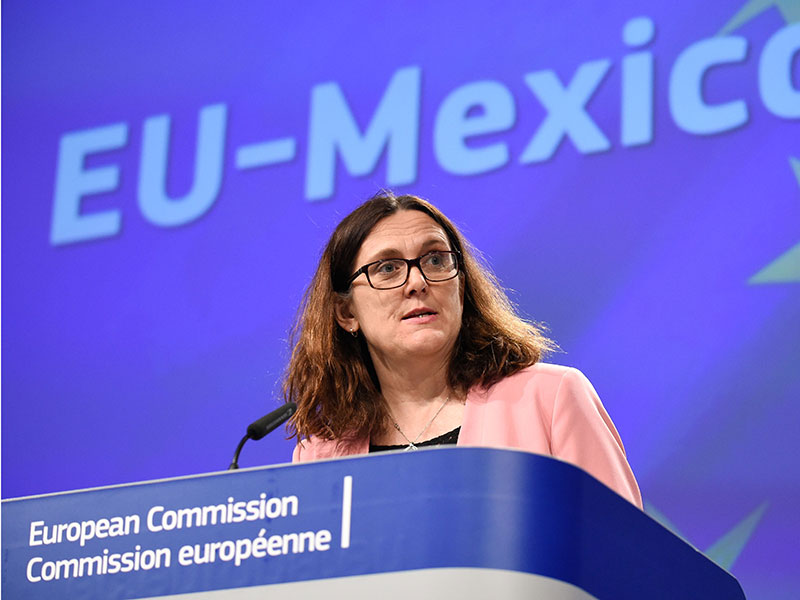 EU Trade Commissioner Cecilia Malmström announced that the EU and Mexico were working on a trade agreement at a press conference in Brussels in 2018&nbsp
Getting an international trade deal over the line is never easy. The Comprehensive Economic and Trade Agreement between Canada and the EU took seven years to negotiate, while the North American Free Trade Agreement (NAFTA) was initially thought up in 1980 but wasn't ratified until 1993. Signing the deal is only the beginning, too: trade agreements are subject to changes and disagreements, as the recent NAFTA wrangling has shown. That particular deal was replaced at the start of July.
Businesses and wealthy individuals may be interested in the terms of the agreement that make it easier for investments to be made in each market
Nevertheless, parties that do manage to reach an agreement should be allowed to feel at least a moment of pride for the culmination of their efforts. This is likely how the EU and Mexico are currently feeling after wrapping up four years of negotiations by finalising a new trade agreement in April. The deal makes almost all goods traded between the two parties duty-free, but that does not mean all disagreements have been put to bed.
EU and me
Mexico is currently the EU's biggest trading partner in Latin America, while only the US and Canada trade more goods with Mexico than the 27-member bloc. Despite the vast distance and cultural differences between the two parties, there are already a fair few economic connections between the EU and Mexico: trade in goods alone rose by 148 percent between 2000, when the original trade agreement between the two states came into force, and 2018.
"The economic, social and political differences between the EU and Mexico constitute the comparative advantages of each side to engage in mutually beneficial trade in goods and services," Dirk De Bièvre, a professor of international politics and chair of the Department of Political Science at the University of Antwerp, told World Finance. "These differences make them complementary economies, creating the prerequisites to reap benefits from the trade facilitation and the stabilisation of mutual expectations that a trade agreement can offer."
Yet, the kind of general incentives mentioned by De Bièvre are usually not enough to galvanise exporters, trade-dependent sectors and public authorities on both sides to invest in arduous yearlong trade negotiations. Extra political incentives have to give this general idea a final push. For the current update of the EU-Mexico agreement, there were incentives to deepen and solidify the level of commitment.
"The new type of committal signed by the EU and Mexico ensures a stability and credibility upon which investors and exporters can reliably build their long-term investment and distribution channel decisions," De Bièvre said. "It gives political and legal certainty – an asset that is [in] gravely short supply in the US now. For Mexico, having this type of stable and deep trading relationship with one of the three most important players in international trade policy, the EU, is an important insurance policy."
Given that the US-Mexico-Canada Agreement – the agreement that replaced NAFTA on July 1 – offers less favourable terms than Mexico enjoyed previously, the signing of a new deal with the EU has come at an opportune time.
Agree to disagree
The question of how the new agreement will impact the respective economies is difficult to answer at this stage. Tariff reductions are substantial, and they will be eliminated entirely on poultry, cheese, pork and numerous other agricultural and food products.
"The transition period for phasing out all tariffs is seven years – a typical transition period for this type of radical elimination of all tariffs," De Bièvre explained. "Presumably, this will lead to some farming sectors specialising in some niches on both sides. This constitutes an important shift, yet remains only one of the many building blocks of regulatory cooperation (conformity assessments, facilitation of import and export procedures, and the like) for all trade in goods, not just agricultural ones. These are at least as important as the plain elimination of tariffs."
But not everyone is pleased with the new agreement. France's national livestock and meat association, Interbev, warned that the deal risked opening up the European market to "20,000 tons of Mexican beef" that were previously banned. Criticism also centred on food security matters, which appear all the more pertinent given the supply chain disruptions caused by the COVID-19 pandemic. Protectionism and self-sufficiency are back in vogue.
With agriculture only constituting little more than one percent of the EU's GDP, the threat posed by Mexican goods may not cause much distress outside of farming circles. Instead, businesses and wealthy individuals may be more interested in the terms of the agreement that make it easier for investments to be made in each market, with limits removed on the number of enterprises that can carry out a specific economic activity. Changes to food standards may make the headlines, but new investment criteria will determine where the real money ends up.