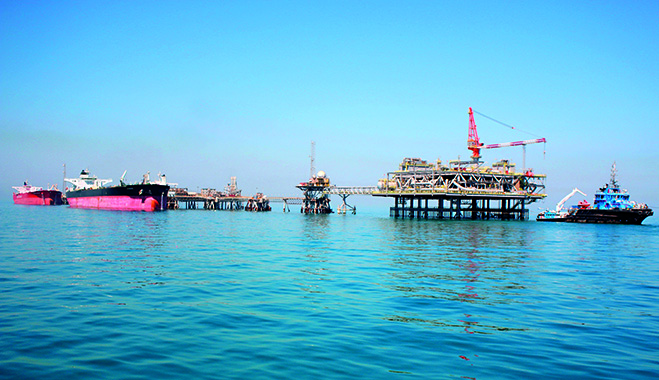 Hoidi specialises in providing ocean engineering services and production for offshore oil rigs&nbsp
Much has been written about the new low oil price environment in recent months, not to mention the degree to which offshore producers have fallen on the sharp side of the decline. As a result, the fossil fuels business has trimmed back its expectations considerably and the opportunities for oilfield services are considerably less than they were some time ago. Fresh from a few years in the sun, the sector is on course still to expand in the coming years – albeit more slowly – and lend the offshore industry a much-needed helping hand in what remains a tricky period.
Since its inception, Hoidi has specialised in providing ocean engineering services and production for jack-up and semi-submersible rigs. Drawing on its expertise and comprehensive portfolio of offshore solutions, Hoidi has done a great deal to keep the offshore industry afloat, and all in accordance with the group's longstanding commitment to creativity, quality and innovation.
Although enthusiasm in the offshore industry has been dampened recently by shrinking opportunities, demand for energy, and so oil services, will change relatively little for the foreseeable future. And while the challenges for oil and gas are well documented, cases like Hoidi serve to illustrate that there are still opportunities to be had, if only companies take the necessary steps to adapt to a changed landscape. World Finance had the pleasure of speaking with Wendy Wei, Deputy General Manager of Hoidi, to discuss the offshore industry further.

How has the global market for the offshore industry evolved over the years?
Going back to the year 2012 to 2013, it was then forecast that demand for offshore equipment would increase. However, a sharp increase in production by the Arab Gulf States and overproduction of American shale gas, led to a steep drop in oil prices in late 2014, with prices hovering around $45-55 per barrel (see Fig. 1), and making it financially unsustainable for higher cost producers such as those in the North Sea, where low oil prices have placed their entire offshore industry at risk.
Nonetheless, we believe that the market will recover marginally between the year 2017 and 2018 for both upstream and downstream. Obviously it's hard to predict when oil will reach $60-70 per barrel, which is seen as a financially viable price for many drilling, exploration and engineering procurement construction companies. Certainly it's unrealistic to expect oil prices will reach previous levels of around $100 in the foreseeable future.
As a result of the price plunge, a large number of projects have been put on hold, and this may cause a further standstill in the industry for the next two to three years, as the persistent issue of oversupply and a stagnant global economy together signal that there are tough times ahead for the offshore industry.

How has the fall in global oil prices impacted the business?
Oil prices continue to remain low mainly due to the oversupply issue, and the situation for either Saudi Arabia nor Russia looks set to change anytime soon. In order to maintain their market share, both Saudi Arabia and Russia, two of the top crude oil producers in the world, are unwilling to reduce production, whereas other low cost producers such as Iran are gearing up production.
With a lift in sanctions and trade embargoes likely to settle soon, Iran is expected to increase production further, given that low prices are still sustainable for the country. Elsewhere, although US shale oil has stayed surprisingly resilient, Opec's oil price war has seen total US output fall by more than 600,000 bpd since the end of the first quarter 2015. Further output declines are expected for US production. Certain Opec countries, meanwhile, are also at an economic breaking point due to the abundance of cheap oil, and the situation isn't helped by a dependence on China and India as main consumers, where consumption in the two has slowed in accordance with economic growth.
Currently, what are the industry's biggest opportunities and challenges?
Firstly, industry players should explore additional means of increasing their productivity by tapping on both existing and new technology. This will allow businesses to streamline their operations and explore more cost efficient ways of carrying out production. Despite the cloud hanging over the current market, areas such as South East Asia, Middle East and Africa are showing some signs of growth in the offshore industry. Others such as Indonesia, Myanmar and Malaysia are also experiencing some demand in the marine spread.
It's worth noting that smaller players in this industry may find it difficult to weather the current climate, and there is reason for those parties to explore opportunities for merger, if only to ensure survival in this harsh market environment.
The priority for now rests with the maintenance market for the refurbishment and modification of rigs and vessels, due to an oversupply of marine spread and a lower price point. Many orders were placed during the period of high oil prices when the market was in high demand, but in the current situation, many companies were not able to continue financing these projects and had to leave the new or partially built rigs in the yards. The new rigs that are not able to be delivered resulted in changes that affect shipyards, suppliers and contractors, this then becomes a chain reaction to all parties involved in the offshore industry. With the oversupply of new rigs, scrapping of old jack up rigs built in year 1970s are looking to increase in 2016.
What is Hoidi's place within this industry?
We have never shifted focus from being the best offshore rig leg fabricator in China, and Hoidi's market share and industry recognition is the highest as of today. We will also make every effort to ensure our reputation and credibility is maintained.
As an up and coming player for other segments in the offshore industry, we are building on our reputation, branding and creating awareness of our expertise in the field. Hoidi is versatile, and to complement our oil and gas business, the company is positioning itself as not just a ship owner, but an investor and operator. Our integrated solution provides rigs and vessel chartering, ship repair, maintenance and offers a one-stop solution for major operating clients worldwide.
What achievements are you most proud of?
Hoidi was proud to be awarded Best EPC and Solutions Company by World Finance for the second year running. With our reputation, expertise and strong financial standing, these factors mean we're able to own a fleet of marine spread secured on long-term bareboat contracts to serve major oil and gas clients, and, as a fully integrated player, our vessels are deployed globally. With our current reputation, Hoidi has attracted skillful and professional personnel to join our team, utilising their strength to establish and improve our business model. On top of these factors, Hoidi has also partnered with seasoned industry players, forming joint ventures to build a variety of vessels, which will then fulfil demand once market conditions improve and demand picks up.
The persistent issue of oversupply and a stagnant global economy together signal that there are tough times ahead for the offshore industry
What are your plans to partner with other global players in the offshore industry?
Hoidi has enjoyed exponential growth over the last few years, with a regular clientele of esteemed international customers and with strong support from prestigious suppliers pushing the business to where it is today. This has allowed Hoidi to build a strong foundation, and with the slowing economy globally, Hoidi is well positioned to make a global footprint through continuous partnership.
We had foreseen that an over reliance on high oil prices is not a sustainable long-term strategy. Therefore, the management has embarked on a plan to diversify the business beyond their comfort zone. Such a big shift involves a high level of expertise, and Hoidi is glad to engage high calibre talents and professionals as well as strong international partners to help achieve its target and enjoy synergistic growth.

What are the future ambitions of Hoidi?
The company will grow to be a multiple investment and multi-trade concept, which transcends conventional boundaries of industry and geography. This will ensure the various business units based in any industry or country are able to support each other when a specific industry is facing a slowdown.