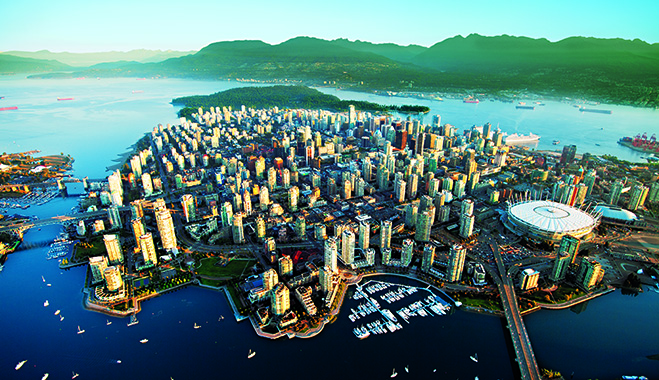 Vancouver is consistently ranked as one of the world's most livable cities. It is also one of the fastest-growing cities in North America and is home to over 75,000 technology professionals &nbsp
Author:
Ian McKay, CEO, Vancouver Economic Commission
Cities have an increasingly important role to play in global economic development. With increased urbanisation occurring in most major economies, cities are more than ever setting the international agenda for market growth.
Vancouver in particular offers a wealth of talent and potential for investment: the city is expected to achieve a growth rate of 3.5 percent over the next four years, making it one of the fastest-growing economies of any city in North America. With its desirable location in the Pacific Rim, it is also an exceptional destination for business and a highly attractive place for individuals in equal measure. The Canadian metropolis is consistently rated as one of the most liveable cities in the world, with its vibrant downtown core, surrounded by beaches and mountains, the envy of the rest of the world.
Nurturing start-ups
Looking past the geography, however, a whole host of stakeholders – ranging from politicians, citizens and community groups to business leaders and governmental and non-government organisations – are continually hard at work to ensure that Vancouver retains its desirability. One such backer is the Vancouver Economic Commission (VEC), which works tirelessly to guarantee the city's enduring prosperity. The VEC's main ambition is to ensure that Vancouver is globally recognised for its innovation, creativity and sustainability, with the intention that it will consequently attract like-minded businesses. The organisation primarily achieves this by strengthening the city's technology, digital entertainment and green economy sectors through strategic programmes and initiatives that focus on supporting businesses at each stage of growth.
Some 75,000 technology professionals now work in the city. As such, a diverse range of technology firms can be found across Vancouver, including social media, business intelligence, security and financial technology, e-commerce and web technology companies. The sector as a whole boasts some major home-grown and global players, including Microsoft, Amazon, Cisco Systems, Samsung, SAP and Zenefits.
Growing creativity
Despite Vancouver already displaying such impressive tech credentials, the VEC is active in furthering the city's reputation as a world-class technology hub, which it achieves by focusing on one key area: talent and capital attraction. The organisation is acutely aware of the need to draw smart talent and smart capital into the city in order to fuel its rapidly growing technology sector, and so it concentrates its efforts on putting local start-ups in front of investors, as well as telling the Vancouver story to investor groups around the world. The VEC is also building on its research capacity in order to better track capital flow into the city.
Vancouver is expected to achieve a growth rate of 3.5 percent over the next four years, making it one of the fastest-growing economies in North America
Vancouver's digital entertainment and interactive media sector is closely connected to its burgeoning tech industry. Various screen-based productions fall under this umbrella, including film and television production and visual effects firms, totalling around 1,000 businesses. Furthermore, Vancouver now boasts the largest visual effects and animation cluster in the world.
There are a number of reasons why this industry is thriving: Vancouver's artistic atmosphere, plus its close proximity to Los Angeles and Silicon Valley, have long been a lure for young creatives, which has readily allowed the city to gather top talent. Furthermore, highly competitive tax incentives combined with a stimulating and beautiful natural environment provides a high quality of life and the creative inspiration on which such industries thrive.
Green leader
The city is also leading the way in the fight against climate change. Vancouver aims to become the greenest city in the world by 2020 through its Greenest City 2020 Action Plan; a strategy led by the VEC that, among other things, aims to double the number of jobs related to green, local food production. The initiative also includes an accelerator programme for clean technology start-ups, a demonstration programme allowing companies to access city resources for trial opportunities, and a digital platform to connect solution providers with companies seeking to 'green up' their operations.
Vancouver recognises that the fight to protect the environment is a global one. Now known as a major cleantech hub, with hundreds of such companies boasting global and cross-sectoral expertise, the city is a leading force in cleanteach innovation, especially in fuel cell solutions, power electronics and wastewater treatment technologies. As the economies of East Asia begin to place increasing concern on environmental issues, Vancouver's location on the coast of the Pacific Rim gives the sector access to vital export markets.
The VEC is proud of its unique and dynamic city. Vancouver is a vibrant 21st-century hub that is attracting smart talent, smart capital and smart businesses – and, as North America's Asia Pacific gateway, it is perfectly positioned to take advantage of global trade and capital flows.