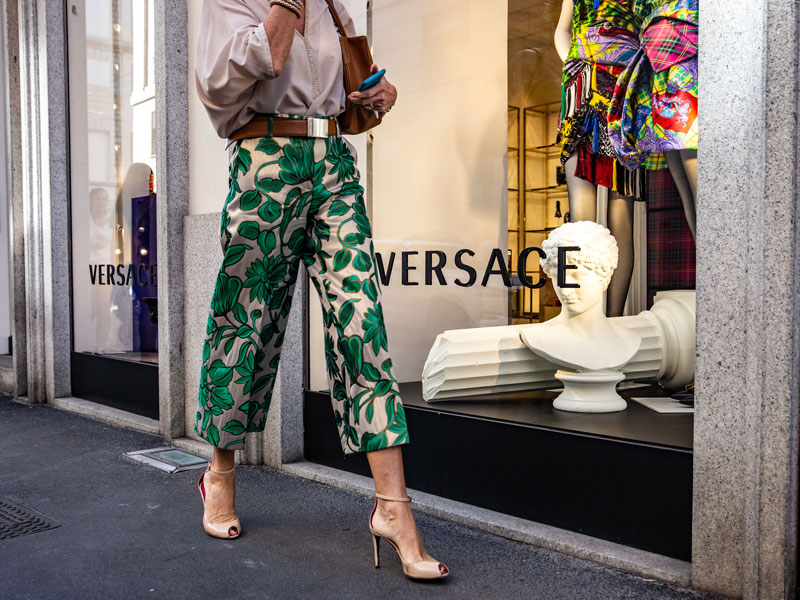 Donatella Versace has run the 40-year-old family-owned fashion house since 1997. She has said that being incorporated into Capri Holdings is essential to Versace's long-term success&nbsp
Famed Italian fashion house Versace has been sold to US clothing and handbags group Michael Kors in a $2.1bn deal confirmed on September 25.
The Versace and Michael Kors brands, along with Jimmy Choo, which Kors purchased last year for $1.2bn, are to be folded into a new company called Capri Holdings.
Versace was founded 40 years ago by Gianni Versace and was transferred into family ownership after the label's founder was shot dead outside his Miami mansion in 1997. Today, the family controls an 80 percent stake in the business. Gianni's siblings, Donatella and Santo, own respective stakes of 16 percent and 24 percent; his niece, Allegra, holds a further 40 percent.
Michael Kors has closed 100 stores this year and streamlined its product offering in an effort to shake off its current all-American, mass appeal image
Blackstone Capital, a US private equity firm that currently owns 20 percent of Versace, will sell all of its stock to Kors in the merger. The Versace family will maintain a €150m ($176m) stake in the new company Capri Holdings. Donatella, who is currently the brand's vice-president and artistic director, will stay on to "lead the company's creative vision".
In her statement, Donatella pronounced that Versace had to be sold for the brand to realise its full potential. "We believe that being part of this group is essential to Versace's long-term success," she said. "My passion has never been stronger. This is the perfect time for our company, which puts creativity and innovation at the core of all of its actions, to grow."
The purchase of Versace is part of a larger plan by Michael Kors to reposition itself as an uber-luxury brand. The company has closed 100 stores this year and streamlined its product offering in an effort to shake off its current all-American, mass appeal image.
In a press release, John Idol, Chairman and CEO of Michael Kors, paid tribute to the label's prestigious reputation: "For over 40 years, Versace has represented the epitome of Italian fashion luxury, a testament to the brand's timeless heritage." However, he also told Bloomberg that Versace is "terribly underdeveloped" in terms of revenue compared with other Italian luxury brands that are "doing in the billions of euros today".
With the aim of enhancing earnings growth, Idol revealed plans to increase the number of Versace stores from 200 to 300, as well as boosting the brand's e-commerce sales and expanding into Asia.
Versace is the latest in a string of family-owned European brands to be taken over by global fashion conglomerates. In 2017, French group LVMH, which also owns Louis Vuitton and Balenciaga, bought Dior for $13bn, and in June, the Missoni family sold a 41 percent stake in their eponymous brand to an Italian private equity venture for €70m ($82m).
Incorporation into a larger luxury group provides clear benefits for brands, such as priority access to sought-after storefront space and advertising slots. It does, however, pose a risk to a brand's creative soul, as artistic freedom is likely to be limited by corporate owners to economise on production costs.
The luxury fashion sector has seen a significant number of consolidations in the past 12 months, with new partnerships being formed between brands that occupy very different corners of the fashion landscape. Only time, consumer reactions and future revenue will tell whether those partnerships are successful.