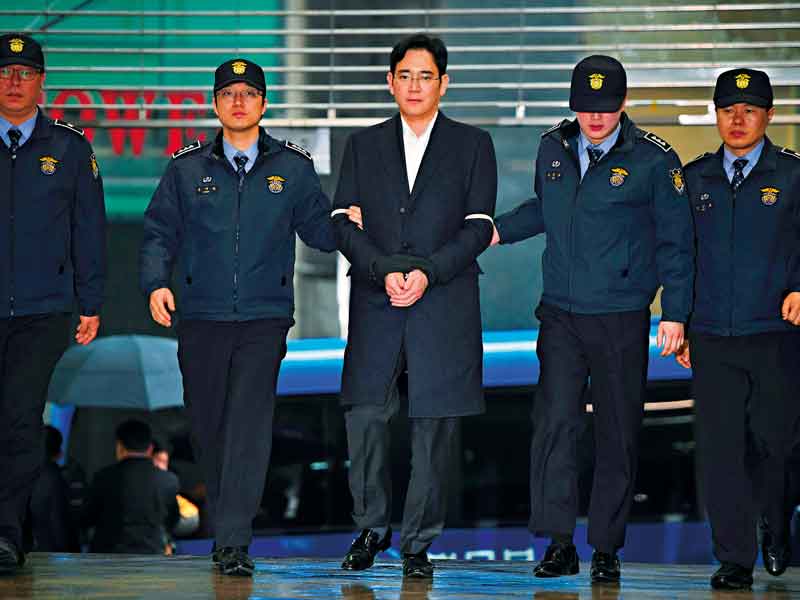 Lee Jae-yong arrives for questioning at the office of the Special Prosecutor&nbsp
In many ways, things simply couldn't be going worse for Samsung. The mighty electronics empire had only just recovered from its now-infamous exploding phone debacle when it became embroiled in a political corruption scandal, culminating in the arrest of its de facto leader, Lee Jae-yong. And yet, as the Samsung crown prince languishes in jail, the company's profits are soaring.
Incredibly, Samsung reported record-breaking quarterly profits for the three months leading up to June. Led by its seemingly unstoppable flagship division Samsung Electronics, the South Korean giant made KRW 14trn ($12bn) in profits over the past quarter, securing the brand's position as the most profitable non-financial company in the world.
Indeed, it is hard to overstate just how successful the electronics behemoth has become: its profits are now greater than the combined operating profits of Facebook, Amazon, Google and Netflix; a figure estimated at $11.15bn. Even with its leadership now in tatters, the sprawling conglomerate shows no signs of slipping from the top of the smartphone market.
The family business
With booming memory chip sales at home and overseas, Samsung now appears to be consolidating its dominant position in South Korea, unshaken by the nation's recent political upheaval.
"Samsung's annual revenue is equal to more than 20 percent of the nation's GDP, so they are in a sense the epitome of 'too big to fail'," said David Volodzko, National Editor of the Korea JoongAng Daily, the sister paper of The New York Times in South Korea. "There's not enough evidence to suggest that this scandal will deal any lasting damage to the firm."
However, despite starting the year strongly, Samsung faces some difficult leadership questions over the course of 2017. On May 11, 2014, the Chairman of Samsung Group, Lee Kun-hee, was hospitalised after suffering a heart attack. Since this date, there have been no confirmed sightings of or updates on South Korea's richest man, and rumours of his death have continued to circulate online.
Despite some initial scepticism over Lee Jae-yong's business experience, the heir has successfully overseen Samsung's transformation into the world's biggest smartphone maker
According to Samsung, Lee Kun-hee has spent the last three years recovering from the heart attack in a Gangnam hospital, and earlier this year the company marked 1,000 days without its leader. In the wake of Lee Kun-hee's sudden absence, the leader's son, Lee Jae-yong, stepped in to fill the leadership vacuum at the company.
Despite some initial scepticism over Lee Jae-yong's business experience, the heir apparent has successfully overseen Samsung's transformation into the world's biggest smartphone maker, sending profits skyward and knocking close rival Apple from the top spot in the industry.
The de facto leader also managed to somewhat effectively contain the fallout of Samsung's exploding phone crisis, preventing the incident from bubbling over into a full-scale brand image catastrophe with a swift and carefully managed global recall of the device.
However, just as the Samsung heir settled into the role at the top of the conglomerate, he found himself formally indicted on charges of embezzlement and bribery. His arrest and subsequent jailing means that Samsung is once again without a leader, with his impending sentencing threatening to scupper succession plans at the firm.
Leadership transitions can be immensely difficult, even for the most stable firms. Ever since its founding in 1938, top positions at the South Korean giant have been held by members of the Lee family, with second and third-generation Lees running more than 55 Samsung subsidiary companies.
With the company now considering an executive reshuffle, however, it may well be time to diversify from this family focus and bring some new blood to Samsung.
A show of strength
With its heir apparent behind bars, Samsung is determined not to let its leadership woes interfere with business. In July, the conglomerate announced it would be investing $18bn in South Korea, in a plan that promises to create almost half a million jobs. The announcement followed repeated calls from newly elected South Korean President Moon Jae-in for leading businesses to invest more domestically, as part of a job creation drive.
"Moon Jae-in has spoken about wanting to break up the nation's chaebol [family-run businesses] and generally has an image of being tough on corruption," said Volodzko. "Even with this pressure, the chances are good that Samsung will emerge bruised, but unbroken."
At this crucial time, this hefty domestic investment may also go some way in alleviating shareholder fears that major business decisions might be delayed in Lee Jae-yong's absence. By pressing ahead with future expansion, the conglomerate is sending a clear message to sceptics: the Samsung vision will not be disrupted.
Lee Jae-yong was jailed for five years upon the conclusion of his trial in August, but it now appears that the verdict matters very little. Even with its family patriarch permanently hospitalised and his only male heir behind bars, Samsung continues to soar. If it can surmount even these obstacles to achieve record profits, then the Samsung empire can surely withstand any blow.