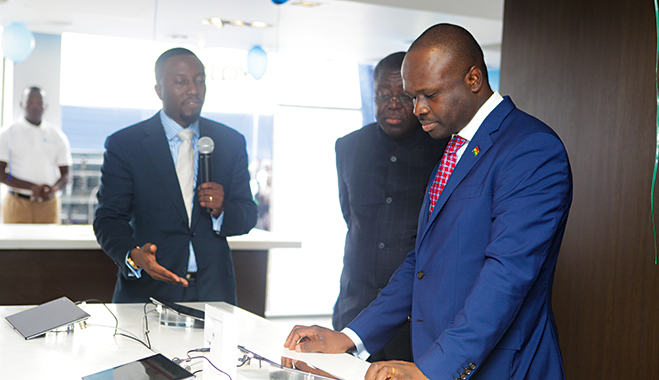 Left Justice Taylor (Surfline's CCO; left), John Taylor (Surfline's Executive Chairman; centre), Dr Omane Boamah (Ghana's minister of communications; right) at a Surfline Communications store&nbsp
Author:
John Taylor, Executive Chairman, Surfline Communications
The economic base of Africa has not changed, with strong raw material exports from agriculture, oil and minerals. Today, Africa's desire is to harness the continent's full potential, and not rely on material exports.
With better management of natural resources and up-skilled employees, companies are experiencing a wave of confidence for future projects, taking advantage of the opportunities these resources present. While challenges remain, there is a concerted effort to tackle poverty, famine, disease and corruption, even as the continent enjoys greater periods of political stability, and fewer armed conflicts.
Having established a positive environment, foreign direct investment has increased from non-Western economies including China, Brazil and Turkey. There is also a very large patronage of technology, with over 600 million mobile phone users – far more than North America or Europe.
The Ghanaian telecoms market has grown from having just one government-owned operator with approximately 70,000 fixed lines, to seven operators in 2014
This has provided a huge platform for income redistribution between the ever-increasing middle class and those situated in rural areas. The combined effect is a rise in investor confidence, especially in infrastructure, which has been woefully inadequate in the region. Africa's GDP has grown from $0.6trn in 2000 to $2.1trn in 2013, and is projected to reach $2.2trn in 2014 (see Fig. 1).
Many countries in the continent, including Ghana, have made significant strides. They stand distinguished in their effort to promote democracy, peace and stability, which are prerequisites for development.
With new hope and a more determined effort, the continent will continue to grow. John Taylor, Executive Chairman of Surfline – Ghana's first 4G LTE network – explains to World Finance why Africa is on the rise.
How has Africa's influence in the global economy changed over the last 20 years?
There have been positive indicators for long-term growth by the global economy, and I believe there is much more to come. Our influence on the global stage is improving, although some negative perceptions remain. Statistics suggest that Africa has experienced 14 years of sustained growth; its attractiveness as an investment destination has improved dramatically with foreign direct investments coming into Sub-Saharan Africa, growing at a compound rate of 19.5 percent.
Our governments have continued to pass laws and set up institutions to make our economies more attractive to foreign investors. The continent has therefore become the preferred location for investors looking to penetrate new markets. The rising number of indigenous entrepreneurs, untapped natural and man-made resources, along with the influx of foreign investors, has contributed to the increase in trading with the rest of the world.
To what extent is Ghana a major part of the continent's ongoing development?
Ghana is playing a key role in Africa's on going development. The country has been a long time champion for intra-regional trade within Africa. Despite the huge trading opportunities available within our continent, we are yet to fully capitalise on this due to cross-border bureaucracies. Trading among neighbouring countries was therefore very minimal or non-existent.
However, the Economic Community Of West African States (ECOWAS) has resolved this issue, and currently, the citizens of these states are able to travel across sister states without visas or work permits. The next step would be to set up a free zone among the ECOWAS states.
Ghana's contribution to the continent's economy cannot be over emphasised. Its harbours have, for a long time, served West Africa's landlocked countries. With the current expansion we only expect their contribution to increase.
Ghana's recent discovery and exports of crude oil have also given a new lease to its economy. This revenue stream has impacted positively, with job creation and infrastructure development in the western region. The country has enjoyed political stability, which is a major contributing factor to the current developmental drive. Ghana is at the forefront of attempts by African countries to ensure effective usage of its economic resources. The promulgation of the petroleum revenue management act is also of importance, seeking to provide transparency in the use of the revenue. With this level of transparency from natural resources, Ghana is setting an example that should be emulated by other countries.
Have deregulation and liberalisation influenced the continent's growth? What sectors have been influenced by this change?
Deregulation and market liberalisation have significantly bolstered the performance of various sectors of our economy, by virtue of the amount of local and foreign investments our economies have been able to attract. Sectors such as energy, finance and telecoms have benefited significantly.
The Ghanaian telecoms market has grown from having just one government-owned operator with approximately 70,000 fixed lines, to seven operators in 2014. Four of the operators are subsidiaries of multinational telecoms operators, one is a subsidiary of an African operator with a footprint within West Africa, and the other two are Ghanaian-owned operators.
Since 1992, telecoms operators have invested a cumulative capital expenditure of $6bn. In 2010, mobile operators contributed approximately 9.2 percent of government income, two percent of GDP, employed 6,000 people directly and 1.5 million people indirectly. In 2011, total investments from the telecoms sector alone contributed to seven percent of investments in Ghana, and is responsible for two percent of the country's overall GDP.
How influential has the telecoms sector been in fuelling Africa's growth?
Mobile technology has been an important catalyst for growth in Africa. Exponential growth in access to mobile technology and services has allowed us to leapfrog legacy technologies. This leapfrog effect has transformed not only the social, but also the economic landscape of the continent.
Over the years the telecoms sector has empowered the livelihoods and well being of our people, and has had an impact on industries including agriculture, health and finance. Today, people can access agro-market rates for their products, as well as farming and health advice from their mobile devices. With this as a starting point, we are moving into an era where we can offer our people limitless opportunities through telecommunications services.
How has the telecoms sector in Ghana changed since the early 1990s?
The deregulation of the Ghanaian telecommunications sector and subsequent entry of major players has seen the industry evolve from a period in the mid 1990s, where we had just over 70,000 fixed lines to over 24 million mobile lines today. We have moved from a period where telecom tariffs were a blackbox with minimal transparency, to a period where improved customer experience led to operators offering consumers per-second billing.
From the per-second billing period our market moved into an era where increased customer education on telecoms services and increased competition led to a reduction in price for voice services. Value added services have also become a mainstay for most consumers, and operators now offer a myriad of options. In 2010, the telecoms industry alone contributed $300m in taxes and levies to government. This formed 10 percent of government revenue collected within the period. The telecoms sector has grown to become an integral part of Ghana's economy with most sectors depending heavily on reliable service they can always access.
How does Surfline fit into the sector's development, and what does the company offer that others do not?
Internet connectivity is obviously very important in Ghana. This is one of the reasons why part of the government's national broadband strategy is to increase internet penetration to 50 percent by 2015. According to the World Bank, internet penetration in Ghana has grown from as low as 0.8 percent in 2002 to 12.3 percent in 2013.
However, we have challenges in Ghana where most internet users are unhappy with the services they get mainly because of slow or unreliable connections. This is where Surfline comes in.
With the backing of our 4G LTE network, our proposition is to offer clients fast and reliable internet connectivity coupled with a superior customer experience. Surfline's services will be the conduit that enables Ghanaian businesses to revolutionise the way they do business and maximise productivity.
We are the operator of choice for businesses that rely heavily on world class cloud computing services, working with a lot of trans-regional and continental business, government agencies looking to adopt electronic governance modules or tertiary institutions looking to offer e- learning services. Our services will offer businesses the opportunity to explore and adopt next generation solutions that will give their businesses a competitive advantage.
What are your ambitions for the future of Surfline?
With the internet's importance, we have the vision to promote a Ghana where people and businesses experience true mobile broadband, and the possibilities it presents. We intend to position Surfline as the lead innovator within our market; the company will not only be a high-speed internet provider, but also a partner that offers consumers solutions that will positively impact how they work and play.
Our goal is to offer more than just connectivity; consumers will discover new ways of using the internet that they never imagined possible. It's about time for a change.