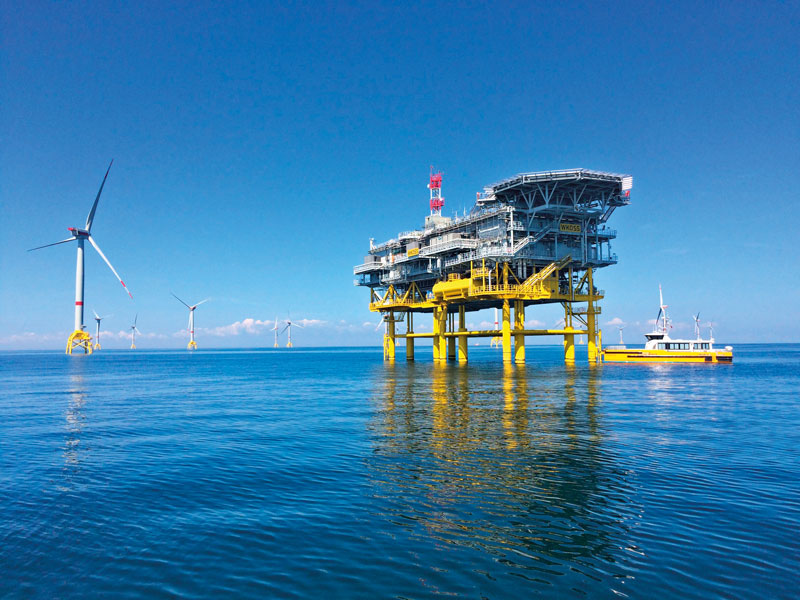 &nbsp
Our world today faces multiple, often conflicting challenges regarding energy security and climate change. On one hand, economies around the world are facing an energy price crisis that shows a clear need to eliminate the volatility associated with fossil fuels. On the other hand, the looming climate emergency offers a much more existential threat to the energy sector – and our planet. In the short term, there are several methods that can help the industry overcome price volatility, but shifting investments to clean power technology is the only true path to managing climate change effectively in the long run.
Thankfully, the past few years marked an inflection point where the world began to 'walk the walk' with regards to climate change. Ambitious emissions targets are being set across the globe and businesses are beginning to confront the scale of the climate emergency with emission reduction commitments. Alongside this, initiatives are emerging to support building a new world order for energy. But despite growing ambition and funding for renewable energy, some experts are actually forecasting an increase in fossil fuel investments for 2022. According to these experts, a meaningful shift from traditional oil and gas exploration and production to clean power technology will only take place when there are enough cleantech opportunities for investors.
From the viewpoint of energy giant Iberdrola, these opportunities already exist in the ever-evolving wind power industry. With 93 gigawatts (GW) of global capacity added in 2020 alone – up a whopping 53 percent from the previous year – one thing is abundantly clear: wind delivers the energy society wants, and it will be the backbone of the new energy transition.
An evolving technology
Although wind delivers a form of energy that society wants – one that is rightly lauded for its clean, renewable status and unlimited potential – this wasn't always the case.
The sector had to overcome numerous challenges to gain the clout that it enjoys today. Beyond regulatory red tape and permitting woes, wind power first experienced adversity from heavy industries because of the high energy costs associated with wind versus fossil fuels. Then came the Nimbys (Not-in-my-backyard) who fought tooth and nail to ensure the views around their homes remained free of turbines.
Fast-forward to today, and the evolving nature of wind power has largely eliminated these concerns. Heavy industries like steel and cement are now some of the wind industry's biggest supporters thanks to their need to explore options for industrial electrification. Meanwhile, the Nimby roadblock resulted in a pivotal innovation for the energy sector: moving farms out of those backyards and into the seabed.
Unlimited potential
The move offshore was a game-changer for the wind power industry. Wind resources are so abundant offshore that they are practically unlimited. Thanks to a lack of barriers on the high seas, wind reaches higher and more constant speeds than on land, meaning offshore wind farms can produce up to twice as much power as onshore facilities.


Not only this, but the reduced visual and acoustic impacts also mean it is possible to create larger farm plots.
Offshore wind farms are located in shallow waters, up to 60 metres deep, away from the coast, marine traffic routes, naval installations and spaces of ecological importance. They are governed by strict safety requirements, and environmental impacts are a significant consideration for the offshore wind industry. Rigorous studies are conducted in the years leading up to the start of a new project, including analysis of the wind farm's compatibility with local marine fauna, birds, migratory routes and more. Iberdrola uses cutting-edge technology such as advanced noise mitigation systems while building offshore wind farms to protect marine mammals from being affected during construction.
Although offshore structures and their maintenance are more complex, transporting components needed to build the mega-structures that capture this abundant, non-polluting energy source is much easier via marine routes. This has enabled turbines to reach vastly larger capacities and sizes compared to their onshore counterparts. For example, turbines with unit power of more than 10 megawatts (MW), and up to 15 MW, are possible offshore, whereas on land where transportation of these components is more difficult, unit power typically sits around five megawatts.
The combination of vast resources and bigger constructions has spurred an ongoing evolution to wind power technology that saw turbine capacity offshore increase by 102 percent between 2007 and 2017, according to the WindEurope report, Offshore wind in Europe: trends and key statistics 2018. The UK makes up the lion's share of installed capacity in Europe, with a total of 44 percent of all offshore wind energy installations in megawatts, followed by Germany with 34 percent.
Iberdrola's portfolio of offshore wind projects across Europe and further afield exemplifies the stepwise evolution of offshore wind turbines over the past decade. These advances invite optimism, yet they are only the beginning. The introduction of floating structures is creating tremendous new opportunities even further offshore.
The next frontier
Floating offshore wind (FOW) is a rapidly maturing technology with huge potential to accelerate the energy transition, particularly in Europe and the US. Until recently, offshore wind farms relied on fixed structures to support turbines. Structures with fixed foundations are installed into a support structure on the seabed up to 60 metres below the surface, and they rendered deep-water installations economically unfeasible.
With the advent of floating structures, wind turbines can be installed in very deep or complex seabed locations via flexible anchors, chains, or steel cables. The floating bases make it possible to harness the huge potential of the wind in large offshore areas where standard fixed structures would be unfeasible. These systems open the door to sites further offshore – and their higher wind capacity – by allowing the deployment of wind turbines in larger and deeper offshore areas, reaching hundreds of metres below sea level. Nearly 80 percent of potential wind energy is located in these types of conditions, thus FOW offers the possibility to use vast areas of the ocean for power generation and overcome a stumbling block to providing clean, inexhaustible and non-polluting energy for a more sustainable planet.
FLAGSHIP is a project supported by the European Commission's Horizon 2020 research and innovation funding programme. It aims to reduce the Levelised Cost of Energy (LCOE) for floating offshore wind to the €40 to €60 per megawatt hour range by 2030. The initiative will develop and fabricate the first 10 MW floating offshore wind turbine assembled on a floating semi-submersible concrete structure in the Norwegian North Sea.
Floating wind is still a relatively new technology, however, with only 80 MW of total installed capacity in 2021. Despite its infancy, experts agree it will be a key element in the renewables mix if it can overcome its initial hurdles. And it has plenty of hurdles to contend with: a difficult permitting regime, a non-developed supply chain and high commodity prices, just to name a few. These barriers are holding up the growth of offshore wind and holding back energy security for the world.
Unleashing potential
Two key things must happen to tap into the full potential of offshore wind: more capital and more partnerships. Despite the record-breaking increases to capacity in 2020, a further step-change in the industry is needed. Investments must at least triple over the next decade to meet climate targets and minimise the impacts of the climate emergency. Community partnership and advocacy are also crucial elements of building consent and support for the wind economy.
Iberdrola is a world leader in the development of offshore wind, with an operational capacity, pipeline and early-stage developments of approximately 30,000 MW. Looking ahead, the company is focused on building on this by striking new partnerships in the offshore wind power business – both fixed and floating – focusing on countries with ambitious targets. By 2030, the company expects to have 12,000 MW of offshore wind energy in operation.