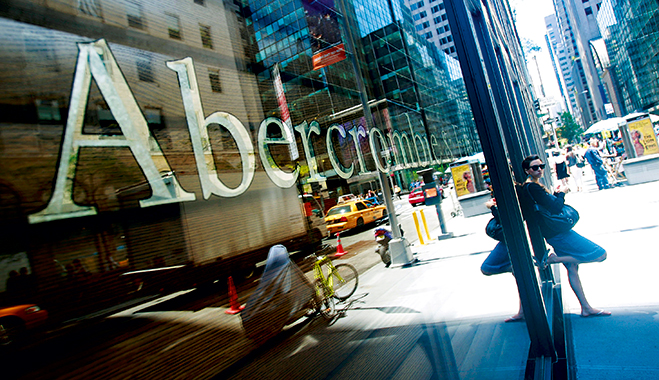 The Ambercrombie & Fitch flagship store in New York City. Since its CEO Mike Jeffries stepped down, the brand's profits plummeted by 77 percent, according to reports by Bloomberg&nbsp
Ornate gates guarded by cut-out Barbie and Ken lookalikes, the distinctive waft of a familiar scent and a shop so dark it's impossible to actually see the clothing; during his 22-year tenure, Abercrombie & Fitch CEO Mike Jeffries certainly did a good job of creating a distinctive brand.
What he didn't do such a good job of was adapting that to a changing consumer and a market increasingly in tune to controversial comments and policies. Famed for its shallow, selective and downright discriminatory recruitment procedures (the company forked out $40m to applicants in 2004 after being accused of discriminating against minorities and placing them in back-end roles, for example), the all-American US teen retailer has found itself the target of angry protesters and lawsuit plaintiffs time and time again over recent years.
Sex was definitely selling; Abercrombie expanded from 36 stores and $50m a year in sales in 1992 to 1,000 stores and over $4.5bn in sales two decades later
And what was once a successful marketing strategy collapsed around Jeffries, who stepped down from the CEO throne in December after being stripped of his chairman duties earlier in the year under mounting investor pressure. Profits had plunged (falling 77 percent in FY 2013 according to Bloomberg) while same store sales had fallen consistently for 11 straight quarters, dropping seven percent in the US and a substantial 15 percent in Europe in the third quarter of 2014, according to The Independent. A&F was, and still is, feeling the hangover of its former success.
Updating the model business plan
Looking back, success was undeniable. Between 1995 and 2008, sales grew 20-fold and net income increased more than 56-fold each year, according to a report by Business Week. Jeffries transformed Abercrombie from a sporting store aimed at outdoorsy types – with its 1892 origins in fishing and hunting – to a preppy apparel brand targeted at the popular college crowd, with stores decked out like clubs and raunchy, black and white photos featuring semi-naked models lining its walls. "It was really a phenomenal success story, he really grew that brand", says Dwight Hill, Partner at MacMillan Doolittle.
Sex was definitely selling; Abercrombie expanded from 36 stores and $50m a year in sales in 1992 to 1,000 stores and over $4.5bn in sales two decades later. However, that overt sensuality and exclusionary approach wasn't to last. When a controversial 2006 interview with Jeffries resurfaced in 2013, the company attracted animosity from far and wide. "We hire good-looking people in our stores. Because good-looking people attract other good-looking people", he had said in the interview with Salon.com. "A lot of people don't belong and they can't belong. Are we exclusionary? Absolutely", he said, proud of the retailer's 'cool kids' feel and its refusal to sell anything above a size 10.
Those comments certainly sparked attention, including a 68,000 strong change.org petition. According to Hill it was largely to blame for the store's demise. "One factor certainly has to be the negative press they've received from the comments Jeffries has made", he says. Jeffries apologised for his words in a Facebook post in May 2013 shortly after having been shot into the media limelight, stating that Abercrombie was "completely opposed to any discrimination."
But a quick glance at their portfolio of slip-ups would suggest differently. In 2004, Abercrombie found itself entangled in several lawsuits after being accused of discriminating against non-white job candidates. In 2009, a former employee with a prosthetic arm sued the retailer for $12,000 after she was reportedly banned from having a customer-facing role in the London store. Abercrombie later found itself the target of yet more bad press when internal company emails, leaked by Italian newspaper Corriere della Sera, revealed that employees at the Milan store had been forced to do push-ups and squats as a punishment.
Prescriptive dress codes for shop floor staff (referred to as models) have meanwhile seen the retailer face several anti-employment discrimination rulings after sacking, or not hiring, Muslim women wearing hijabs. Abercrombie defended its actions by claiming its Look Policy was at the "heart of [its] business model", The Huffington Post reported. They weren't the only controversies Abercrombie found itself caught up in; a range of t-shirts in 2002 provoked a boycott by Asian American groups accusing Abercrombie of stereotyping, while black and white advertising shots featuring half-naked models have come under fire. Its quarterly magazine back in the early noughties was labelled "soft porn" and sparked protests.
Death of a once successful strategy
In spite of all that, some believe the strategy was a successful one. Among those is Robin Lewis, co-author of The New Rules of Retail. "While Michael Jeffries was largely vilified for his exclusionary attitude… he nevertheless created and sustained a premier position in the youth market for about 25 years", he says. Brad Smith, Partner at digital marketing consultancy Codeless Interactive agrees, arguing that polarising strategies work. "Middle of the road becomes boring… we start paying attention to things at the extreme ends of the spectrum", he wrote in an article on brand positioning strategy.
In a 2013 Forbes article, marketing consultant Roger Dooley argued that Abercrombie's strategy was comparable to Apple's in that both target a specific crowd and market themselves as cooler alternatives to competitors. He added: "every time a critic trumpets, 'Mike Jeffries is terrible for not wanting overweight or unattractive people in his stores', they are propagating the exact branding message he's trying to promote."
That strategy clearly worked for a while, but its days were numbered and the tactics started to backfire. Margaret Bogenrief, Founding Partner of ACM Partners, wrote in an article for Business Insider that the exclusionary policies have partly caused the demise in an industry now embracing plus sized shoppers – which, according to her, account for 67 percent of US clothes buyers. It does indeed seem to be an inability to adapt to a changing market that's driving the decline; something even Lewis, a supporter of the original strategy, recognises. "When [Jeffries] launched A&F some 25 years ago, it was perfectly positioned for the young consumers of that period", he says. But "by not reacting quickly enough to pivot the brand, A&F' original core sexy, young and cool customers grew out of A&F", and the retailer failed to get the "younger siblings" on board.
It seems that one of the areas it didn't seem able to adapt to was an increasingly ethically in tune market, as Hill underlines: "I think that particularly now, in more of a social environment and in a world of conscious capitalism, people are very in tune to this and will certainly make choices as a result of their beliefs", he says.
It was certainly bad press and controversial policies that Abercrombie investor Glenn Welling, Founder and Chief Investment Officer of Engaged Capital, cited as being partly behind the downfall. "Publicity around Mr Jeffries' past public statements… [has] caused unnecessary controversy, no doubt damaging the company's public profile, employee morale, and likely sales," he wrote in an incensed letter in late 2013, pushing for Jeffries to step down.
Struggling to adapt
Abercrombie isn't the only example of a controversial retailer past its time; American Apparel has hit the headlines again and again for the controversy surrounding former CEO Dov Charney, as well as the retailer's overtly sexual advertising – which, according to Brian Sozzi of Belus Capital Advisors, has had its heyday. He told ABC News its scandalous advertising "was great when the company launched, because there wasn't anything in the market like that. But now people have had enough."
Like Jeffries, Charney established what he called 'our look' – in American Apparel's case, women au naturel in raunchy poses – and it seems to have become out-dated. The company has failed to achieve a full-year profit since 2009, while comparable store sales dropped seven percent in the third quarter of 2014 and losses hit $19.2m.
Both retailers, limited by a now seemingly obsolete niche, appear to have struggled to adapt to new consumers keenly aware of bad policies and press. Abercrombie seems to be trying to widen its market, promising in late 2013 to introduce larger sizes and more recently stating it would modify its stores through quieter music, better lighting, less of the overly-enthusiastic perfume spritzing and mannequins instead of semi-naked models, according to a report by Adage. But it's arguably too little too late, at least according to Lewis: "All of his attempts at repositioning now are simply tactics that he's throwing against the wall to see if any stick", he says.
Despite global net sales falling 12 percent to $911.4m in the third quarter of 2014 – and stock plummeting to its lowest level in a year at $30.31 – Hill is optimistic Abercrombie's fate can be turned around. He believes the message that shoppers are "part of the in crowd" could still work if it's executed in the right way: "I think it can continue to work well, but they do have to work on targeting what that millennial shopper is looking for", he says.
But it seems what that "millennial shopper" is looking for is so far from Abercrombie's original ethos that adapting to it would mean destroying the established brand image entirely. The ugly truth is that these apparel stores attempting to market their products to a young, 'good-looking' crowd seem to have become ironically passed it, as they find themselves morphing into the very unattractive and uncool things they once sought to exclude their glorified offerings from.