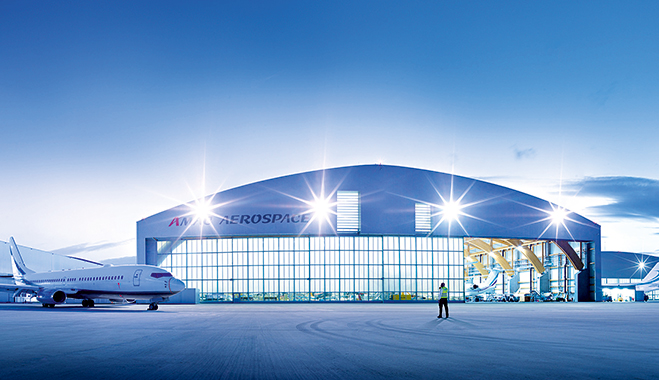 From its base in Switzerland, AMAC Aerospace provides first rate private aviation services to busy international entrepreneurs and executives&nbsp
Author:
Mauro Grossi, CFO, AMAC Aerospace
March 3, 2014
As the regions stimulating global economic development become increasingly diversified, with the BRIC countries gaining traction and the newly emerging MINT (Mexico, Indonesia, Nigeria and Turkey) countries rising in the international business landscape, the need for convenient, efficient, safe modes of transport serving executives, driving business forward, is imperative.
Private jet charter or ownership is often the most efficient and time-saving option that cash-rich but time-poor senior executives have; one which guarantees them efficient access to the growing number of business regions. Executive aviation now supports a wide variety of business travellers who utilise these valuable business tools as more than just a means of transport.
More business people crossing continents on a regular basis means an increasing number of business jets are serving as offices in the sky. In many cases they are a second home for the international entrepreneur. Hub and spoke commercial aviation dominates the skies yet rarely provides all the necessary direct connections.
According to the European Business Aviation Association (EBAA) in 2011, 96 percent of city pairs served by private aviation had no scheduled connection. While advanced technology supports video conferencing, the EBAA notes that 66 percent of corporate decision makers regard face-to-face meetings as critical to M&A success. There is nothing like sitting with new business colleagues to really learn about them.
Face-to-face business
Time is a finite commodity for these executives. Jets reduce unnecessary waiting times at airports, offer direct routing and allow for comprehensive schedule changes. More importantly, they provide the security to discuss high-level deals and a quiet space to contemplate the next meeting while mapping out ideas with colleagues. A route that has seen significant growth over the past year is China to the Middle East through Africa to South America.
Any passenger travelling the hours these journeys require welcomes an intelligently specified interior that offers not only comfort but office space with connectivity. Business jet completion centres are increasingly facing the challenge of providing a workspace in the sky combined with a comfortable home-from-home interior. One of the leading players in the business is AMAC Aerospace.
AMAC Aerospace
2007
Founded
15
Aircraft
$1bn
Worth of business undertaken to-date
600
Size of workforce
The company has developed a business expertise in creating just the right environment for clients, including members of the Fortune 500, heads of state, royal families and international entrepreneurs, among other high-net-worth-individuals. Established in 2007, it is located at EuroAirport Basel-Mulhouse-Freiburg, Switzerland and specialises in both aircraft maintenance and completions, and through its Zurich based business – AMAC Corporate Jet business – it also provides aircraft charter and management with a combined portfolio of 15 aircraft under AMAC management.
The founders, including Group Executive Chairman and CEO Kadri Muhiddin, have strong heritage in the sector, and genuinely understand what owners require in terms of reliability. In response to these needs the founders recognised that reliable completions offering best in service quality, delivered on time and within budget, were a valuable resource for the private aviation market.
Complementing this, the capacity to keep aircraft fully maintained ensures efficiency and best use of the asset for the owner. The family run, privately owned business chose the acronym AMAC as the letters represent Aircraft Maintenance and Completion which succinctly describe the core competencies of the business.
Its Swiss facility now boasts three hangars, suitable to accommodate wide-bodied aircraft. The bare airframe is delivered on the customer's behalf to AMAC where it finishes the aircraft, taking into account the bespoke requirements of the owner, while fitting all furnishings, technology and completing some paintwork.
A strong fleet for greater demand
As the distance between business centres expand the demand for longer range aircraft is increasing, and AMAC has positioned itself to serve this market. It has approvals from major aircraft manufacturers Airbus and Boeing to undertake completions and maintenance on the A320 series, A330s, A340s, ACJs (Airbus Corporate Jets), BBJ's (Boeing Business Jets), B777s and B747s.
It has the capacity to work on short- and mid-range aircrafts, but at its heart is the growing skill-set required to provide highest quality completions featuring the latest in design, comfort, and connectivity.
It can also support the market end-to-end from a maintenance perspective, and has recently become the first European company to complete a 16-year heavy maintenance check on a Gulfstream V, which involved taking the aircraft back to its skin to carry out a complete structural and maintenance check. AMAC also recently performed its first wide body maintenance project on an Airbus A340, which went without incident proving the company's ability to take on any request.
Jets reduce unnecessary waiting times at airports, offer direct routing and allow for comprehensive schedule changes
Insurance, Air Operating Certificates (AOCs) and general equipment safety rely on detailed maintenance checks to ensure security and efficiency of the operational asset for the owner. This is integral to business continuity as if the aircraft undergoes unnecessary down time this is costly for the owner, and can disrupt international business schedules.
AMAC Aerospace is proud to be the largest family run business in private aviation anywhere in the world. Basel-Mulhouse was selected due to its a central location for an established business aviation market in Europe, in addition to recognising the importance of the growing markets of Russia, the Middle East, which is relatively a young sector in business aviation terms, as well as providing service to North Africa and further south into the Sub Saharan regions.
To further support these markets, in September 2012 AMAC Aerospace opened AMAC Aerospace Turkey, reflecting the vision of the founders. Turkey is now part of the MINT economic group and as a location perfectly serves the Middle East, India and the burgeoning Eurasian market.
With orders for the next two years, AMAC is in open dialogue with other potential clients and has undertaken over $1bn worth of business since forming as a organisation. As a result, management is exploring the option of a fourth hangar purchase at its home base which will underpin maintenance of wide-body VIP aircraft, an area of the market that is rapidly developing due to the economic global stretch.
Currently, 65 percent of the work is completions based, but the company is hoping to balance this to a 50:50 split within the next 12 months. AMAC aims to offer lifetime service to the aviation sector from initial completion through to the long-term heavy maintenance checks.
One of the biggest challenges AMAC faces is to provide a working environment that is comfortable and practical for the owners of the jets. This means the designer has to consider many elements when designing the interiors. Alongside the cabinetry, soft furnishing, and full size double beds, the company also installs state-of-the-art cabin management systems to support crew activity, and what has arguably become the most important part of any cabin completion project: a full-scale communications suite and complementary Inflight Entertainment system.
The need for effective connectivity has become a leading part of the design process. The capacity to make calls as if you were on the ground and the need for speedy and reliable internet access and all office amenities for tablets and smart phones is integral. These tools develop with such speed that AMAC often has to predict what the client will need before the product even exists.
Entertainment systems evolve so fast and therefore the company is currently working on the design and implementation process for the installation of high definition screens for 3D viewing on board. It has full in-house capability for installing all of these vital elements, in addition to the capacity to update them as quickly as the systems change.
Having built a reputation for focusing on detail, the recent interior of an Airbus Corporate Jet ACJ319 saw it furnished with soft, high quality leathers, specially selected wood veneers and an attractive decorative cabin door inlaid with carved mother of pearl and wood marquetry panels.
This may sound opulent but in an environment that is invariably the owner's second home, these details matter. Clients need to know that they will have a comfortable space to live in, combined with an efficient working environment.
Since its launch AMAC's rapid growth reflects the founders' extensive network of contacts and their intuitive vision to develop markets. The VIP aviation market is relatively compact so networks are essential for success and AMAC continues to deliver what these demanding customers expect.
The customer portfolio extends way beyond Europe as the company has approvals from the authorities in Brazil, Russia, Aruba, Bermuda, the Cayman Islands, the Kingdom of Saudi Arabia, Qatar, Oman, the UAE, Cameroon, Nigeria and Chad, to name a few, and to carry out maintenance operations in Switzerland.
Today AMAC employs a talented workforce of over 600 people who have built a unique set of skills for an expanding sector of the aviation market. As the world extends from a business perspective, AMAC Aerospace is as well positioned to serve the established business regions as it is to work with those in emerging destinations such as Nigeria, Brazil and Indonesia.
While currently the largest part of its client base is in the Middle East, these new markets are becoming as interesting as those with established wealth. The clients from these areas now demand prestigious aircraft with elite finishes flying into the heart of Africa and on to Russia, Brazil and further afield. As the world's economic barometers change, AMAC is ready to support and develop with them.