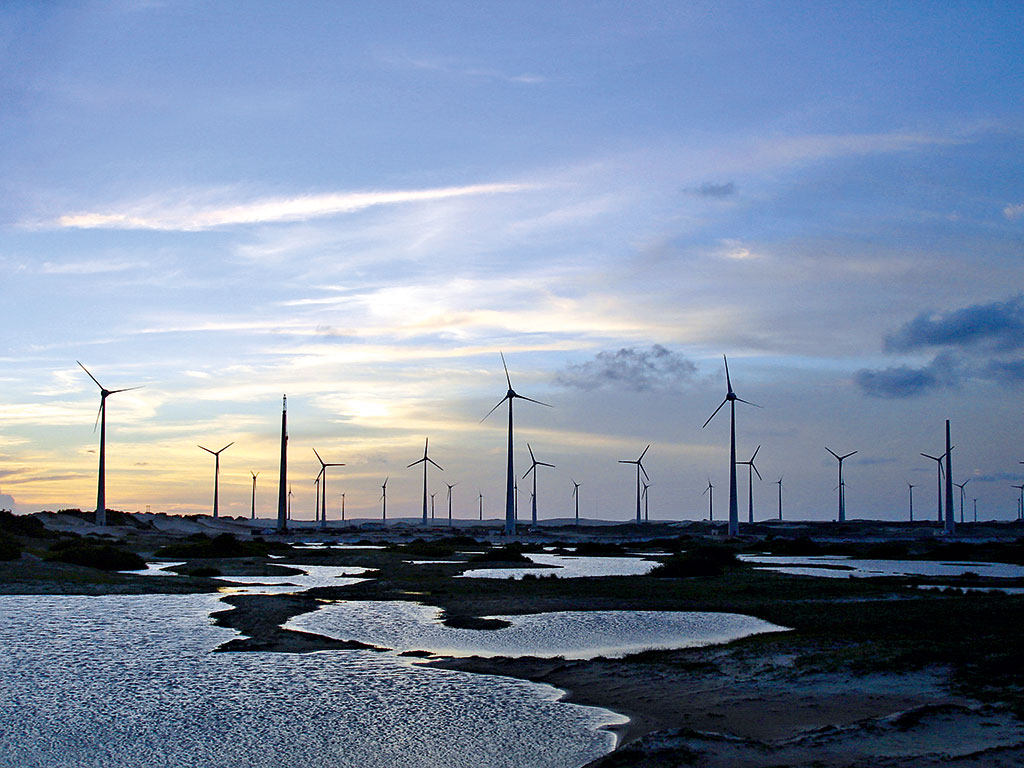 An Iberdrola wind farm at Rio do Fogo, Brazil: the electricity company has an impressive focus on corporate governance&nbsp
Over the past few years, investors and stakeholders have become more attuned to the importance of corporate governance, demanding that companies recognise their responsibilities to the communities in which they work and the many people affected by their actions. Companies today are required to implement good governance and responsible initiatives across all they do if they are to be considered successful.
"Good governance requires a constant effort to communicate governance policies to all your stakeholders and not just investors," says Ignacio Galán, Chairman of Iberdrola. "Corporate sustainability and responsibility should be embedded in every aspect of the company's life. It's not just about talking but about doing."
The company is a model of industrial success that has prioritised clean energy and has generated value for its shareholders for more than a century. "We believe that a common sense of belonging and trust results in a much higher productivity," says Galán. "Without ethics and corporate governance practices, it would hardly be possible to align employees with business goals and it'd be impossible to run a successful business. Therefore, we need good governance and we need our employees to believe in corporate social responsibility. Although management teams lead changing processes, it is actually the employees who implement those changes and their adaptability that delivers."
This focus on matters of corporate governance has had a profound impact on the energy industry. Whether it stems from governments, regulators, stakeholders or communities, companies are subject to unrelenting scrutiny from all angles. "It is in the industry's best interest to be as transparent as possible," says Galán.
Energy leader
Iberdrola is the leading electricity utility in Spain by market share, and has established itself as one of the main operators in the UK and the US, where company investments have increased three fold over the last five years. It has consolidated its leadership position in Brazil, through Neoenergia and the acquisition of distribution company Elektro, and is also Mexico's largest independent power producer with more than 5,000 megawatts (MW) of generating capacity that will be increased significantly in the coming years (see Fig. 1). With total assets worth $30bn in the US, Iberdrola is the country's second-largest wind power producer and provides electricity and gas to a population of six million throughout New York and New England.
In addition to Iberdrola's extensive industry experience, corporate governance has played an important part in driving the company's longevity. "Given that Iberdrola is over a century old and engages in a very traditional and mature line of business, an emerging trend in corporate governance towards the end of the 20th century posed important challenges, which we continue to find responses to," says Galán.
The Bilbao-based energy utility is a private sector company whose focus lies primarily on energy generation and distribution, with an emphasis on security of supply and high quality service. Based on market capitalisation alone, Iberdrola is among Europe's top five energy providers.
With an overall workforce of 30,600 employees, the company has a generation capacity of some 46 gigawatts (GW) serving 100m people worldwide. However, what really differentiates Iberdrola is not the scale of its business but its diversified generation mix.
"Iberdrola's commitment to environmentally friendly energy sources has consolidated us as the world leader in renewable energies," says Galán, in reference to the company's 24,000+ MW renewable capacity; mainly wind and hydro assets. "Of the total generation capacity, 60 percent is free of greenhouse gas emissions, and the environmental policy of the group has positioned us as number one in this space, according to the Dow Jones Sustainability Index."
Environmental responsibility
The energy industry has suffered its fair share of criticism in recent years, especially with regards to carbon emissions and pollution. However, Iberdrola has demonstrated how it is that industry leaders can address longstanding environmental concerns by employing forward-thinking initiatives and a responsible company culture.
"Sustainability is part of Iberdrola's DNA," says Galán. "Here we have a holistic approach to sustainability and aim for long-term consumer, shareholder and employee value. We believe that sustainability is not only related to environmental issues, but also to how the entire business operates and its impact on society, and that sustainable development has to be implemented through responsible principles and practices, while taking into account the needs and expectations of our shareholders."
Iberdrola's sustainability initiatives extend to the communities in which it works, as well as the company's hundreds of thousands of shareholders worldwide. Galán believes transparency to be a crucial part of Iberdrola's policy, and sees independent input as an effective way of identifying how the business is performing, "as it is independent parties who approve our sustainable footprint as a whole."
"In terms of environmental achievements, we are a world leader in wind energy and a heavy investor in new technologies," he says. "We have a fund called Perseo, which invests in start-ups dedicated to research and development in new energy generation technologies as well as those allied with the objective of global carbon emissions reductions."
It's not just about talking but about doing
Iberdrola's continued efforts have seen the company take a prominent place in the Dow Jones Sustainability Index and the Carbon Disclosure Leadership Index. And in keeping with its strict environmental initiatives, the company has outlined a pledge to keep emissions per kWh at least 20 percent below that of the anticipated European electricity average in 2020.
In the period through 2003-13, Iberdrola allocated €25bn to the development of green energies, which represents the highest figure ever invested by a company in this field, on the basis of known data. Based on this short history of sustainable investment, Iberdrola's commitment to a more sustainable world and an economy that creates value for the community is plain to see.
Factors for success
Galán is quick to dismiss Iberdrola's industry expertise as the company's single most important measure of success. "Longevity is indeed an indicator of a successful and sustainable project, but it's certainly not the only one. In order to increase our chances of evolving and growing all the time, we need to have a strong identity, adapt to an ever-evolving environment, and balance our relationships with people and institutions both inside and outside the company. We have engaged in a process of continuous improvement in corporate governance processes and practices, and I think the company has reached a commitment to its shareholders, many of whom are pensioners who have trusted their lifetime savings."
Iberdrola is one of Spain's most active companies in terms of shareholder engagement, which is something the group prides itself on. In recent years, Iberdrola has implemented the best practices of corporate governance, which is reflected in the composition of the company's governance bodies.
Total transparency
Iberdrola's board of directors has experienced its fair share of changes over the past 20 years. Back in 1991, after the merger of the two companies that formed Iberdrola, the board consisted of 38 members. Fast-forward to the present and the board now seats 14 – of whom 10 are independent parties from four different nationalities – and includes four women.
The company's Appointments and Remuneration Committee ensures that nominees are upstanding and qualified persons widely recognised for their expertise and competence, seeking to ensure that the selection of candidates results in an appropriate equilibrium of the board that enriches decision-making and contributes multiple points of view. Also, to counterbalance the role of the executive chairman, Iberdrola appointed a lead independent director in 2009, who was endowed with the powers to call board meetings, include new items on the agenda, and coordinate non-executive directors.
The company's reputation with regards to corporate governance is unparalleled in Spain
"The board is continually reviewing and enhancing its corporate governance processes, with the aim of providing total transparency," says Galán. And the communication between corporation and shareholder extends further still. "We encourage the participation of all shareholders," he says, "so that we can gain a thorough understanding of our shareholder base. We believe that providing a sound basis for pro-active shareholder engagement is fundamental for the continued success of the company.
"Today, more than 650,000 retail and institutional Iberdrola shareholders throughout the world have invested in our company, and in return we offer them a model that is reliable, predictable, sustainable and profitable. We are an independent company that is not controlled by any particular shareholder, and instead, all shareholders are the central figure in Iberdrola's corporate governance system."
The company's reputation with regards to corporate governance is unparalleled in Spain, best evidenced by Iberdrola being the company with the fewest votes against board proposals of all the blue-chip index Ibex-35 constituents.
Iberdrola's commitment to matters of corporate governance shows an awareness of how decisions made by corporates can affect individuals on a global scale. The answer to a sharpened focus on matters of governance, says Galán, "is engaging with all shareholders, and allowing them to participate in key decision-making processes."