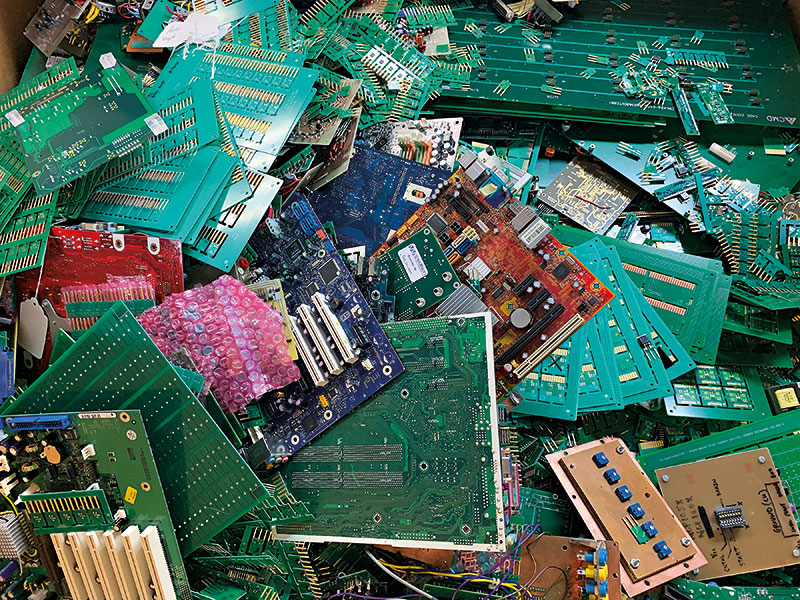 The ON Semiconductor Reclamation Centre reclaims scrap materials from 22 factories and most of the company's subcontractors globally&nbsp
Author:
Bernard Gutmann, Executive Vice President and Chief Financial Officer, ON Semiconductor
Being a good corporate citizen means more than just considering the ethical and legal responsibilities within an organisation: it means accounting for the needs of wider society, too. At ON Semiconductor, our mission is to provide high-quality, energy-efficient and sustainable semiconductor solutions that enable customers to innovate while operating in an ethical and socially responsible manner.
As a global company, we must put sustainability at the forefront of our operations. That's why we reuse, reduce and recycle materials at all of our sites and help make the world a greener, safer and more connected place with our energy-efficient semiconductors. Our products help industries become more environmentally friendly, while our business units and research and development department focus on efficiency and green applications. Put simply, we are committed to creating environmental, social and economic value through our sustainability, diversity, governance and social responsibility programmes.
A power of good
The energy grid and its associated infrastructure are facing accelerating change, with prices for solar power and energy storage falling and the load from electric vehicle charging growing across the globe. According to the US' National Renewable Energy Laboratory, solar installation costs have dropped by more than 80 percent in the US over the past decade. These critical pieces of infrastructure require solutions with the highest levels of efficiency, reliability and safety.
ON Semiconductor has the technology, reliability and application knowledge to enable the decarbonisation of energy infrastructure
ON Semiconductor offers all the elements required for optimal energy solutions, from insulated-gate bipolar transistors, superjunction metal oxide semiconductor field-effect transistors and wide band gap semiconductor devices to power modules, gate drivers and operational amplifiers. Whether at grid, commercial or residential scale, we have the technology, reliability and application knowledge to enable the decarbonisation of our energy infrastructure.
Coal-fired power plants are the largest contributor to global carbon dioxide (CO2) emissions, which drive air and water pollution, facilitate the destruction of habitats and create health hazards. Our power solutions and products improve the efficiency of the overall system to enable a better return on investment on solar installations, further supporting CO2 reduction and combatting the effects of climate change. These improved efficiencies also result in cost reductions, encouraging further solar installations. What's more, our products help countries reach their solar energy capacity goals while enabling them to retire or convert more of their existing fossil-fuel power plants – to date, ON Semiconductor has shipped enough power solutions to replace 70 coal-fired power plants. In 2019, we reduced emissions by 9,341 tonnes of CO2-equivalent through 35 projects in four countries.
Our Internet of Things portfolio includes solutions for energy-harvesting platforms, which are battery-free solutions with advanced wireless connectivity. The use cases for this technology are exponential, but a few examples include wide-range temperature sensing and combined digital humidity and pressure sensing. The demand for such tools is rapidly growing within the smart farming industry, resulting in cleaner air, enhanced energy efficiency, cost savings and ease of maintenance.
Another area that is gaining rapid momentum – especially as environmental and sustainability concerns grow in tandem with stricter clean air legislation – is the decarbonisation of automobiles and other transportation modes. In this category, our products provide energy-efficient technologies and a complete system solution for electric vehicle charging systems of all types and power levels.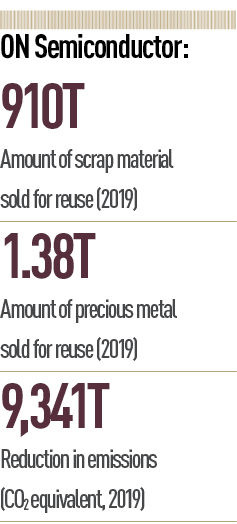 Sustainability on a global scale
In addition to our products creating a safer, more sustainable world, we must continue to abide by our mission statement and operate responsibly. Back when ON Semiconductor was still a part of Motorola, the company had a monthly auction of retired equipment and scrap manufacturing materials. Eventually, the company decided to develop the ON Semiconductor Reclamation Centre (OSRC), which continues to operate efficiently after 40 years. In 2019, approximately 910 tonnes of scrap material and 1.38 tonnes of precious metal from ON Semiconductor's global manufacturing facilities were processed, sorted and sold for reuse at the OSRC. The reclamation of these materials recouped over $22m.
The OSRC reflects our commitment to environmental sustainability and resource conservation while optimising our network, protecting intellectual property and maximising profits. It reclaims scrap materials from 22 of our factories and most of our subcontractors globally. Furthermore, we continually refine our methods, researching ways of reclaiming materials that consume less power and boost our revenue generation.
Based at our headquarters in Phoenix, Arizona, the OSRC supports both local and national refineries. When choosing partners, we place an emphasis on refiners – and brokers – that are contracted or have contractual agreements with integrated smelters. This was an important factor for us, especially considering there are only six integrated smelters in the world that are capable of accepting electronic waste and running all of their operations in strict accordance with environmental, health and safety policies – something that directly aligns with how we operate as a company.
Refiners that do not use integrated smelters could decide to piecemeal their scrap to brokers, increasing the chance of waste ending up in countries like China and India, where it will likely contaminate the land, water and air. We also implemented more than 72 projects in 2019 focused on energy conservation, waste reduction, chemical recycling, material optimisation and water conservation. Combined, they allowed the company to save an estimated $10.8m.
Regardless of whom we do business with – whether it's a partner in the reclaim department, a distributor or any other strategic partner – their business objectives, ethics and sustainability initiatives must align with our own. Together with our partners, we are creating a more sustainable world and making Earth a better place in which to live.
 Together with our partners, we are creating a more sustainable world and making Earth a better place in which to live
Heeding the call
We believe the actions we take today will shape the future of the planet. Our leaders like to challenge employees to do simple things that make a difference to the communities ON Semiconductor serves. Whether large or small, we encourage workers to incorporate more sustainable actions into their everyday lives, such as using public transportation, saying no to plastic bags and single-use plastics, picking up and properly disposing of rubbish, and donating to local charities that help the planet.
In 2019 alone, we prevented eight tons of pollution in Phoenix by encouraging our staff to use alternative modes of transportation as part of their commute. When our employees contribute positively to the community and share their time, talent, energy and effort with others, it makes our planet stronger.
The industry recognition we've received for our employees' work in upholding our commitment to corporate social responsibility, sustainability, ethics and compliance is extremely rewarding, including being named one of the world's most ethical companies by the Ethisphere Institute for the fifth consecutive year, ranking on Newsweek's America's Most Responsible Companies list and placing on Barron's 100 Most Sustainable Companies list for the third consecutive year, among many other accolades. Looking to the future, we will continue to make sustainable investments to enhance our competitive position in strategic end markets, improve our industry-leading manufacturing cost structure and make the world a greener place.
The recent BlackRock letter to CEOs and other business leaders calling on companies to give stakeholders a clear picture of sustainability aligns with our values and reflects our reporting efforts to date. For example, we conduct the essential elements of our business through the lens of sustainability and are working towards reporting through the Sustainability Accounting Standards Board and/or Task Force on Climate-related Financial Disclosures frameworks. What's more, we have implemented five-year targets relating to the environmental conservation performance at our wafer fabrications, assembly locations and test operation sites, and are currently working to develop appropriate science-based targets. These include plans to reduce carbon emissions, water consumption, energy waste and chemical usage.
As the world looks for new means of protecting the natural environment while driving innovation and not compromising on our way of life, ON Semiconductor is proud to lead the way with its sustainability initiatives.