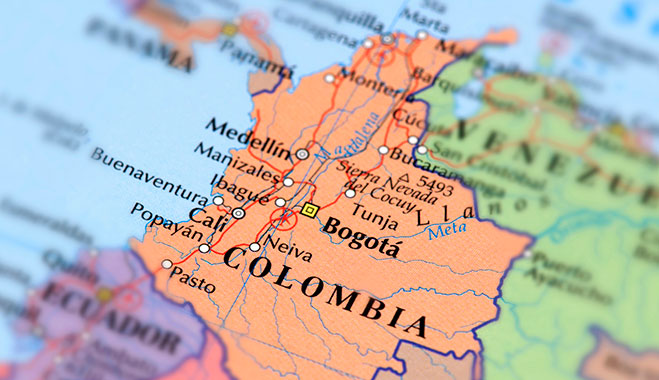 Based in Colombia, Grupo Energía de Bogotá is seeking to expand its horizons, with eyes on countries such as Brazil, Chile, Ecuador, Panama, Mexico and Canada&nbsp
Author:
Sandra Stella Fonseca, CEO, Grupo Energía de Bogotá
February 27, 2014
Energy means development, evolution and growth. This has been one of the reasons why throughout my professional career I have been involved in energy-related topics, and today more than ever, I am certain of the importance of the sector in any country in the world.
An example is the fact that over the 117 years of its history, Empresa Energía de Bogotá (EEB), parent company to Grupo Energía de Bogotá, has played a fundamental role in the progress and development of the energy sector, not only in Colombia, where it is based, but in other Latin American countries where it operates, such as Peru and Guatemala.
We have invested in these countries armed with our long-standing knowledge and expertise in the energy chain (generation, transport, distribution and commercialisation). That expertise has seen us recognised as a sound corporate group, and also demonstrates the faith we have in Colombia, and the Americas.
Our energy projects do not only contribute substantially to development in the countries where we operate, but they also contribute to competitiveness, reducing poverty levels and improving the quality of life of the entire population. But we are aware that this is not enough. We strive to become a model of global responsibility under which we base all our endeavours alongside our main stakeholders, such as communities, vendors, clients and workers.
One of our most significant challenges is strengthening ourselves as a corporate group, always working with the highest quality standards, with a high regard for the community, respecting the environment and acting as a fundamental growth pillar in the areas where we have presence.
Grupo Energía de Bogotá
$7.9bn
Total assets, Q3 2012
$8.2bn
Total assets, Q3 2013
68.1%
Percentage Grupo Energía de Bogotá owns of TGI
We take pride in knowing that EEB is among the 54 world companies that are part of Global Compact Group Lead; that as of January 2014 we will be part of the board of directors of such a select group; and that in 2013 we were ratified in the Dow Jones Sustainability Index (DJSI), under the category of emerging markets. The DJSI is the main world benchmark measuring the contribution companies make to sustainable development and economic, social and environmental performance.
Similarly, we were the first company in Colombia and among the first in Latin America to receive certification regarding efficiency and responsible use and consumption of energy. This acknowledgement was awarded after the external auditing company Bureau Veritas Certification successfully completed the ISO 50001 certification process.
Another relevant fact relates to corporate transparency, carried out by Corporación Transparencia por Colombia, which improved our rating from 86 to 94 in 2013. At the same time, we were selected in the fourth round of sound corporate practices by the business integrated planning model.
Partnerships and holdings
Over the years, we have been regarded as one of the leading groups in the energy sector in Colombia. Through EEB, we transport electricity to the largest market in the country with the highest demand rates, and further participate in the distribution of electricity through our affiliate company, Empresa de Energía de Cundinamarca (EEC).
Likewise, we own 68.1 percent of TGI, the largest gas transport company in Colombia, which services the fastest-growing market in the country and operates 3,957km of gas pipelines, with a transport capacity exceeding 730 MPCD (million cubic feet day). It is of the utmost importance that we participate in the sale of the 31.92 percent of TGI's stocks currently in the hands of the financial company, Citigroup.
Should this operation be successful, Grupo Energía de Bogotá would be the owner of almost the entire stock of a sound and growing company, which would further increase revenues for the corporation.
In addition, we hold significant stocks in companies such as Emgesa (energy generation), Codensa (distribution and commercialisation of energy), Promigas (transport of natural gas) and Gas Natural Fenosa (distribution and commercialisation of natural gas). Although we do not hold control over these companies, we do receive significant revenues from their operations.
[W]e own 68.1 percent of TGI, the largest gas transport company in Colombia, which services the fastest-growing market in the country and operates 3,957km of gas pipelines
We have consolidated our portfolio in countries that we deem significant to our dividends. Thus, in Peru, our affiliate Contugas has a 30-year concession contract to transport and distribute natural gas in the Department of Ica and our affiliate Cálidda (also a 30-year concession) is in charge of distributing natural gas in Lima and Callao. In that same country, together with ISA, we participate in REP and Transmantaro, which operate 63 percent of the electric power transmission system in the country.
In Guatemala, our affiliate company Transportadora de Centroamérica (TRECSA) is in charge of the construction of the largest energy infrastructure project in the country and it is predicted that it will be ready to begin electricity transmission services in 2014. We constantly strive to become one of the largest energy groups in the Americas.
Therefore, we would like to continue to expand to other countries such as Brazil, Chile, Ecuador, Panama, Mexico and Canada. Our commitment saw results when we were appointed to the Presidency of the Regional Energy Integration Commission (CIER – by its Spanish acronym), which aims to achieve energy integration in South and Central America and the Caribbean.
It is worth highlighting that CIER comprises companies and entities in the energy sector of South America and related members of the Americas and Europe, which seek to foster regional energy integration by developing technical cooperation activities and the exchange of knowledge and experience among member countries.
Grupo Energía de Bogotá's appointment to CIER reinforces the company's reputation as a strong entity, with a portfolio including controlled and non-controlled companies, allowing it to become one of the most important energy corporations in Latin America. This trust constitutes a new challenge that must be answered with hard work, loyalty and, above all, commitment to strengthening the energy sector in the region.
Bidding war
We have set out to achieve an ambitious goal: to take over the third-largest energy generation company in Colombia, Isagen, in which we already hold a stock of 2.5 percent. We are aware that to achieve this, we will be bidding against very prestigious companies, but we will be forthcoming and will prepare ourselves in the best way possible to win the bid. Through the acquisition of Isagen, we would also secure one of the country's largest energy generation projects – the hydroelectric plant in Sogamoso – with which we would hope to revamp electric power export and supply to neighbouring countries.
In addition, we are currently developing five projects in different areas of Colombia, which were awarded by the Energy Mining Planning Unit (UPME), an entity attached to the Ministry of Mines and Energy. These initiatives are of increasing importance, as they are aimed at ensuring that electricity services reach the main cities in the country. Also, as part of our growth strategy we would like to participate in the next UPME tender offers, which will strengthen national expansion and development with projects amounting to $2.2bn.
As shown, to achieve our purpose we do have in place an ambitious investment plan for the next four years amounting to $7.5bn, which will ensure our growth as a corporation. In this regard, I must state that our results have been acknowledged by national and international companies. Accordingly, Fitch Ratings ratified for a second consecutive year EEB's corporate credit rate in local and foreign currency, maintaining grade BBB – with a stable outlook.
On the local scale, Fitch also confirmed EEB's ratting as AAA, the highest in terms of credit quality. Likewise, Moody's and Standard & Poor's ratings qualified EEB's corporate credit rate with grade Baa3 (with stable outlook) and BBB- (with stable outlook), respectively.
Today we are an international point of reference in the public utilities market, in large part due to our dedication to upholding the institutional nature of the company as defined by the relevant regulatory and legal frameworks. We operate with legal assurance and apply the knowledge and the experience we have acquired.
This overview clearly evidences our constant growth, which means that we have a great responsibility not only to our shareholders, but also to our clients, vendors and, in general, with all the communities and stakeholders with whom we work. We are mostly a public stock company from Bogota, but now have significant undertakings in the wider country and abroad. Together with our main stockholder, the District of Bogota, we have committed to growing in a responsible and sustainable manner.
This strategy has received the support of our minority stockholders, evidenced by the fact that EEB's share negotiated in the Colombian Stock Exchange was the leading valued stock during 2013, growing around 20 percent (see Fig. 1). I am convinced that we still have a lot of energy for growth. Energy as a driver for work – generating value for our country and anywhere in the world.