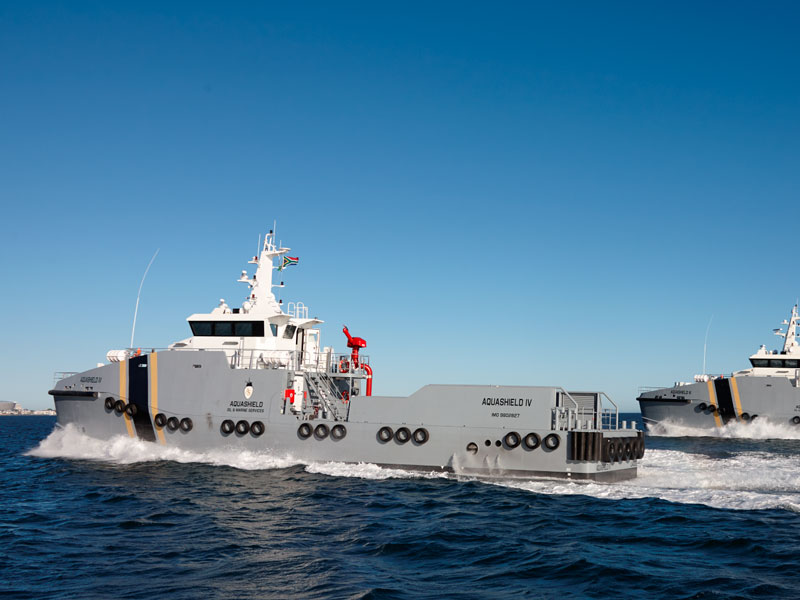 Aquashield has many years of experience protecting marine vessels and offshore industries from all manner of threats in the Niger Delta&nbsp
Author:
Nasir M Saulawa, CEO, Aquashield Oil and Marine Services
April 3, 2019
A country's territorial waters provide vital resources. They allow for the importation of valuable goods, enable fishing industries to flourish and often host lucrative oil and gas installations. The wealth that is derived from these waters, however, can make them targets for criminals.
A high level of security is essential for the broader Nigerian economy
In Nigeria, concerns over illegal maritime activity have been growing for some time. Last September, a Swiss cargo ship was attacked off the country's southern coast, with 12 of the crew taken hostage. Unfortunately, this was not an isolated incident. Between January and March 2018 alone, 22 incidents of piracy were recorded in Nigerian waters. The importance of having robust maritime security in place has never been greater.
At Aquashield Oil and Marine Services, we have years of experience protecting marine vessels and offshore industries. Accredited by various regulatory bodies, including the Nigerian Navy and the Nigerian Ports Authority, we have gained a reputation for delivering excellent service while maintaining the highest ethical standards. As the threat facing coastal and maritime businesses in the Niger Delta intensifies, we remain committed to combatting instances of vandalism, kidnapping and piracy.
Security solutions
Aquashield Oil and Marine Services is a wholly owned Nigerian company specialising in maritime security, logistics and support services, offshore construction, and dredging services. Aquashield's vision is to be the leading maritime security firm not only in Nigeria, but in the whole of Africa. Our mission is to provide cutting-edge and innovative maritime solutions to our clients, centred on professionalism, exceptional service delivery and integrity.
22
incidents of piracy were recorded in Nigerian waters between January and March 2018
9%
of Nigeria's GDP comes from oil
Our provision of maritime security solutions was necessitated by an upsurge in militancy between 2007 and 2008 in Nigeria. This threat level is fluctuating constantly, meaning that businesses can't become complacent, even when security challenges appear to be subsiding. Our highly dedicated workforce, comprising a number of senior security experts, teamed with our high-quality technological capabilities ensures that we can deliver the first-rate security solutions that our clients expect.
Aquashield is one of few companies to have been recently recertified to provide maritime security solutions to a variety of oil and gas companies, shipping corporations and oil servicing firms in Nigeria. A high level of security is certainly necessary for these businesses to prosper, but it is also essential for the broader Nigerian economy.
Oil represents around nine percent of Nigeria's GDP, and this figure could conceivably increase in the coming years if more reserves are discovered. However, convincing investors to commit to further exploration projects is difficult when security fears persist. In order for Nigeria to make the most of its vast economic potential, security services like those offered by Aquashield are absolutely essential.
Tools of the trade
Whichever service we are delivering, our highly professional members of staff and consultants follow clear operational guidelines. We often work closely in tandem with our clients, covertly gathering maritime intelligence that is then shared with a company's security department or relevant government agencies.
We also offer the marine transportation of materials and crew to offshore locations, search and rescue operations, offshore oilfield protection, and armed security escort duties for mobile offshore platforms and ships. Harbour terminal security surveillance and protection can also be requested.
We currently operate a fleet of anti-ballistic, fuel-efficient patrol boats with all the attributes expected of a robust maritime security squad. We also have more than 30 associate patrol vessels tied to our fleet through partnership arrangements with national and foreign companies. All our vessels are equipped with world-class, cutting-edge technology, such as automatic identification systems, high-beam searchlights, long-range infrared lighting, radar, night vision goggles, high-frequency communication sets, and Global Maritime Distress and Safety System equipment. With suitable naval guns mounted, our vessels are ever ready to deliver value for money to our clients.
In addition, the company has certification and accreditation from various regulatory institutions, including the Nigeria Civil Defence and Security Corps, the Nigerian Content Development and Monitoring Board, the British Safety Council and a number of other relevant industry bodies. As recipients of the Nigerian Navy's Memorandum of Understanding for the use of armed naval persons on board security vessels, our specially trained crews are fully authorised to deliver a potent and effective maritime security solution.
Our broad range of marine vessels also ensures that we can handle a wide range of client requests: we can supply anchor-handling tug support vessels, work barges, diving support vessels, pipe-laying barges, crude oil tank vessels and many more. However, our values are just as important as our technologies and vessels. They are what continue to guide us as we strive to keep Nigeria's coastline safe.