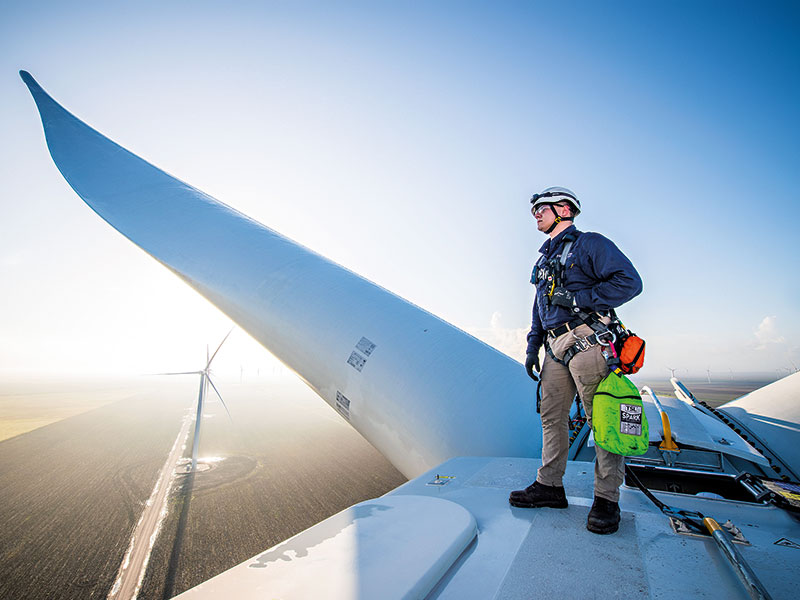 Despite being the world's leading wind-power company, Iberdrola has increasingly focused on solar energy, making it a major part of its 2018-22 investment strategy&nbsp
The world has woken up to climate change. Although scepticism endures in some quarters, the overwhelming consensus is that action – both in the scientific and policymaking spheres – is needed to tackle emissions and save our planet. From nations publishing ambitious net-zero targets to citizen-led movements like the school strike for climate, there is a clear acknowledgement that we need to take action now.
This realisation has been years in the making – arguably since the roots of the environmental movement in the 1960s – but we have considerably less time today to agree on what the answer is and how to implement it. One thing is clear: it will take the efforts of businesses, governments and citizens to have a meaningful impact on the climate. It's no surprise, then, that the UN has labelled the 2020s 'the decade of action'.
Although the Paris Agreement and the UN's Sustainable Development Goals were drafted in 2015, the commitment shown by national governments so far has been largely disappointing. These proposals can play a vital role in reshaping how we use the planet's finite resources, but they will only work if fully embraced.
It will take the efforts of businesses, governments and citizens to have an impact on the climate
The role of businesses is crucial, and many organisations are already taking action: Iberdrola, for example, was one of the first major energy companies to build its investment strategy around renewable power. Now, 20 years on, it is one of the world's biggest renewable energy companies, operating across four continents. The fact that so many others are now following suit – recognising and responding to the climate emergency – is a welcome development.
Investing in the future
Every day seems to bring a new announcement, from pension funds divesting away from fossil fuels to companies incorporating environmental, social and governance (ESG) issues into their annual reports. But any measures must be meaningful and executed in the right way if we are to truly make a difference – words can no longer be a substitute for action.
First and foremost, we must make a clear distinction between meaningful corporate activity and greenwashing. A good example of meaningful activity is green finance and the use of green bonds. Unlike with other credit instruments, the funds obtained from green bonds are destined for projects that are sustainable and socially responsible. This could cover areas such as renewable energy, energy efficiency, clean transport and responsible waste management, among others.
When used properly, green bonds can be highly effective. Raising money for investment in this way – provided such bonds are rigorously assessed – supports the development of green industries and cuts carbon emissions. The popularity of green bonds is growing rapidly, with European issuers leading the way globally (see Fig 1).
In 2014, Iberdrola became the first Spanish company to issue a green bond and, two years later, took out the world's first green loan to be issued to a utility company. Today, it is the leading private group in green finance, with a total €11bn ($11.9bn) issued via capital markets since April 2014. The funds obtained are used to finance or refinance projects that fulfil the environmental and sustainable development criteria set by both Iberdrola and Vigeo Eiris, an independent entity. Iberdrola is not unique in this enterprise: in October 2019, BloombergNEF reported that sustainable debt in global markets had surpassed $1trn.
A question of scale
Beyond financing the fight against climate change, we must strike the right balance between investing in new technology and getting drawn into clean energy dead ends. MarketsandMarkets expects the green technology and sustainability sector to be worth $28.9bn by 2024, up from $8.7bn in 2019. But while the Internet of Things, artificial intelligence and analytics, digital twins, cloud computing, blockchain, and weather-monitoring systems present huge opportunities, they also bring challenges. Put simply, not every new piece of technology will be a worthy investment – indeed, this can just as easily be the case with established technology as it is with new products.
We cannot overlook the key role electric solutions derived from renewable generation will play in decarbonising our society, especially if the current electrification of the economy continues apace. Beyond direct electrification, which is currently regarded as the most effective and efficient way of decarbonising the economy, many view hydrogen as a potential solution. The reality, though, is that it is only cost-effective for niche solutions that constitute around 15 percent of our energy system.
Although it will prove vital in some markets – such as maritime transport and high-temperature industry – hydrogen fuel is simply too expensive and inefficient to play a central role in the quest for a net-zero economy. If we view decarbonisation as a journey, hydrogen is the last mile, but there are still 99 miles ahead of it we can't ignore. The limitations of this technology and others, such as carbon capture and storage, were highlighted in a recent report by think tank UK Fires, which noted that decision-makers should not assume they will be running at scale by 2050.
This is not to say there isn't room for optimism. After all, the idea of harnessing the Sun's energy to create electricity may have seemed more suited to science fiction once upon a time. Yet, according to BloombergNEF, solar prices have fallen by 85 percent since 2010, making it cost-effective and, therefore, a vital part of the green energy mix. Iberdrola has recognised the potential of this technology – despite being the world's leading wind-power company, it has increasingly focused on solar energy, making it a major part of its 2018-22 investment strategy. In Spain alone, we plan to install 3GW worth of new solar and wind projects by 2022, rising to 10GW by 2030.
The power of hope
We must continue to seek out new technology that will have a significant impact – both in the ways we generate power and in the ways we distribute and use it. To achieve this, Iberdrola has established the PERSEO International Start-up programme, which is designed to fund the technologies of the future and support entrepreneurs within the electricity sector. So far, the company has invested over €60m ($64.9m) in start-ups around the world and now boasts eight companies in its portfolio. Through these investments, Iberdrola can identify technologies with the potential to transform the energy landscape and foster their growth by supplying expertise in renewables and global infrastructure.
Finally, we must continue to hold both businesses and global leaders to account when it comes to tackling global warming. This will mean applying a sceptical lens to certain activities and making sure that we are asking the hard questions: for example, are ESG initiatives resulting in meaningful changes to how businesses operate? What are the key enabling conditions for investing in emissions-cutting technology? And are senior executives being correctly incentivised to ensure their businesses play a part in achieving global climate goals?
All hope is not lost. The reality is that we have technologies at our disposal that will allow us to achieve a climate-neutral economy cost-effectively, providing a wide range of opportunities to create value and prosperity for society. With onshore wind fully mature and solar costs continuing to fall, emerging technologies are the final piece of the puzzle when it comes to replacing fossil fuels.
We must channel our efforts into ensuring that businesses play an active and productive role in the journey towards a net-zero economy, holding one another to account and supporting the start-ups that can take us closer to our emissions targets. As in the example of PERSEO, established industries must be prepared to work with the companies of tomorrow – without collaboration, we risk stifling progress.