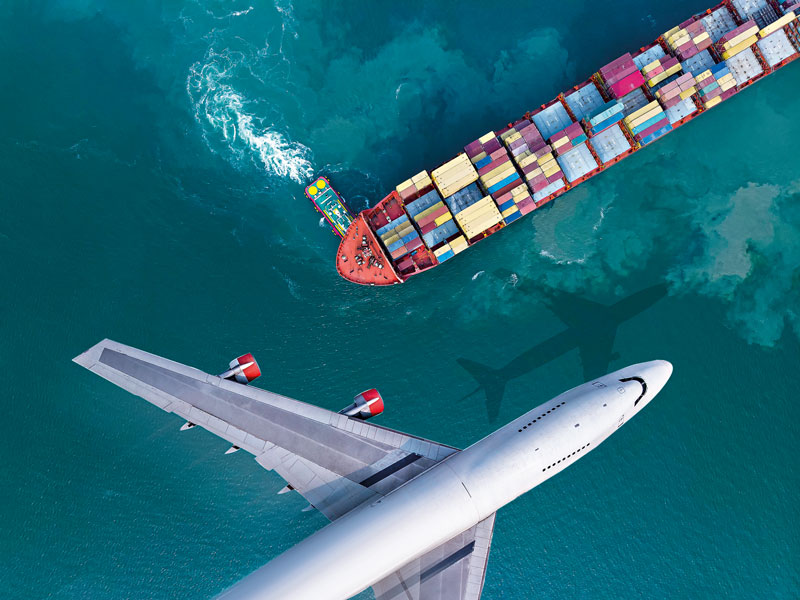 &nbsp
In September 2020 the giant container vessel Jacques Saadé, owned by French shipping group CMA CGM, set out on a roughly 80-day maiden voyage from Europe to Asia and back.
There's nothing unusual in that, except that this brand-new 400-metre-long vessel is the first ultra large container ship to be fuelled entirely by liquefied natural gas (LNG), a low-emission fossil fuel that so far has only powered much smaller vessels.
In the next few years the Jacques Saadé will be joined by eight sister ships. But looking further to the future, the engines on these vessels will be able to run on zero-emission fuels – as they become available in the coming decade. This is a race with profound consequences for the planet, and even Big Oil is joining in. ExxonMobil, for example, is working with Synthetic Genomics to develop algae into a viable biofuel for transport. The goal is to produce 10,000 barrels a day – equivalent to 3.65 million barrels a year – by 2025. "With continued breakthroughs on the horizon, the hope is that some day, passengers may fly on algae-fuelled planes and packages will be delivered by algae-fuelled trucks," the oil giant hopes.
An urgent situation
As the world's airlines embark on their commitment to a zero-emission strategy by 2050, refiners are trying to plug a yawning gap in sustainable aviation fuel (SAF). In mid-2019 Total fired up a bio-refinery in France with a capacity of 500,000 tonnes a year made from waste and a variety of vegetable oils. And US-based LanzaTech will supply SAF to All Nippon Airways (ANA) from 2021. The situation is urgent, warns LanzaTech's chief executive Dr Jennifer Holmgren – "bold action is needed."
On the bright side, Steve Csonka, executive director of American government agency Commercial Aviation Alternative Fuels Initiative (CAAFI), believes costs can come down. "We're working to reduce the cost of production," he told World Finance. "I believe SAF can be produced more economically. Biofuel is the only proper way." So what exactly is biofuel? The criteria require that it be biodegradable, non-toxic, almost carbon neutral, and definitely not derived from a fossil fuel.
There are conventional biofuels refined from organic crops, or biomass, such as corn or sugar, while "second-generation" biofuels are created from waste such as cooking oil, forestry ground waste, household rubbish and even plastic, the scourge of environmentalists.
Hybrid product
Encouragingly, biofuel production is on the rise. In late September, Italian oil and gas group ENI opened a bio-refinery that will turn out 750,000 tonnes a year from used vegetable oils, animal fats, algae and other waste products that will be converted into Enidiesel+, a hybrid product with 15 percent biofuel.
British Airways and Shell are collaborating on a plant in Britain that will convert household and commercial solid waste into 13 million gallons of SAF a year. "The jet fuel coming from the plant could fuel all British Airways' 787 Dreamliner-operated flights from London to San Jose, California and New Orleans in a year," says director Robert Jeffery. Production is expected to begin in late 2024.
And in the Netherlands a KLM-led consortium has unveiled plans to build a plant that would produce about 33 million gallons of SAF a year from 2022, using local waste and residues as the basic feedstocks. The airline has contracted to buy 75 percent of the output for 10 years. Meanwhile, the science of SAF is progressing in leaps and bounds. Rotterdam The Hague Airport is examining the feasibility of producing SAF from nothing more than air – or more accurately, from CO2 drawn from the air, using a process known as direct air capture. It would then be refined on-site into renewable kerosene. "If all goes according to plan we expect to have the first flight with our blend take off by 2022," hopes airport director Ron Louwerse. "The resulting kerosene can be blended to 50 percent and fuelled into planes that are currently in operation."Because of pressure from authorities, zero-emission fuels cannot come soon enough for airlines. "The only way for the airlines to control their own destiny is to meet their targets," says CAAFI's Csonka.
Responsible roadways
On the ground, a front-running alternative to biofuels is hydrogen: particularly in the form of fuel cells that, like batteries, produce electricity through an electro-chemical process. Fuel cells have already been widely adopted in trucks, trains, buses and forklifts. Their only emissions are water vapour and heat. The essential energy source – hydrogen fuel – is stored separately. However, to qualify as 'green' hydrogen, it must be produced from solar, wind, hydro-electric, geothermal energy and other renewable sources. Promisingly though, the cost of renewable hydrogen has been falling steadily for years as production is ramped up, notably in giant projects in Europe, Australia and Chile.
Two big Spanish companies believe they have the answer – and it's called ammonia. In early 2020, fertiliser producer Fertiberia and energy group Iberdrola announced plans to boost the production of ammonia by electrolytic hydrogen to 800 MW by 2027 at a cost of €1.8bn. "Producing ammonia through green hydrogen is the most efficient way for long-term and large-scale storage of energy," believes Fertiberia chairman Javier Goni.
But why ammonia? It is the source of a clean fuel, especially for shipping. And it is relatively cheap and abundant. According to a report by the Korean Register of Shipping, ammonia works out 32 percent cheaper than hydrogen and 15 percent cheaper than methanol, another long-term alternative. "Hydrogen requires excessive costs for transport, and methanol requires excessive cost for capturing carbon dioxide needed for production," the study noted.
Most experts believe LNG is only an 'interim fuel' that will be replaced by zero-emission alternatives within 15–20 years
Compared to other fuels, ammonia presents a low risk of self-ignition when correctly stored. (The explosion on August 4, 2020 of a large amount of ammonium nitrate stored at the Port of Beirut was reportedly a result of long-term neglect.) However, ammonia is highly toxic and must be carefully handled.
Whatever it's produced from, hydrogen is gaining ground in all forms of transportation. In a landmark deal in late 2020, Volvo and Daimler Truck agreed to develop, produce and commercialise fuel-cell systems, primarily for heavy-duty trucks. "The hydrogen-based fuel cell is a key technology for enabling CO2-neutral transportation in the future," believes Daimler Truck chairman Martin Daum. Incidentally, Daimler's parent company Mercedes-Benz announced earlier this year that it had stopped all development on the internal combustion engine. "In the future the world will be powered by a combination of battery-electric and fuel-cell electric vehicles, along with other renewable fuels to some extent" predicts Martin Lundstedt, president and chief executive of Volvo Group.
Another automotive giant putting its faith in hydrogen fuel cells is Hyundai, which is rolling out heavy-duty trucks – up to 1,600 by 2025 in Europe alone. A pioneer of the technology, the South Korean group has been producing fuel cell-powered passenger vehicles for seven years. Although they are up to twice as expensive, hydrogen-fuelled trucks have several advantages over diesel-juiced ones. They accelerate much faster, are quieter, and require much less maintenance.
Deep green seas
Having seen what fuel cells can do on terra firma, the generally conservative shipping sector is beginning to embrace fuel cells. "Fuel cells will play a key role in helping marine industries address greenhouse gas emissions on the water and in ports," predicts fuel-cell pioneer, Canada-headquartered Ballard. And prices are falling – the cost of Ballard's latest module, FCMove, is a third cheaper than its predecessor.
This is long overdue, according to environmentalists. Until the International Maritime Organisation's tougher regulations against CO2 emissions were introduced in January 2020, the vast majority of ships' engines ran on low-grade, highly polluting bunker fuel. And even though the LNG-fuelled Jacques Saadé is flying the flag for low-emission fuel, most experts believe LNG is only an 'interim fuel' that will be replaced by zero-emission alternatives within 15–20 years.
The pressure is coming from everywhere. The EU wants green hydrogen to replace oil, natural gas and coal as a fuel source for all heavy industry, not just transportation. Switzerland will apply a stiff road tax on diesel trucks. And China has embarked on the biggest clean transportation project in the world – in Shanghai, for instance, some 500 fuel-cell-powered delivery vans are at work. And finally, the cheapest fuel is the wind. As well as powering offshore wind farms that are churning out many times more megawatts than experts predicted a decade ago, it is being harnessed on ships to boost the engines.
A roll-on, roll-off ferry, Ville de Bordeaux, that delivers Airbus parts around Europe, is partly powered by a kite system while another French shipping group will install 4,200sqm of sails on two 136m cargo vessels. When not in use, the four sails simply fold out of the way. Other shipping companies are experimenting with the Flettner Rotor, essentially a tall cylinder that "spins" the wind into propulsion. Estimates of fuel savings range from 10 to 30 percent. While not exactly a superfuel, at least the wind doesn't have to be manufactured.