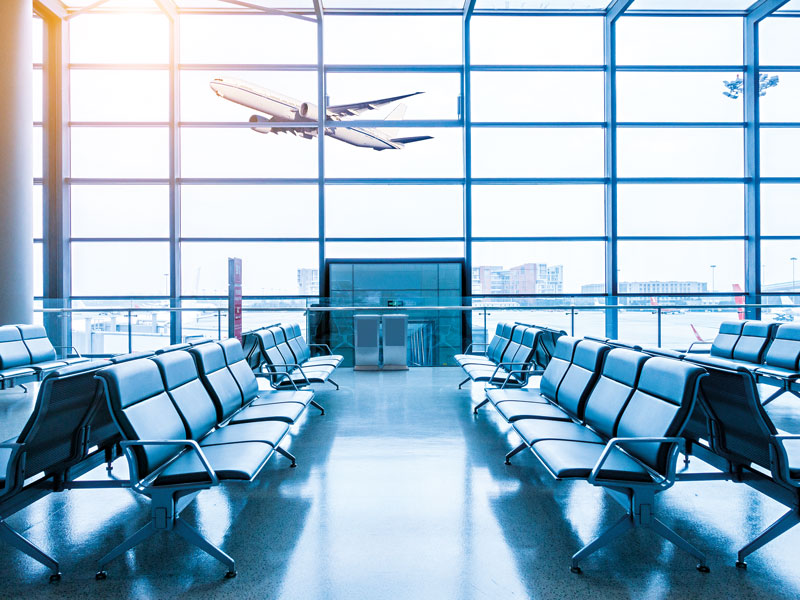 &nbsp
In March 2020, the dawn of coronavirus effectively wiped out global travel in the space of a week – on a scale we've never seen before. Airline traffic tumbled 96 percent in April 2020 compared with the same period in 2019, according to data from the Transportation Security Administration (TSA), and it has only mildly recovered since, with passenger numbers still down 70 percent year-on-year as of October 2020.
In June 2020, airline industry group IATA projected total carrier losses of nearly €100bn to the end of 2021, and in October, IAG (parent company of British Airways) confirmed losses of €5.6bn in the first nine months of 2020.
Hotels have been just as decimated; a survey by the American Hotel and Lodging Association (AHLA) found that almost two thirds of hotels in the US were at or below 50 percent occupancy – "below the threshold at which most hotels can break even and pay debt," according to the report. Hugh Taylor, Chief Executive of hotel management and consultancy business Michels and Taylor, said average occupancy levels across the firm's clients in the UK and Europe had hovered at around 15 percent for the year. "This is my fourth recession in my career, and I have never seen anything like it," Taylor told World Finance. "Since March, business has essentially collapsed, and perhaps 90 percent of most hotels' income has just disappeared."
Slow recovery
Optimists might say this is a passing phase, with a full recovery imminent in the next few years. For leisure travel this might well be the case, with pent-up demand for escaping those same four walls likely to explode as soon as a vaccine makes things safe again.
But the same can't necessarily be said for corporate travel, with recession-induced budget constraints and continued COVID-19 restrictions leading some analysts to predict a slower recovery for the sector. McKinsey research in August 2020 concluded that "the post-crisis return will take years and that business travel will return at a slower pace than leisure travel." This is in line with previous trends; in the 2008–2009 recession, leisure travel fully recovered to pre-crisis levels in two years, according to the report, while business travel took five years. That was without the dynamics of a pandemic to contend with.
Taylor believes it will be at least three or four years before things get back to pre-crisis levels – including in the cities whose economies rely on business travellers. "London recovered within about a year amid the 2008 crisis," he said. "This time our current forecasts suggest it isn't likely to get back to 2019 levels until at least 2023, 2024 or possibly later."
The bottom line
The impact of this on the travel industry and wider economies at large is clearly significant.
In 2018, corporate travel spend hit $1.4trn, according to a 2020 trends study by the World Travel and Tourism Council (WTTC), representing 21.4 percent of overall spend in the travel and hospitality sector.
Airlines are reliant on the corporate market for their profits. While business travellers typically only represent around 12 percent of overall airline passengers, they account for as much as 75 percent of passenger revenues, according to a recent report by travel software company the Trondent Development Corporation.
Hotels are likewise hugely dependent on the corporate sector. The AHLA found that corporate travellers represented around 40 percent of all hotel guests in the US, spending $280.2bn in 2014 (compared to $660.3bn spent by leisure guests) and generating $141.5bn in tax revenue. "The majority of the big branded hotels make their money from corporate travel," said Taylor. "Conferences, events and meetings and so on all generate significant revenues."
Digital dawn
While it's easy to see the effects of this in the short term, the longer term is harder to forecast. Some believe business travel will make a full recovery; others predict the advent of the Zoom era may spell the end of overseas business meetings for good. The reality is probably somewhere in the middle. Research suggests there will always be demand for in-person dealings; in a recent survey by travel forecasting agency Globetrender, 60 percent of respondents felt most deals and decisions couldn't be made virtually. But as businesses across the globe reel from recession, how prepared they will be to fork out on a costly trip for a quick, one-off meeting that could be done online in an hour leaves a very big question mark.
"Even after the emergence of effective therapeutics or a vaccine, don't imagine a return to pre-pandemic business travel patterns," wrote Michael Litt, Co-Founder and Chief Executive of video platform Vidyard, in a recent Forbes article. "In-person meetings will be reserved for times when it's absolutely necessary." The McKinsey researchers likewise concluded that "some travel for internal purposes will be permanently replaced by virtual meetings and collaboration." To what extent these forecasts play out in reality remains to be seen, but what is clear is that this is the start of a long, uphill battle – and travel businesses and the economies they serve will likely be bearing the brunt for some years to come.