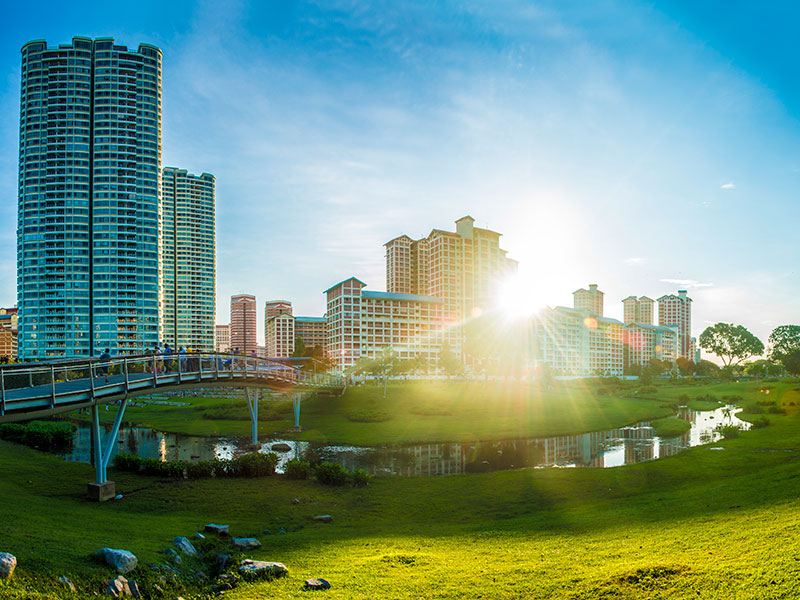 In a country that lacks natural resources like Singapore, innovative technologies are key to improving productivity and boosting the environmental, health and safety performance of projects&nbsp
Author:
Esther An, Chief Sustainability Officer, City Developments Limited
July 7, 2020
We have reached a critical moment in the fight against climate change, which means now is the time to kick-start a decade of urgent and robust action. The past 10 years have gone down in history as the hottest on record, the environmental impacts of which have reverberated around the world. In the five years that have passed since the 2015 UN Climate Change Conference, climate change has morphed from a serious challenge into a full-blown emergency, leaving impending threats and uncertainties in its wake.
We have entered the final decade to address the UN's Sustainable Development Goals (SDGs), which set targets for the world to become safer, healthier, fairer and more sustainable by 2030. To achieve these ambitious goals, policymakers and businesses must share the same level of responsibility in mitigating and adapting to the climate emergency, working together to form a strong force for good.
Increasingly, the business case for environmental, social and governance (ESG) integration is strengthening, as seen by a noticeable rise in ESG investing. According to Morningstar, ESG-related funds amassed $20.6bn of new money in 2019 – almost four times as much as the previous high of $5.5bn in 2018. Companies that manage sustainability risks and opportunities tend to have stronger cash flows, lower borrowing costs and higher valuations over time. Financiers are also increasingly pegging lending rates to the ESG performance of corporate borrowers.
Pillars of strength
As the world transitions to a low-carbon economy, the need for a sustainability mindset has never been greater or more critical for businesses to unlock opportunities. A pioneering force in sustainability, City Developments Limited (CDL) has a strong track record in ESG performance. Guided by its four strategic pillars – integration, innovation, investment and impact – CDL has been able to forge ahead in the new climate-centric economy, future-proofing its business and sustaining growth in the right manner.
CDL has been able to forge ahead in the new climate-centric economy, future-proofing its business and sustaining growth in the right manner
Worldwide, the buildings and construction sector accounts for approximately 40 percent of energy-related carbon dioxide emissions every year. As a global real estate company, we recognise that improving building technology and performance makes a difference to our environment and building users. As such, we have leveraged our four strategic pillars for more than two decades to pioneer an ESG strategy that helps our stakeholders, the planet and us.
Our first pillar, integration, involves the creation of value based on our corporate ethos of 'conserving as we construct', which means integrating ESG effectively and holistically into our business and operations. We were one of the first companies in Singapore to establish a dedicated sustainability governance structure, whereby the chief sustainability officer reports directly to the board sustainability committee (BSC), which comprises three independent directors and CDL's executive director and group CEO.
The BSC has direct advisory supervision of CDL's sustainability strategy. Its key roles include: assisting the board in the review of the company's sustainability issues and approach to sustainability reporting; appraising the company's ESG framework, key ESG targets and performance; and assessing its reputation as a global corporate citizen. In September 2019, we joined the pioneering batch of 87 companies worldwide in supporting the UN Global Compact's (UNGC's) 'Business Ambition for 1.5°C' campaign, pledging to align our operations with limiting the global temperature rise to 1.5 degrees Celsius.
Moving on to our second pillar, we remain committed to innovation by strengthening climate resilience through new technologies and solutions. In a country that lacks natural resources like Singapore, innovative technologies are key to improving productivity and boosting the environmental, health and safety performance of our projects.
Continued research and development is crucial to helping us stay ahead of the curve. In partnership with the National University of Singapore (NUS), we opened the NUS-CDL Tropical Technologies Laboratory and the NUS-CDL Smart Green Home in 2018 and 2019 respectively. Both labs conduct studies on smart features, green building technology and designs for sustainable living. To create long-term sustainability and value over time, sustainable businesses ought to look beyond the current horizon and be future-ready – integration and innovation are two key approaches to achieving this.
Making an impact
Innovation and new technologies are key to establishing a low-carbon economy, but they will not magically appear – they must be supported by sustainable investments. Our strong ESG track record has reduced CDL's long-term borrowing costs and expanded our pool of ESG-centric investors and lenders. Since the introduction of our pioneering green bond in 2017, which raised SGD 100m ($70.2m), CDL has continued to tap into sustainable financing. In April 2019, for example, we secured SGD 500m ($350.8m) in two green loans, allowing us to finance new green developments both domestically and abroad. Last year also saw us secure a first-of-its-kind SGD 250m ($175.4m) SDG Innovation Loan, which will help us as we accelerate innovative solutions and continue to embrace the SDGs in the built environment.
Building a sustainable future requires the collaboration of a larger ecosystem. The Singapore Sustainability Academy (SSA) was designed and built by CDL to be a hub for capacity-building, thought leadership and networking. As the first ground-up initiative and zero-energy facility in Singapore dedicated to supporting the SDGs and climate action, the SSA was set up with the support of six government agencies, 15 founding industry partners and the Sustainable Energy Association of Singapore. Since its establishment in June 2017, the SSA has served more than 14,500 attendees through 370-plus outreach events and training sessions, attracting international partners such as the UN Environment Programme, UN Development Programme (UNDP), UNGC and Asian Venture Philanthropy Network.
To further our community investment, we founded the Incubator For SDGs in September 2019, providing a rent-free co-working space at the Republic Plaza to selected enterprises or start-ups that embrace the SDGs. The initiative, which was set up in partnership with the UNDP, raiSE (Singapore Centre for Social Enterprise) and Social Collider, offers extensive network and mentorship opportunities to help aspiring social innovators scale up and reach out to potential investors.
What's more, we have furthered our social investment through the creation of national platforms such as My Tree House and the CDL Green Gallery. My Tree House – a partnership between CDL and the National Library Board of Singapore – was opened in 2013 as the world's first green library for kids. The CDL Green Gallery, meanwhile, was built in just 24 hours using prefabricated, modular construction technology. Located at the Singapore Botanic Gardens, it is the first zero-energy gallery in Singapore and is a fantastic showcase of the country's greening efforts.
CDL understands that all stakeholders have a role to play in ensuring the world moves towards a more sustainable way of life
Building sustainable communities
Sustainability is not only good for the planet: it delivers business advantages, too. Over the many years that CDL has been pursuing its ESG strategy, we have witnessed tangible and intangible benefits – these fall under the impact pillar of our sustainability initiatives. Over SGD 28m ($19.6m) in cost savings were achieved between 2012 and 2019 as a result of energy-efficient initiatives implemented across eight of our commercial buildings. At the same time, our low-carbon programmes have resulted in a 38 percent reduction in the intensity of carbon emissions in 2019 when compared with 2007 levels, putting us on track to achieve our Science Based Target initiative-validated goal of 59 percent by 2030.
Moreover, CDL's track record of effective ESG integration over the past two decades has been widely recognised by 12 leading global sustainability benchmarks, including the 2020 Global 100's most sustainable corporations in the world list, which saw CDL ranked first globally among listed real estate firms. CDL was also the only company in South-East Asia and Hong Kong to score two A's in the 2019 CDP Global A List for corporate climate action and water security.
Last year, we were honoured to have been able to play a key role in spearheading the establishment of the Global Reporting Initiative (GRI) regional hub in Singapore. As the first corporation in Singapore to publish a dedicated sustainability report using the GRI framework, we continue to support the GRI's mission to raise the standards of sustainability reporting and disclosure in Singapore and the wider region. It is through pioneering efforts such as these that other organisations, industries and markets can see the benefits of more sustainable business practices.
With awareness of climate change and sustainability on the rise, the adoption of sustainable business practices has never been more important. Our integrated approach has helped us make financial sense of our commitment to sustainability, allowing us to effectively articulate our climate mitigation and adaptation strategies to our investors and stakeholders, and connect our ESG goals to our value-creation business strategy.
At CDL, we understand that all stakeholders have a role to play in ensuring the world moves towards a more sustainable way of life. Our four strategic pillars demonstrate the concrete efforts we are putting in place to improve and build upon our current ESG strategy. Although we are proud of our green achievements to date, we refuse to rest on our laurels – there remains much to do, and the planet relies on us all making sure it gets done.