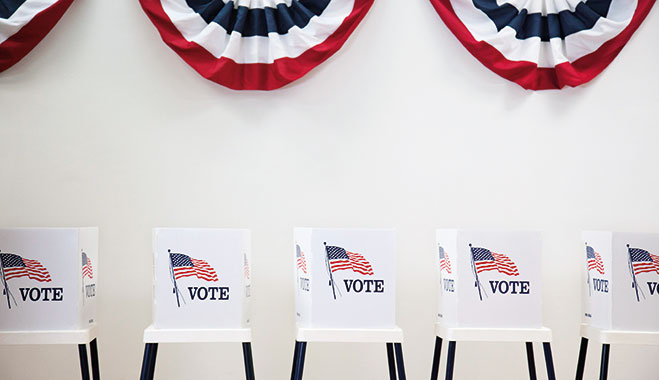 The US presidential elections are heating up - with America going to the polls again in 2016. Some of the strongest candidates for the country's next leader include Hillary Clinton and Donald Trump&nbsp
After eight years of a financially hamstrung presidency from Barack Obama, America is getting ready to go to the polls once again in 2016. But whereas elections in most countries tend to take a matter of weeks, the race to choose the next President of the United States usually takes the best part of two years. Candidates from both main parties – and occasionally the odd independent – jostle for attention well in advance of the actual vote, competing for airtime and campaign finances.
The two-year race to secure the position of leader of the free world involves exhaustive tours of the country, speeches, handshaking, and pleading for vital financing. Indeed, most successful campaigns require hundreds of millions in backing from donors. In 2012, the total amount of donations made were $2.6bn, but it's thought that next year's will almost double that figure, as the richest members of American society place their bets on their preferred candidates. While the field of candidates from the Democrats is relatively thin, the Republicans are putting forward around 20 different candidates from every branch of the party. These include a number of previous runners, such as Mike Huckabee, and previously touted ones whose popularity has waned, like Ted Cruz, but few of them have much of a chance of gaining the party's nomination.
Here, World Finance highlights the leading contenders for both the Republican and Democrat nominations for next year's crucial presidential election, and looks at what they would do to restore the US economy to its former glory.
Hillary Clinton
The frontrunner and by far and away the most recognisable Democrat candidate in the race, Hillary Clinton's presidential ambitions have been well known for decades. She had to take a backseat during the career of her husband, former President Bill Clinton, but has spent the last 15 years since he stepped down carving out her own career as a leading Democratic politician.
A former senator of New York State, her stint as Secretary of State during President Obama's first term in office was praised, especially as she chose to serve under the man that had ultimately defeated her during the 2008 presidential election. Her time in charge was filled with incident, not least the uprisings in Egypt, Syria and Libya, and Osama bin Laden's death.
Her policies include backing climate change targets, although she did initially support the Keystone XL pipeline that President Obama eventually blocked.
She has proposed a major rewriting of the tax code, while fighting income inequality through equal pay for women and paid family leave. Another eye-catching policy announcement made in August was her proposal for the federal government to help students go through college without the need for large loans. Currently there is $1.2trn of student debt in the US, with eight million graduates defaulting on those loans.
However, she has been beset by a number of unfortunate scandals in recent months, mostly linked to her time in office as Secretary of State. This included the discovery in July that she had been sending classified government information from a personal email account.
Her strong corporate links to banks and long career on Capitol Hill have somewhat hindered her ability to reach out to those elusive everyday Americans. Indeed, at the end of July, The Wall Street Journal revealed that her charitable organisation, the Clinton Foundation, that she set up with her husband, had received millions of dollars in donations from Swiss bank UBS. Eyebrows were then raised after she had intervened over an Internal Revenue Service court case against the Swiss bank over the identity of some of its clients.
It remains to be seen whether Clinton can continue to sit by over the coming months as the solitary credible Democrat candidate without buckling under the pressure of prolonged media scrutiny.
Bernie Sanders

While many expected Hillary Clinton to have a free run at the Democratic nomination, it fell to the veteran left wing junior senator from Vermont, Bernie Sanders, to prevent there being a Clinton coronation. Sanders has been flirting with the idea of running for President since 2013, but formally announced the start of his campaign in April. Although he is broadly aligned with many of the Democrat Party's values, he has served as an independent senator for much of his political career.
Sanders is seen by many as the figurehead of a populist, radical left wing of the political spectrum that has had little representation in US politics for many years. The focus of his campaign has been towards income and wealth inequality, as well as campaign finance reform, and he is a staunch opponent of economic austerity. It is these efforts that have placed Sanders firmly as the outsider candidate, untainted by Washington's apparent close links with big business and the wealthy.
His candidacy has captured the attention of disgruntled young voters in a similar way to the populist left wing campaigns that have swept Europe over the last year, from Syriza in Greece, Podemos in Spain, and to a lesser extent, Jeremy Corbyn for the UK's Labour Party.
Indeed, Sanders enthusiastically backed Greek voters in July after their rejection of a bailout package, saying, "I applaud the people of Greece for saying 'no' to more austerity for the poor, the children, the sick and the elderly. In a world of massive wealth and income inequality, Europe must support Greece's efforts to build an economy which creates more jobs and income, not more unemployment and suffering."
Sanders has said he would scrap tax deductions that benefit hedge funds and corporations, break up banks previously deemed 'too big to fail', oppose the Trans-Pacific Partnership trade agreement, and increase the use of worker-owned cooperatives. He would also target offshore tax havens, which he says have allowed large corporations to evade at least $34.5bn in tax since 2008. It is this radical message that has drawn huge crowds to his rallies. It seems unlikely, however, that the political mainstream in Washington will accept him over the more pragmatic Clinton.
Jeb Bush

Like Clinton, Jeb Bush has a highly recognisable surname that gives him the sort of platform that would usually be hugely advantageous. His father, George H W Bush, was a single term president that was widely seen as pragmatic – if uncharismatic – leader that came undone due to a recession and the leftfield upstart candidacy of Bill Clinton in 1992. However, it is the rein of Jeb's seemingly calamitous older brother George W Bush that has considerably tainted the Bush name.
Seen by many as the most credible, centrist and pragmatic Republican candidate that's running; Jeb Bush has years of experience in public administration, having served as Governor of Florida between 1999 and 2007. He has been reluctant to pander to the more extreme wings of his party, which some feel has hampered his bid. However, Bush's experience and recognition that the country as a whole is not made up entirely of Tea Party supporters means he is probably the most credible candidate in the field. This has been reflected in the enthusiasm his campaign has seen from donors.
Bush's big policy statement has been to turn the US back into an "economic superpower", with a target of four percent GDP growth each year and the creation of 19 million new jobs. He cites his record as Florida governor, where he made it the top job-creating state in the country.
GDP in the US has languished in recent years, sitting at just 2.9 percent in 2014, while only 6.9 million jobs have been added during Obama's tenure. Bush's goals are ambitious, but not unrealistic. He is hoping to achieve this growth through a streamlining of the tax system, as well as relaxing a number of regulations.
It is his brother's legacy that will likely hamstring him, however. He has flip flopped over the Iraq War that his brother began, eventually stating in May that he wouldn't have gone into Iraq given the benefit of hindsight. However, the universal ridicule and hatred for George W Bush's presidency is likely to seriously dent Jeb's chances of persuading the electorate to give the Bush family a third chance to run the country.
Donald Trump

While many initially saw Donald Trump as somewhat of a joke candidate, his runaway poll ratings have made people sit up and listen to his frequently controversial statements. His views on immigration have been condemned as offensive, while his statements on foreign policy – such as Ukraine being "Europe's problem" – have made many in the international community look on apprehensively at the prospect of a Trump presidency.
Democratic candidate donors for the 2012 presidential race: Barack Obama
Candidate donors USD, $2,500 maximum:
Under $200
57%
$200 to $2,499
33%
$2500
11%
Super pac donors, no maximum:
Under $100k
11%
$100k to $1m
40%
$1m+
49%
Major donors:
James H Simons
$5.5M
Fred Eychaner
$4.5M
Steve Mostyn
$3M
Trump's entrance into the race and soaring popularity in opinion polls has had an unfortunate effect on many of the other candidates. Indeed, his increasingly outlandish and controversial statements on immigration and foreign policy have caused many of the other previously more moderate candidates to try and outdo him.
Mike Huckabee was widely condemned for suggesting Obama's deal with Iran would "take the Israelis and march them to the door of the oven".
While Huckabee is certainly not one of the moderate candidates in the Republican Party, his statement was put down to the 'Trump Effect' by many commentators, who felt he was trying to grab some of the attention.
Much of the media spotlight has focused on Trump's immigration policies and badmouthing illegal Mexican immigrants, going as far as describing them "criminals, drug dealers, [and] rapists". However, his plans for the economy also warrant scrutiny. He wants to heavily reduce regulations on business to create growth and job opportunities. His simplified '1-5-10-15' income tax plan would see inheritance and corporation tax scrapped, while also lowering the capital gains tax. He is also in favour of a free market energy policy. His strategy with healthcare would be to scrap the recently implemented Affordable Care Act with a free market plan.
With regards to America's influence overseas, Trump has described Obama's deal with Iran as "terrible", while he would also "bomb the hell" out of Iraqi oil fields controlled by ISIS, resisting sending any troops into the region. Combined with his pronouncements on illegal immigration, Trump has proven to be an extremely controversial candidate that is repelling many of the more centrist voters the Republicans need to win. However, as things stand, he is defying all the experts and running away in the opinion polls among Republican supporters.
Rise of the democratic candidates
Joe Biden
The avuncular counterpoint to President Obama's intellectual persona, Vice President Joe Biden has often been seen as somewhat gaffe-prone during his two terms in office. However, beneath the jokey exterior is a man with vast experience of the ins and outs of Washington, having served as the US Senator for the state of Delaware between 1973 and 2009.
The 72-year-old's potential candidacy has come as a particular surprise to many, partly because of his age. However, after the death of his son Beau in May from brain cancer at the age of 46, Biden is said to be considering a dying plea to run for the White House. While some might question his credibility as a candidate – having failed twice previously in 1988 and 2008 and being linked to the divisive Obama – many think Biden could be a popular alternative to Clinton. It's thought the focus of his campaign would be addressing inequality and low wages.Elizabeth Warren
Another Democrat candidate from the left of the party, Elizabeth Warren has apparently been toying with the idea of a bid for the presidency for a number of years. Despite repeated denials that she would run, her supporters have been begging her to throw her hat in the ring for a while, largely because of her stance on big business, Wall Street reform, and inequality.
A big theme of her outlook on the economy is the lack of infrastructure spending made by the US government, which spends just 2.4 percent of its GDP on big growth-driving projects, compared to around five percent in Europe and nine percent in China.
Republican candidate donors for the 2012 presidential race: Mitt Romney
Candidate donors USD, $2,500 maximum:
Under $200
24%
$200 to $2,499
37%
$2500
39%
Super pac donors, no maximum:
Under $100k
14%
$100k to $1m
44%
$1m+
42%
Major donors:
Sheldon Adelson
$15m
Miriam Adelson
$15m
Bob J Perry
$10m
A big proponent of breaking up the banks to prevent another situation like 2008's financial crisis, Warren has also been a strong critic of the relationship between Wall Street and Washington, and in particular Citigroup's influence on Capitol Hill.
The rest of the Republican candidates
Chris Christie
At one stage seen as the sort of bipartisan figure that could provide a serious challenger to Clinton, Chris Christie's campaign has faltered as a result of some unfortunate scandals to emerge that went against his jovial and relaxed public image. These have included a debt-rating downgrade and some petty political actions over the closure of a bridge.
New Jersey Governor Christie came to prominence in 2012 after Hurricane Sandy devastated his state. Praised for taking a non-partisan approach to his response, he welcomed President Obama's efforts while going as far as criticising the House Republican leadership for its delaying of an emergency relief bill, worth $60bn.
Despite his fall in media profile over the last 12 months, many donors are still pumping money into his campaign, suggesting he may still be in with a chance.
Marco Rubio
Widely talked of as the Republican Party's answer to its critics that it lacks diversity, Marco Rubio would represent a break from the party's past, having been born to Cuban immigrant parents. The 44-year-old junior Senator from Florida was touted as a potential running partner for Mitt Romney in 2012, but ultimately turned down the offer.
He is regarded as a charismatic and relatively moderate on immigration. His economic policies have centred on balancing the federal budget, while also investing heavily in R&D to help spur growth, citing the tech industry as central to the country's future prospects. He is also in favour of a flat rate of tax. A relatively pragmatic candidate, Rubio would look to encourage business to power America's economy by lowering the corporate tax rate to 25 percent, capping federal regulation costs, and allowing businesses to bring back overseas revenue to the US without being taxed.
Rand Paul
A relative outsider in the Republican Party, but yet another candidate with a famous surname and plenty of political pedigree, Rand Paul is the figurehead of the libertarian wing of his party. Like his father and perennial presidential candidate, Ron Paul, Rand believes the government should be far less invasive in people's lives, both at home and abroad.
His economic policies involve simplifying the tax code dramatically, implementing a 14.5 percent flat rate of tax to all Americans. Business regulations would be scaled back considerably, while government spending would also be axed. His stance on foreign policy is at odds with his party, taking an isolationist view that would see the US not intervening in many overseas conflicts. Although not considered to be a likely winner, he is continuing the work of his father in promoting libertarian views in the political debate.
Scott Walker
Having announced his candidacy in July, Wisconsin Governor Scott Walker has been talked of as a likely Republican president for a number of years now. He has been discussed as a frontrunner for the Republican nomination, largely because of his down to earth style that has appealed to many Republicans. His successful leadership of Wisconsin has been praised, although he has found it hard to boost the state's economy and increase employment.
His vision for the economy is one where Americans are less reliant on government and more on their own actions. He also wants to balance budgets, but is not as dedicated to ideological cuts as some of his rivals. He has also been a strong supporter of the oil and gas industries, backing the Keystone XL pipeline and opposing climate change legislation that would raise taxes. He is hoping that when Republicans vote on their candidate for the presidency, they will choose pragmatism over populism.