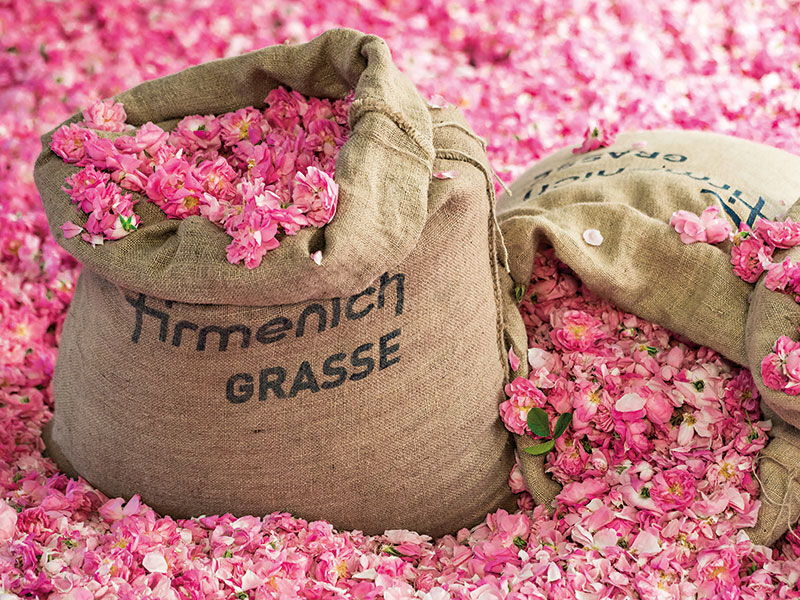 When you consider it takes 3.5 tons of rose petals to produce one kilogram of rose oil, there is no other option than to treat nature responsibly&nbsp
Founded in 1895, Firmenich is the world's largest privately owned perfume and flavour company, present across more than 100 markets. We are in the business of creating emotions through the senses of taste and smell, and our work touches billions of people around the world every day, through products such as coffee, cereals, detergents, shampoos and fine fragrances. As a family-owned company that takes a long-term view of its operations, preserving the planet is embedded in our DNA. When you consider it takes 3.5 tons of rose petals to produce one kilogram of rose oil, there is no other option than to treat nature responsibly. That's why Firmenich has always played a prominent role in preserving the environment.
Firmenich is recognised as a global environmental leader, being one of only two companies in the world to have achieved A rankings in all three of the Carbon Disclosure Project's categories: climate change, water security and forests. Firmenich started this journey towards sustainability in 1991 – one year before the UN Conference on Environment and Development brought sustainability into the mainstream – when we signed the International Chamber of Commerce Business Charter for Sustainable Development. We have been committed to reducing our environmental impact ever since.
Firmenich uses technology to address some of today's greatest challenges, such as nutrition, sanitation and climate change
Three decades after our first public commitment, we continue to lead real change, placing sustainability at the heart of our growth strategy as we pursue a business model focused on inclusive capitalism. Our comprehensive approach to sustainability and track record of having a positive impact was recognised by the first ever IMD-Pictet Sustainability in Family Business Award in 2019.
Inclusive strategy
At Firmenich, we believe there can be no long-term value creation for shareholders without values. That's why we have an inclusive capitalism business model that makes a positive difference for all stakeholders. Making our business work for everyone, we use technology to address some of today's greatest challenges, such as nutrition, sanitation and climate change. The UN's Sustainable Development Goals are embedded in our growth strategy and we were recently recognised as a UN Global Compact LEAD company after being an active member of the UN Global Compact for more than a decade. Today, we are the only player in our industry to be part of this elite group of 36 LEAD companies, actively ensuring that our business works for people, the planet and society.
In terms of people, we ensure we are inclusive at all times, making our business work for the many, not the few. We were recognised as a diversity and inclusion leader at Ethical Corporation's 2019 Responsible Business Awards, due to our well-rounded and scalable approach, which is firmly embedded in our culture.
Firmenich was the seventh company worldwide and the first in our industry to be globally certified as a gender-equal employer by EDGE, the world's leading business certification in this area. This standard goes well beyond equal pay to include gender balance across recruitment, promotion, training and mentoring programmes. Today, women represent 42 percent of our senior executives and 41 percent of our total workforce.
Being truly diverse means embracing all demographics, including race, sexuality, age, experience and disability. Firmenich has been working with people with different abilities across our business for more than 40 years. For instance, we count more than 100 visually impaired professionals in our sensory teams: visually impaired people tend to have a heightened sense of taste and smell, helping us to advance our sensory analysis. We also recently joined the Valuable 500 – an initiative committed to disability inclusion – to firmly anchor inclusion within our leadership agenda.
Healthy planet, healthy business
To safeguard the planet, we are working hard on decarbonising our operations to combat global warming. We set ourselves ambitious and measurable science-based goals as part of our vision to become carbon neutral. For example, Firmenich's sites throughout Europe, North America and Brazil operate with 100 percent renewable electricity; the group is currently using 86 percent renewable electricity worldwide and is well on its way to reaching the goal of 100 percent in 2020.
We are decoupling our growth from our CO2 emissions, a key indicator of environmental progress. Since 2015, our manufacturing output has increased by 18 percent, while our CO2 emissions declined by 30 percent. Advancing our vision to become carbon neutral, we are taking a leading role in the UN's Business Ambition for 1.5 degrees Celsius, a coalition of 87 companies committed to stopping global warming. Together, we have set several science-based targets to achieve a net-zero carbon future by 2050.
We also believe in the importance of responsible sourcing. At Firmenich, we have the broadest and finest ingredient portfolio in the industry, using only the most authentic and responsibly sourced natural ingredients. Whether it's jasmine from India or Madagascan vanilla, we are committed to operating the most traceable, sustainable and ethical value chain in the industry.
Through our Naturals Together initiative, we build long-term partnerships with some of the world's best natural ingredient producers. We are proud to support the livelihoods of 250,000 farming families at the source of our 170 varieties of natural ingredients. By working with individuals to address their most pressing challenges, we help them embrace regenerative agriculture, diversify their revenue sources and ensure access to healthcare services, education and training.
Advancing our commitment to biodiversity, Firmenich helped launch the One Planet Business for Biodiversity coalition at the 2019 UN Climate Summit in New York. Alongside 19 like-minded companies, we are stepping up our support for alternative agriculture practices to protect biodiversity.
Innovating for wellbeing
Innovation is our engine of growth. We invest 10 percent of our annual revenue in research and development – CHF 390m ($390.53m) in 2019. We currently have 3,700 active patents covering a range of fields, from renewable ingredients to nutrition and sanitation solutions.
As pioneers in biodegradable and renewable ingredients, we implement green chemistry principles to reduce our carbon footprint while minimising and upcycling waste. For more than 10 years, all our new perfumery molecules have been biodegradable. As an industry leader in white biotechnology, we create renewable perfumery ingredients from sustainable biomass, such as sugar cane from Brazil.
Tackling today's nutrition challenge, we are shaping the future of food through a number of cutting-edge solutions. More than a decade ago, we started investing in ways to make healthier food and drink options taste great. These investments have paid off, and our latest technology, TastePRINT, can reduce sugar content by as much as 100 percent without compromising on taste. Last year, we removed one trillion calories from products that consumers love, making healthier options taste great. Supporting the growing popularity of vegan and 'flexitarian' diets, our 'Smart Protein' solutions produce plant-based food and beverages that don't compromise on taste or texture.
We are also working to accelerate access to sanitation. Today, 4.2 billion people do not have access to safely managed sanitation facilities. According to the UN, 300,000 children under five die each year from diarrhoea as a result of unsafe drinking water, inadequate sanitation and poor hand hygiene. Our most recent research found that malodour was one of the top barriers to using toilets – 87 percent of respondents in Kenya, 70 percent in South Africa, 62 percent in India and 51 percent in China.
Once we realised smell was preventing people from using toilets, we decided to become part of the solution. We engaged in a research partnership with the Bill and Melinda Gates Foundation to reinvent toilets from an odour perspective, leading us to develop a range of breakthrough malodour-control technologies to make clean toilets smell good in an affordable and sustainable way. It is clear that clean and pleasant-smelling toilets are critical levers to addressing today's sanitation crisis.
Looking to the next 125 years, our vision is to be the indisputable leader in inclusive business. We will constantly strive to improve our environmental and social impact, tackling the climate emergency and improving the wellbeing of our stakeholders. We believe we can achieve all this while continuing to meet consumer expectations for healthy, ethical and traceable products.