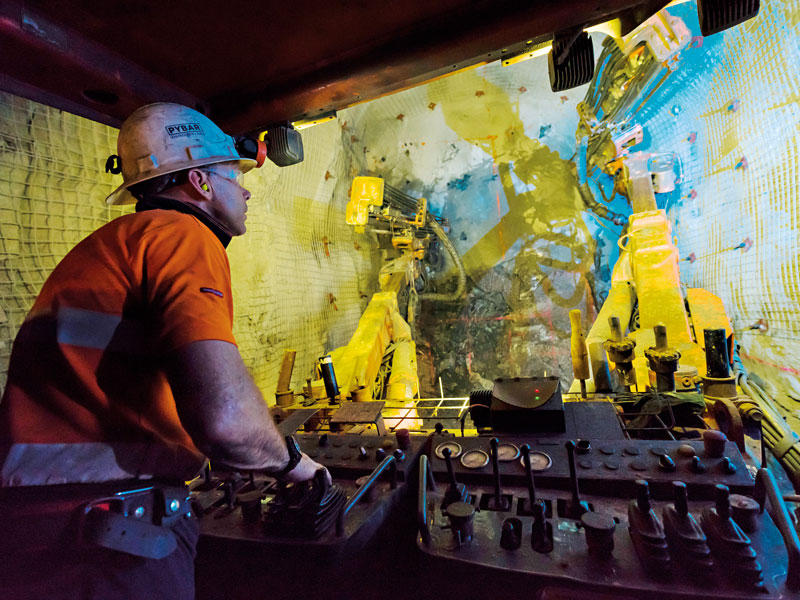 Drilling at a Hindustan Zinc underground mine&nbsp
The most important aspect of any sustainable company lies in its success in bringing relevant development to the communities that it gains from. Hindustan Zinc strives to conserve natural resources and adopt greener technologies wherever possible to ensure its environmental footprint shrinks year-on-year. It embarked on a digital transformation programme to drive a different way of working for a sustainable future, aimed at enhancing stakeholder value through exploration, innovation, safety, and sustainability, maintaining market leadership, and increasing customer delight.
Technology is the catalyst that is at the heart of making mining operations 'smart,' 'sustainable' and 'safe' by leveraging digital tools and processes that make operations instrumented, interconnected, intelligent and data-driven. Hindustan Zinc has increasingly been using technology for the automation of processes and has started integrating technologies across the value chain to reduce waste, increase resource efficiency and drive up productivity while promoting the harnessing of renewable energy sources. Some of the emerging technology trends that we are fast integrating into our mines are in the areas of automation and remote operation, real-time data capture, telemetric data for predictive analysis, digital twins, drones, mine-to-mill process integration, and safety innovation.
Automation and remote operation use the mine's wireless network and allow the operator to utilise the machine functions from a remote location. These functions include drilling, levelling, remote bogging, tramming, and GPS hole navigation to increase the productivity, safety, and cost efficiency of the process. Also, advances on the internet of things (IoT) technology are enabling a connected network of low-cost, highly capable sensors to capture data in real time and enable integrated planning, control, and decision support in our mines at Hindustan Zinc.
Digital twins (digitised geological, engineering, and asset data) is an emerging technology that enables the creation of a digital model of the physical environment, constructed using geological, engineering, and asset information. This can be continuously updated with data from sensors and location-aware mobile devices enabling robust, real-time, data-driven decision-making.
Our vision is to be the world's largest and most admired zinc, lead and silver company
Additionally, for data collection, inspection, stock control, condition, and safety monitoring, new and improved unmanned drones are also being used. Another noteworthy technological intervention that we have successfully embraced in our operations at Hindustan Zinc is the mine-to-mill process integration technology that maximises mine-to-mill metal extraction.
We are continually adopting digital technologies and advanced process controls in our mills and smelters for process capability improvement. The organisation firmly believes that data is the new gold and have outlined a long-term strategy to digitise every aspect of the entire value chain of the business.
The holistic view aims to upgrade, procure, and connect key critical assets of underground mines, mills, smelters and power plants through best-in-class technology while ensuring data security and data loss prevention measures are in place. The organisation has put all its effort into maximising productivity, efficiency, and equipment reliability through proven digital technologies. There are dedicated teams, and budgets are allocated in line with business needs.
We are consciously working with our partners towards building and adopting these capabilities, because we look at it as an investment into the future of mining, where sustainability, safety, efficiency, and innovation are an integral part of operations. Increasingly, different digital solutions are being bundled into the offerings of the equipment manufacturers and service providers too.
Taking a holistic view
Hindustan Zinc is built on inherently sustainable principles. We believe in driving long-term sustainable economic development and value creation for our stakeholders by protecting the health and safety of our people and community, minimising the environmental impact of our operations, respecting human rights, and sharing benefits with the community. Our vision is to be the world's largest and most admired zinc, lead and silver company.
We have taken a holistic view in setting our sustainability goals for 2025, aligning them with UN Sustainability Global Goals. Following a formal materiality analysis process and extensive internal and external stakeholder dialogue in 2019, we identified the high priority material issues, and subsequently set ambitious sustainability goals for 2025. Over the next five years, we will focus on expanding the work towards creating positive changes.
An open goal for sustainability
Our 2025 targets include reducing our GHG emissions, passing on our sustainability standards to our suppliers, reducing our dependency on freshwater, moving towards zero waste to landfill, improving the livelihoods of one million people and increasing diversity and inclusion in the workplace. With our goals, we are pursuing a comprehensive approach that includes the entire product life cycle, considering social, environmental, and economic aspects. Furthermore, we want to share our progress transparently with our stakeholders.
We have a well-structured sustainability governance strategy in place to drive our goals and our own executive sustainability committee, which is responsible for formulating sustainability strategy and long-term goals and targets. It plays a strategic role in all business decisions to ensure workplace safety, eliminating any potential damage to the environment, enhancing a commitment towards stakeholders, and maintaining our reputation. Under this committee, we have eight teams to drive each of our eight sustainability goals and to facilitate the decisions of the committee.
We remain focused on strengthening our efficiency, technology, and digitalisation initiatives to build on our industry leadership and deliver consistent returns to our shareholders. Apart from the above ambitious goals, we have also joined the global movement by committing to various science-based targets to limit the increase in the world's temperature by 1.5 degrees Celsius. These targets include cutting carbon emissions by at least 14 percent from the company's operations by the end of the fiscal year, 2027. Hindustan Zinc will also work with its customers and suppliers to reduce its indirect emissions by 20 percent.
Our 2027 greenhouse gas targets have been approved by the Science-Based Target Initiative (SBTi) and are also consistent with the challenge presented to corporations by the Intergovernmental Panel on Climate Change (IPCC), the United Nations body for assessing the science related to climate change. The company is taking all possible efforts to limit climate change, mitigate its catastrophic effects, and ultimately save lives. In addition to setting ambitious targets to achieve sustainability in the business, we have established a stronger governance structure, for increased transparency and for higher levels of support that we will provide to our stakeholders.
Improving water use efficiency
Water is one of the key natural resources and is of the utmost importance for our operations as our operating units are in Rajasthan, which is a water-scarce state. We understand its importance, and adopt best practices for making judicious use of water in our processes. We constantly look to improve our performance through improvement of water use efficiency, using less water-intensive technologies, and implementing water recycling opportunities to help minimise the use of fresh water and maintaining zero discharge.
Water scarcity and the non-availability of water is a key risk for our business. To mitigate this risk, we are reducing dependence on fresh water by exploring alternative resources, increasing the recycling and reuse of water and replenishing as much water as possible.
We are a water positive company and during the year, the company has completed a sewage treatment plant expansion and community projects in water harvesting. Hindustan Zinc maintains several water sources in conjunction with the government. A network of sewage treatment plants (STPs) was also set up in Udaipur, which provides a sustainable water source to its operations.
Our performance has improved considerably on several ESG metrics on the back of our sustainability and technology efforts carried out over the last few years. The increased use of recycled and treated water, improved smelter efficiency, higher metal recoveries, gainful utilisation of waste, and focus on renewable power, has inevitably led to the conservation of natural resources and therefore a lower impact on the environment.
The company is ranked first in the Asia-Pacific region and seventh globally in the metal and mining sector by the Dow Jones Sustainability Index for the third consecutive year and is among India's first companies to be included in the CDP climate change 'A list' for 2020. Our efforts towards a more structured journey of innovations continues. One of our objectives is to bring out hidden creativity among employees and business partners. A dedicated portal and innovation café – 'a space out of workspace', was set up as a means of exchanging ideas and capturing innovative thoughts.
The sustainable journey so far
We have found that sustainability is vital to steer operational excellence and ensure business growth. By adhering to the Vedanta Sustainable Development Framework we have managed to integrate sustainability throughout our business management and our operational drivers of governance, safety, and social responsibility. Responsible stewardship, building strong relationships, strategic communication, as well as adding and sharing value, are the cornerstones of our sustainability framework.
Our policies, procedures, and best practices are all aligned to this strategy, which is why our employees have a clear understanding of their role in driving business success. With this approach, we predict a sustainable future for our business operations, one in which we continue to meet our growth targets and create long-term value for all our stakeholders.
Protecting and enhancing biodiversity is also an integral part of Hindustan Zinc's commitment to sustainable development. The company has a separate policy on biodiversity and stays committed to preventing risk on biodiversity throughout our business. Renewable energy is a huge thrust area for us at Hindustan Zinc.
We aim to be self-sufficient and green in fulfilling our energy requirements so as not to put any stress on the energy-starved state of Rajasthan, which plays host to a significant part of our operations. Our portfolio of over 348.54 MW of renewable energy generation is testimony to our philosophy of growing responsibly. We are already a significant wind power producer in India with a capacity of 273.5 MW across five states. We have been continually prioritising and emphasising the need to ensure compliance and improve our social and environmental performance.
We have established stringent management systems centred on safety, health, the environment, and social performance. Our resilience was especially tested during the COVID-19 pandemic when we emerged with the highest ore and MIC production levels ensuring returns to shareholders, all while remaining committed to our sustainable path.
Hindustan Zinc is on a journey, one which focuses on nurturing leaders, conserving resources, improving health, safety, and wellbeing. We aim to be the example that others wish to emulate when it comes to environmental performance, enhancing the quality of life, and fostering innovation.