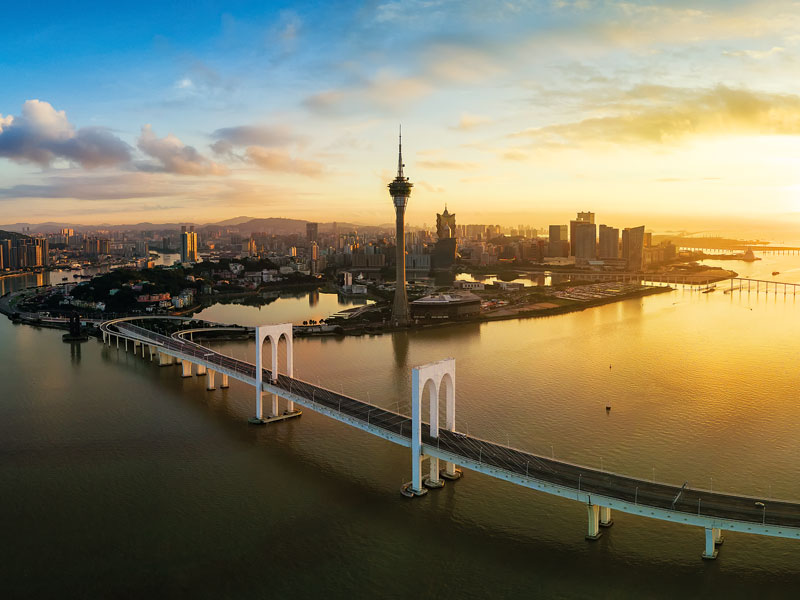 &nbsp
The broad impact and long duration of the COVID-19 pandemic has dealt a severe blow to Macau's service-export-oriented economy. Affected by travel restrictions and social distancing measures, GDP fell by more than 50 percent in 2020 and visitor arrivals decreased by 79.6 percent in the fourth quarter. Nowadays, the economy is still on a slow recovery path and development of the banking industry in Macau remains static. The pandemic had a profound impact on people's lives and online commerce has become more popular.
To adapt to the changes and speed up the economic recovery, the Macau government laid out its vision to develop into a 'smart city' – an urban space that uses different types of technology and electronic data to enhance operational efficiency.
By grasping this opportunity, ICBC (Macau) developed e-payment services with the goal of promoting 'cross-border, 'cross-industry,' and 'banking without borders' services – overcoming obstacles and creating a new business model for the industry.
The road to recovery
Last year marked a difficult and extraordinary year for the Macau Special Administrative Region, facing unprecedented challenges from the novel coronavirus pandemic. Gaming and tourism revenues have suffered the most. By contributing more than 50 percent to GDP, and generating over 70 percent of government revenue, gaming and tourism is the core pillar of industry in Macau. Due to the outbreak of the pandemic, gaming revenue has fallen by 79.3 percent for 2020 and GDP fell by 45.9 percent in real terms for the fourth quarter of 2020.
Private consumption decreased by 16.3 percent year-on-year as residents went out less and made fewer trips abroad amid the outbreak and economic outlook remained uncertain. All sectors of society – ranging from small to large enterprises – have been greatly affected and have encountered multiple difficulties and challenges. Despite the downturn in the gaming and tourism industry, unemployment rates have only risen from 1.7 percent (2019 Q4) to 2.7 percent (2020 Q4).
As COVID-19 was gradually brought under control, travel restrictions were eased in August 2020. As of March 2021, visitor arrivals totalled 750,000, an increase of 76.7 percent month-to-month and an upsurge of 255.4 percent year-on-year.
Consumer demand in Macau has been unleashed and the market atmosphere has improved. Gaming revenue has returned to about 40 percent of its pre-pandemic level in the first quarter of 2021. In March 2021, gaming revenue leapt by 58 percent year-on-year to $1.04bn, which is the best it has been since the start of the pandemic. As the vaccination programme continues on, the upward trend in the economy is expected to continue (see Fig 1).
The banking industry of Macau remained robust and resilient in 2020. The value of assets among local lenders totalled $277.9bn by the end of 2020, rising 10.2 percent year-on-year, while the operating profits of the sector reached $2.14bn, representing a rise from $2.13bn by the end of 2019, according to the Monetary Authority of Macau (AMCM).
The capital adequacy ratio remained around 14 percent and non-performing loan ratio below one percent throughout 2020. However, the total loan growth rate declined from 10 percent to three percent by the end of 2020 (see Fig 2). In addition to the traditional banking business, the banking industry in Macau needs to find new areas of growth to sustain the industry's momentum, such as e-payments and online banking.
Developing an e-payment market
In the city's first official five-year development plan, covering the period 2016–2020, and also Macau's 2021 policy address, the government laid out its vision to develop Macau into a smart city. Mobile payments are one of the major elements in turning Macau's smart city vision into a reality. As stated by AMCM, the city has approximately 70,000 POS systems utilised for QR code payments (e-payments). In fact, new regulations have been published to boost the development of the smart city since 2019, such as the cybersecurity law, e-governance law and amendments to the cybercrime prevention law. In light of the coronavirus outbreak, bricks and mortar operations have recently witnessed a decline.
The government also recommended contactless payment and online banking solutions over traditional over-the-counter services for residents. Taking into account the mobile payment applications currently available and the financial institutions that promote e-payments in Macau, the banks have adopted a more modern and technology-based approach.
Simple Pay, a new form of payment introduced by AMCM, will allow customers to use their mobile phones to scan businesses' QR codes to pay for a service or product. Its pilot period for the first stage was initiated in February 2021. Simple Pay aims to integrate all types of e-payment opportunities into one system, allowing businesses to accept all existing payment methods using a single terminal or QR code. Before the adoption of Simple Pay, vendors would need separate machines to accept payment from different banks.
In 2020, Macau logged over 65.49 million internet payment transactions, involving a total of $791.25m. AMCM would input more resources this year to improve the local digital financial infrastructure. Contactless payment is expected to continue to grow beyond the pandemic.
Turning challenges into opportunities
In 2020, ICBC (Macau) accurately identified the development trend of financial technology and actively implemented the localisation of its e-ICBC strategy. It is the first local bank to establish an intelligent network, improving the financial service ecosystem and leading the development of financial technology. In 2020, the number of customers using online banking and mobile banking began to increase rapidly.
ICBC (Macau) therefore continued to advance its e-banking service and achieved positive results. The bank is the first overseas ICBC Group member to launch e-payments, covering online e-commerce platform payment scenarios and offline code scanning payments. The e-payment is a contactless payment solution, increasing operational efficiency and enhancing security over traditional card payment methods.
In 2020, the number of customers using online banking and mobile banking began to increase rapidly
Furthermore, the tap-to-pay feature promotes hygiene in light of recent events with customers only making contact with their mobile phone, decreasing the chance of the virus spreading.
ICBC (Macau) continued to optimise aggregate payment services, creating multiple firsts and providing diversified and convenient acquisition services for merchants, leading the development of electronic payments in Macau. ICBC (Macau) further developed the local market to enhance core competencies and maintain market leadership through online card application, aggregate payments, mobile payments and various other payment scenarios. The issuance of credit cards increased by five percent in 2020.
Though the transaction amount slightly declined by six per cent due to the pandemic, it was still above the average decline of 18 percent in Macau's banking industry. The bank led the founding of the Macau Cross-Border E-Commerce Industry Association and was honoured as a life chairman, building a comprehensive platform for local cross-border e-commerce businesses.
The bank also executed the strategic transformation of smart banking and launched a new version of Mobile Banking 4.0, transforming the bank services from offline to online, aiming to improve service quality and increase customer activity. ICBC (Macau) integrated popular retail banking products into mobile banking with multiple first-of-its-kind features in Macau, such as one-click transfer, ICBC Express, and 24/7 services for remittance, maintaining the leading position in local mobile banking services.
Financial ecosystem
Finally, ICBC (Macau) continued to develop innovative businesses and established the foundation for the continuous development of online banking payment services. The bank launched ICBC e-payment with a comprehensive retail transformation, creating an open financial ecosystem.
In 2020, ICBC e-payment had more than 110,000 users and was available at more than 7,000 merchants in Macau, an increase of 140 percent compared to 2019. The number of transactions was close to three million and volume exceeded $50m, a growth of more than 200 percent year-on-year. The bank continues to optimise the life platform in mobile banking and launched an online application interface for SMEs to improve processing efficiency and meet customer needs.
The last 12 months have tested the resolve of the banking industry, and ICBC (Macau) has risen to the considerable challenges by committing fully to the e-commerce and contactless payment market in Macau and assuming social responsibility for Macau's post-pandemic economic recovery.