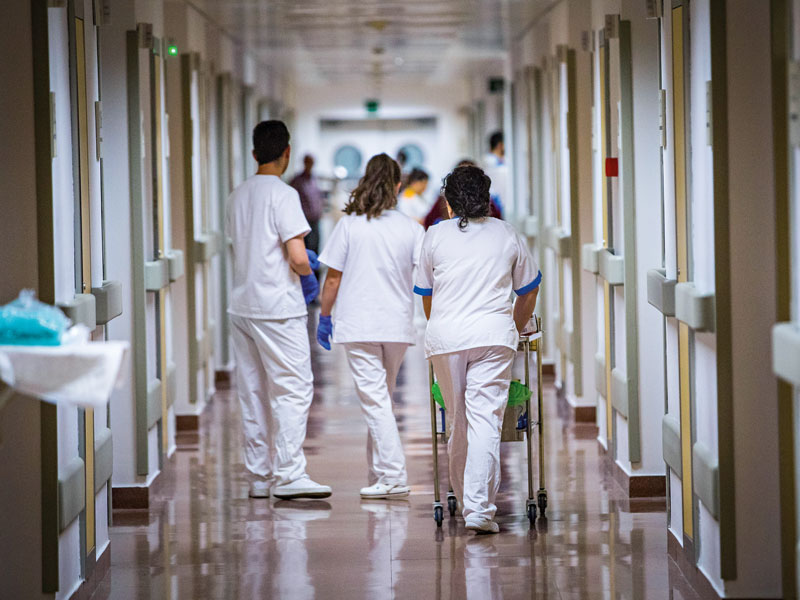 &nbsp
Author:
Ricardo Trujillo, Health Department Manager, Manises Hospital
The Manises Department of Health provides public healthcare, both outpatient and at home, to more than 199,000 people in the Valencia region of Spain. We provide healthcare services at 14 locations including the Hospital de Agudos de Manises in Valencia city, 10 healthcare centres, 10 local clinics, two speciality centres and the Hospital de Crónicos in Mislata. Since its creation in 2009, the Manises Hospital has boasted a professional team focused on safe and high-quality healthcare. In terms of accessibility, quality and level of care, as well as corporate reputation, we rank among the best public hospitals in Spain, according to the consultancy firm Merco's Health Reputation Monitor report.
Scientific evidence has shown, for years, how the health of the planet is directly related to the health of its people. As health specialists, we are aware that we can only improve the health of citizens with a comprehensive approach in line with the World Health Organisation's 'One Health' strategy. Based on this principle, we have drawn up our own sustainability strategy focused on attacking the risks that atmospheric pollution, climate change and biodiversity loss can have on the health and wellbeing of the population.
The Manises Health Department has been committed to sustainability since it was founded in 2009, adopting an approach that integrates the health of the planet with the health of the citizens of Valencia. We were one of the first large healthcare organisations to officially commit to the Science Based Targets initiative (SBTi) to reduce our carbon emissions and prevent the effects of climate change.
Range of measures
Since the beginning we have invested in a plan to improve the energy efficiency of our facilities. We have implemented a wide range of measures as part of the plan, cutting our consumption of natural gas by 51 percent since 2013, our consumption of electricity by 30 percent since 2013 and our consumption of water by 20 percent since 2018. Infrastructure improvements have been key, but so has the reduction of plastic and paper waste.
Together all these measures have enabled us to bring about a 70 percent fall in our carbon emissions since 2013 (see Fig 1) and achieve energy efficiencies of 40 percent over this same period. Furthermore, 67 percent of our energy is from renewable sources. To put this in context, the European Commission's Green Pact calls for the EU as a whole to increase energy efficiently by 32.5 percent and have at least 32 percent renewable energy in its energy mix, both by 2030. We have also reduced our paper, cardboard and plastic waste, cutting the latter by up to 70 percent over the last five years, going from 5,780kg in 2015 to 3,420kg in 2021.
All of this would be impressive for a private company but is all the more so given that we are a public-private health provider, with many of our facilities open 24 hours a day, seven days a week, 365 days a year. It demonstrates the crucial role that careful management can play in supporting the health of both people and planet and motivates us to continue on our path towards sustainability.
We save energy through a heat recovery system, variable flow air distribution systems and high-efficiency boilers and air conditioning
Such measures are essential in the current climate, where rising commodity prices, the COVID-19 pandemic and geopolitical instability are putting those reliant on fossil fuels under increasing pressure. Improving our energy efficiency, reducing our consumption and improving our carbon footprint are not just good for people and the planet, they have offset the increase in the cost of energy, protecting our annual operating profits.
The management system at the Manises Health Department has been specially designed to enable us to continuously measure and improve our performance. It is audited and certified by experienced external institutions to a wide range of quality standards. Manises Hospital, in fact, has received more accreditations than any other public healthcare centre in the Valencian Community according to the Autonomous Registry of Quality Certifications of the Ministry of Universal Health and Public Health. These accreditations include the highest accreditation granted by the Institute for the Development and Integration of Health (IDIS) in 2020: the EFQM 500+ distinction. It is the highest distinction awarded by the Club for Excellence in Management (CEG) and the most recognised and widespread international quality management model in Europe. Furthermore, we are the only health department whose healthcare centres all have ISO 9001 and ISO 14001 certifications, for quality management and environmental management respectively. Manises Hospital also boasts the SENSAR safe hospital certificate.
The hospital building itself has a 300 sqm rooftop solar park that generates up to 12,000 litres of domestic hot water per day for self-consumption. It also has 250 photovoltaic solar collectors capable of producing 40 kWp of electrical energy. The extensive landscaped areas of the hospital grounds, which account for around 10,000 sqm of our 55,000 sqm footprint, are irrigated with the hospital's own wastewater following treatment with reverse osmosis. Internally, we save energy through a heat recovery system, variable flow air distribution systems and high-efficiency boilers and air conditioning, as well as sensors for pumping, cooling and heating water.
Renewable sources
Since the implantation of the energy efficiency plan in 2018, the hospital has reduced its consumption of natural gas by 40 percent and saved 3.8 million kilowatts of energy. Renewable sources now account for 65 percent of the hospital's energy use. Together these savings have enabled a reduction in carbon emissions of up to 43.5 percent. Going forwards, we have allocated a large investment for improvements to our building control system, which will allow us to achieve better energy automation, adjusting our energy demands according to different conditions.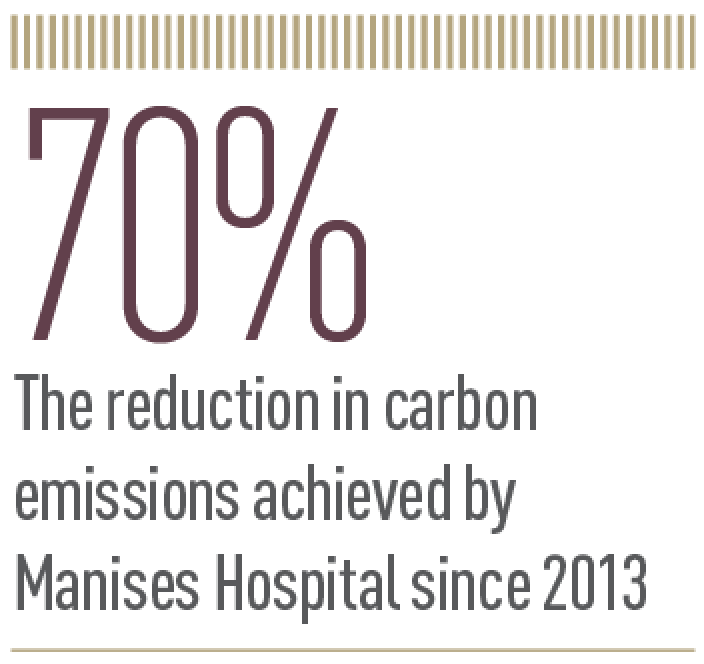 It is unsurprising, therefore, that in October 2021 we were recognised for our commitment to the fight against climate change at the 38th National Congress of Hospital Engineering, a conference at which the engineering sector addressed the environmental development of healthcare centres. Manises Hospital was the first public hospital in Spain to be awarded in the 'Climate Emergency' category. Speaking at the conference, Iván Ruiz, Head of Infrastructure at the Manises Hospital, called the award an "endorsement of our contribution to the health of the environment and the planet."
We hope that other institutions, both public and private, here in Spain and around the world, will follow in our footsteps when it comes to greening their facilities. It's not just health care settings that could benefit – because it's been largely through improvements to infrastructure and management that we have achieved our sustainability goals, these learnings could be applied to a broad range of buildings, from housing and hotels to shopping centres. It's more complex when it comes to switching to renewable energy sources, as that depends on the national and regional context, but there are many localities where following our example is eminently possible. We are proud of leading this change.