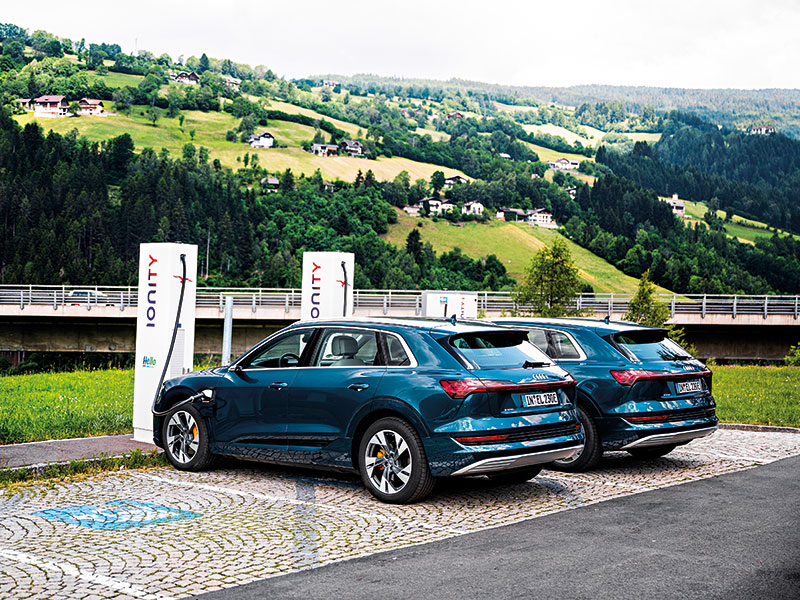 The Audi e-tron 55 quattro. Audi's board of management is strongly committed to meeting the Paris Agreement's climate goals – especially the two-degrees target&nbsp
Author:
Peter Kössler, Member of the Board of Management for Production and Logistics, Audi
We are living in times of fundamental, and often disruptive, change. Nevertheless, the need for individual mobility has stayed the same. Never before has individual mobility provided transport for so many people.
However, the growing trend for widespread car ownership, combined with a rapidly growing population, is causing unprecedented harm to the planet. Tackling this is a challenge faced by every major player in the automotive industry. At Audi, our job is to realise our vision for the future: mobility with a clear conscience. We are working hard to achieve this, placing sustainability at the core of our operations while maintaining a focus on trust and future viability, which have been key objectives of ours for a long time.
All over the world, people are changing their attitudes and behaviour, ranging from their daily shopping habits to major decisions such as building a house, buying a car or where they want to make financial investments. In terms of global finance, sustainable investing is now a market worth more than $30trn worldwide – a trend that is accelerating. Investors are continuing to value the mutual relationship between economic success and sustainable commitments; our mission is to attract these investors once we have brought sustainable automobile travel to the market.
Audi's Brussels plant has been carbon neutral since 2018, making it the first large-scale premium automotive manufacturer to achieve this
Four a better future
Audi's operations strictly adhere to environmental, social and governance (ESG) targets, which we achieve by integrating ESG criteria into our long-term management processes. We are also deeply committed to upholding high standards with regards to equal opportunities, human rights and environment protections. We demonstrate transparency by allowing ourselves to be assessed whenever asked, for example, by credit ratings agencies.
The board of management is strongly committed to meeting the Paris Agreement's climate goals – especially the two-degrees target. By 2025, we want to reduce our environmental impact from what it was in 2010 by 35 percent per vehicle. We have taken steps to reach 23.7 percent so far, and we intend to remain on target.
Right now, we are on track to meet the objectives of Mission Zero, our initiative to reduce company-wide carbon emissions. Across the entire value chain, we are working with carbon-neutral production and supply chains, closed resource loops and sustainable products. We have also established Four Rings of Sustainability – reduce, reuse, recycle and rethink – which we use in the planning of every project.
The first ring of sustainability is to reduce. We want to consume fewer natural resources, particularly in terms of our energy use. This applies to all of us – those working in the automotive industry, retailers and private consumers. Almost half of all resources consumed are for energy production and are mainly sourced from coal, oil, gas and uranium – energy sources with well-known environmental risks. Making reductions here is particularly effective in improving overall sustainability. Audi has a clear agenda – to make all our production plants carbon neutral, on balance, by 2025.
We are expanding this goal to encompass the consumption of raw materials and our own employees' personal transport needs. Our Brussels plant has been carbon neutral since 2018, making us the first large-scale premium automotive manufacturer to achieve this. Moving forward, our plan is for the whole company to be carbon neutral by 2050.
This makes production of the Audi e-tron and the e-tron Sportback, our latest electric cars, an important reminder of what we are striving for. Outside of Brussels, our other plants have also made great progress: in Györ, Hungary, for example, Audi utilises geothermal and solar energy to power our operations. In addition, Europe's largest roof-mounted photovoltaic system has just gone into operation at our Hungarian production site. This alone will reduce CO2 emissions by approximately 6,000 tons each year.
As a result of these measures, we have reduced CO2 emissions by more than 23,000 tons at our four European plants each year since 2010. Similarly, our use of rail for transport between plants in Germany and North Sea ports has been powered by green electricity for an impressive amount of time. We became the first company in Germany with carbon-neutral rail logistics in 2017, avoiding 13,000 tons of CO2 emissions every year.
Everyone on board
To be truly sustainable, our efforts cannot stop at the factory gate. That's why we also want to reduce CO2 emissions in our supply chain. We have developed a sustainability rating system for our suppliers, involving a dozen criteria concerning environmental and social factors. We have already checked and assessed more than 1,100 companies at their sites. Since these ratings were introduced earlier this year, they have proved decisive in how partner contracts are awarded.
Regarding the second ring of sustainability (reuse), many of the resources we need, such as water and air, remain in use for as long as possible. For example, our factory in Mexico now produces no excess wastewater. We have achieved this by cleaning the water we use so it can be consumed again in production. Other Audi plants are optimising their water consumption as well to meet this end goal and decrease the by-products of our plants. We are working hard to further develop the technology behind electric cars. For instance, we are currently testing concepts for how we can reuse lithium-ion batteries. These are extremely valuable as they can be used for storing electricity from renewable sources such as solar, wind or hydropower.
The third ring of sustainability involves recycling. More businesses need to grasp the notion that waste is not worthless, as recycling can actually bring many benefits. At Audi, we have regarded waste products as valuable raw materials for a long time. We sort and separate waste products by their type, reuse what we can, and recycle the waste while ensuring material quality is maintained. We are already developing new recycling processes for our electric car products, and in lab tests, we have managed to recycle 95 percent of the materials used in high-voltage batteries, such as cobalt, copper and nickel.
We are conscious of the negative impact that comes from the production of aluminium, which is why we act where we can to exert a direct influence on recycling the material. To minimise its impact, we separate it from any steel it may be welded to and press the waste metal to save space in transportation. It is then reused at in-house factories. We make sure none of our waste steel and aluminium is thrown away, as they are both recyclable materials. The recycling of aluminium alone prevented the release of more than 90,000 tons of CO2 emissions in 2018 – a 30 percent increase on the year before. A circular economy and efficient processes save resources, cut costs and reduce the environmental impact of production.
Last but not least
Rethink is our fourth ring of sustainability. Rethinking means reflecting beyond the company and considering how we can make a difference. At our plant in Mexico, for example, we have planted more than 100,000 trees in the immediate vicinity. At our production site in Münchsmünster in Germany, countless insects fly between our large flower meadows and help pollinate rare varieties of fruit trees. Regular monitoring demonstrates a clear increase in biodiversity. These cases are sustainability at its best, put into practice.
We are committed to the fact that the entire car industry needs to engage in sustainability, and rethinking has led to the conclusion that we need to do it together. Audi is now collaborating on sustainable solutions through its many alliances and partnerships.
To solve global challenges, we need worldwide cooperation, such as the Aluminium Stewardship Initiative (ASI). We have been strongly committed to working as a member of this group since 2013, which has resulted in a global sustainability standard with criteria set for environmental and social issues, as well as business ethics. Audi was the first car manufacturer to receive the ASI sustainability certificate, putting us ahead of others in the sector.
Managing your organisation according to ESG goals does not just involve risk management: it provides the basis for long-term economic success. It also includes activities that are not reflected in the bottom line on financial statements. Nevertheless, they contribute to our strength as a brand, our strategy and our path to achieve our vision.
Take the Audi Environmental Foundation, which celebrated its 10th anniversary in 2019. The foundation promotes innovative ideas for environmental protection, using ideas from the fields of science and education, as well as from the public and our own employees. This non-profit foundation is globally connected, helping innovative ideas become reality – for example, working out how we can remove plastic waste from rivers before it reaches the sea. The Audi Environmental Foundation empowers those who seek knowledge, resulting in projects that aim to create a better world – one in which all of us can live a good life with a clear conscience.
It is evident that Audi is changing rapidly. By 2025, our portfolio will include more than 30 electrified car models, with 20 of them expected to run solely on electric power. These cars will account for around 40 percent of our worldwide revenue, demonstrating that we are serious about a sustainable future, caring for the environment and building a future we can all share.
We truly believe that companies managed according to ESG principles are more successful and secure valuable market share. Sustainability has become a key element of corporate management, and thus a value driver instead of just a trend. That's why we are working to create new Vorsprung durch Technik – advancement through technology – for our customers. The four rings of sustainability and Mission Zero are the key elements of our sustainable strategy, and they demonstrate that the entire company is moving in one direction. Our vision is to deliver sustainable mobility to preserve the planet and deliver state-of-the-art products to our customers.