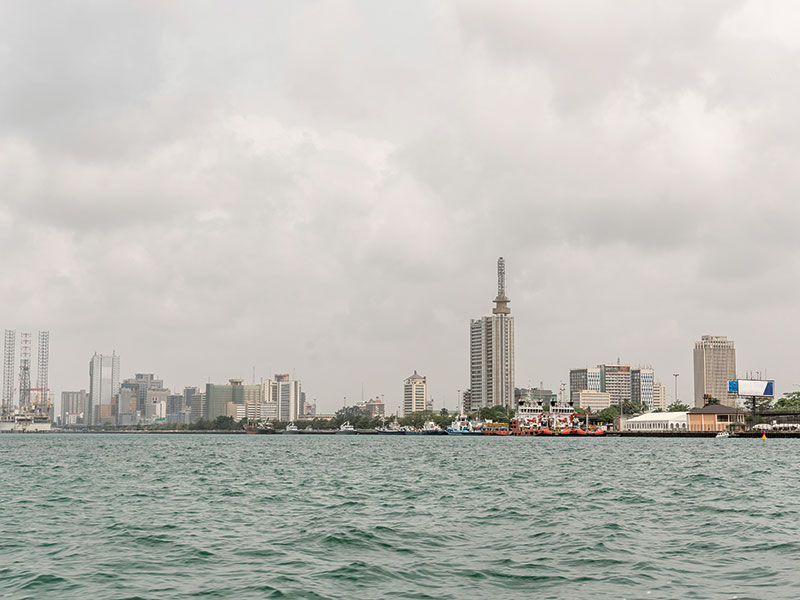 Lagos, Nigeria. The unbanked population of Nigeria remains one of the largest in sub-Saharan Africa&nbsp
Author:
UK Eke, Group Managing Director, FBN Holdings
The global economy had a bumpy ride in 2019. As tensions mounted between the US, China and the EU, trade was left sputtering. According to the World Bank, global growth ultimately closed at 2.4 percent, down from 2.5 percent in 2018. This tepid growth had significant implications for frontier markets, including Nigeria, and specifically for the financial services industry.
The impact on frontier markets was made more severe by the US Federal Reserve's mid-cycle alterations to its monetary policy. The uncertainty this created around rate rises in the US triggered fund outflows from emerging economies. As a result, the Nigerian stock market had a difficult year, closing at a loss of 14.6 percent at the end of 2019. Similarly, these policy adjustments increased pressure on the country's foreign exchange reserves, which dipped to $38.6bn in January 2020, down from $44.9bn in July (see Fig 1).
World Finance spoke with UK Eke, Group Managing Director of FBN Holdings, about how Nigeria is moving on from this financially turbulent year and what this means for its banking sector.
How is Nigeria's economy faring at the moment? What are its main strengths?
Within Nigeria, there have been concerted efforts – both in terms of fiscal and monetary policy – to get the economy back on a healthy growth path. As far as monetary policy is concerned, the Central Bank of Nigeria continues to make efforts to meet its targets of price stability, reduced unemployment and a stable exchange rate. To this end, it has rolled out a number of policies, such as the recent increase in the minimum loan-to-deposit ratio for commercial banks – up from 60 percent to 65. Additionally, the new Global Standing Instruction aims to combat the predatory impact of serial borrowers in the banking system, thereby driving down non-performing loans.
The fundamentals of the Nigerian financial services sector remain strong and attractive, despite recent headwinds
In terms of fiscal policy, the Nigerian Government has pushed on with plans to return the country to a January-to-December budget cycle by passing the 2020 Appropriation Bill. It also signed a new finance act and recently amended the Deep Offshore and Inland Basin Production Sharing Contract Act to improve Nigeria's business environment.
Thanks to these policies, Nigeria climbed 15 places on the World Bank's Doing Business 2020 ranking: the country now ranks 131st, jumping from 146th place last year and up 39 places since 2016, when the current administration established the Presidential Enabling Business Environment Council. Based on this positive track record, the country is well on its way to achieving its goal of reaching 70th position by 2023.
What is the outlook for Nigeria's financial services sector in the short to medium term?
The fundamentals of the Nigerian financial services sector remain strong and attractive, despite recent headwinds. Given that the economy is expected to grow in the medium to long term, it is expected that there will be a corresponding growth in the Nigerian financial services industry.
The banking sector accounts for 80 percent of this industry. Despite Moody's recent decision to downgrade its outlook for the sector – owing largely to regulatory challenges – international investors have shown a growing interest in Nigeria's banks. This is thanks to the size of the economy, the country's young population and the depth of the market. In the short term, we expect there will be greater consolidation in the industry, as both the insurance and banking sectors strive to enhance their capacity in response to pressure from the market and the banking regulator.
How will FBN maintain its dominance in the financial services industry in sub-Saharan Africa?
Our strategy to dominate the financial services industry in sub-Saharan Africa has three key points of focus. The first is increasing our appeal to existing and potential markets through our world-class services. The second is strengthening our grip on alternative delivery channels through electronic banking and agency banking networks. Finally, we plan to expand our market footprint across the region in pursuit of growth and trade flows.
How has FBN embraced new technologies in the banking sector?
Innovation is central to our strategy and critical to our value proposition. Two years ago, we opened the FBN Digital Lab, an incubation centre for nurturing novel products and services from the conceptualisation stage to market launch. This centre allows us to partner with the growing fintech community in Nigeria to develop products that address the constantly evolving needs of our customers.
Similarly, we have continued to outpace the sector in terms of IT investment; for example, we recently embarked on an IT transformation project in partnership with cloud infrastructure company Oracle. It is by far the largest project of its kind in sub-Saharan Africa. This is all part of our quest to leverage technology in driving critical processes such as risk management, procurement and data analytics.
What customer trends are you noticing at the moment?
The global financial services landscape is evolving and, as part of this, the banking industry is boosting digital transformation in an effort to meet customers' new needs. Banks that offer a compelling digital customer experience are winning big, regardless of whether they're established institutions or new entrants.
We have also seen that customers have a growing preference for product bundling, whereby different products are tied together to bring greater value. This adds to the case for all-in-one digital offerings that are tailored to the everyday needs of our customers.
How important is environmental sustainability for FBN?
Preserving our environment for future generations is a core strategic aspect of FBN's corporate responsibility and sustainability initiatives. We recognise that our success is hugely dependent on the sustainability of the environment and communities we operate in. For this reason, we have adopted a number of initiatives focused on minimising our direct and indirect impact on the environment. We achieve this through our environmental, social and governance management frameworks. We also focus on responsible lending, meaning we hold our customers to a high sustainability standard.
Our responsible approach to protecting the environment has seen us partner with the Nigerian Conservation Foundation (NCF), a non-governmental organisation dedicated to nature conservation and sustainable development in the country. Through its ongoing partnership with the NCF, FirstBank (a subsidiary of the FBN) supports activities promoting the conservation of wildlife and biodiversity.
What other corporate responsibility programmes has FBN launched?
Our key corporate responsibility programmes include the Future First programme, Infrastructure Development programme, Start Performing Acts of Random Kindness (SPARK), and the Employee Giving and Volunteering programme. SPARK, a values-based initiative, was introduced in our first corporate responsibility and sustainability (CR&S) week in 2017. The initiative is designed to promote kindness to others and encourage employees to reconnect with their values in the workplace. Its underlying principle is that we should go beyond just meeting the needs of our immediate family and focus on showing compassion, empathy and affection towards people in every aspect of life.
Our focus has always been to lead the market in addressing the care deficits in our society. In 2019, more than 25 schools benefitted from our CR&S week, with 6,000 secondary school students participating in its launch. Through our 2019 Ripples of Kindness programme, we have worked with more than 50 charities and foundations, including the Global Down Syndrome Foundation, the Sickle Cell Society, the Nigeria Association of the Blind, the Nigeria Red Cross Society, the International Women's Society and the UN Global Compact. Because of these partnerships, we have helped to improve the lives of more than 20,000 people across eight countries.
How important is it to provide financial services to the previously unbanked?
The unbanked population of Nigeria remains one of the largest in sub-Saharan Africa. This segment continues to attract interest from banks and the banking regulator for different reasons. For the Central Bank of Nigeria, bringing this unbanked population into the formal sector enhances the effectiveness of its monetary policies. For commercial banks, this large pool of Nigerians represents a huge business opportunity.
Today, FirstBank has made significant investments in capturing this unbanked population through traditional and alternative channels. FirstBank has 40,000 agents represented in 770 local governments – just four local governments remain unrepresented. This is by far the largest coverage of any bank in Nigeria. Similarly, through our *894# Quick Banking service, we make it easy for our customers to open an account with us and transfer funds. These efforts have helped to shrink this unbanked population over the last few years, from about 41.6 percent in 2016 to 36.8 percent today.
What does the future hold for FBN?
Our vision is to become the foremost financial services group in sub-Saharan Africa. This entails dominating every market we serve, both in terms of customer count and service delivery through innovation. Ultimately, we see a future where this dominance translates into unrivalled value for all our stakeholders – our shareholders, staff, customers and local communities.