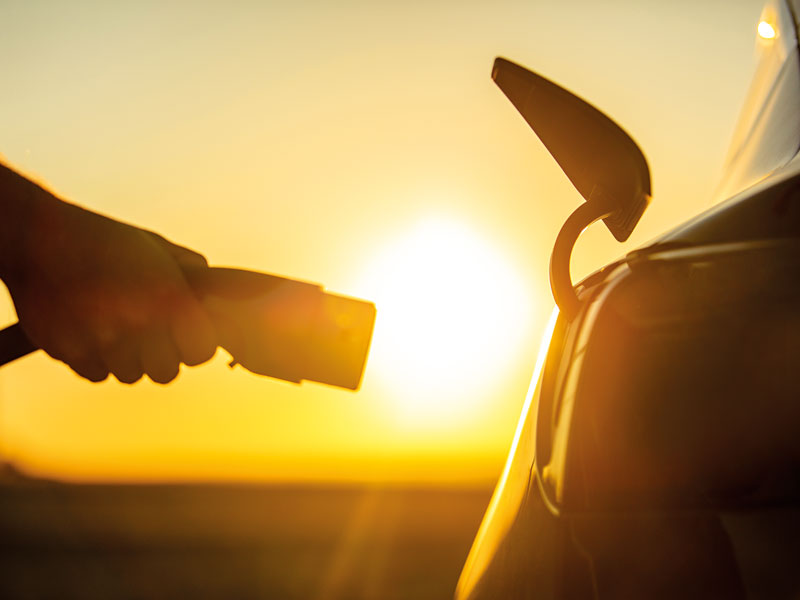 &nbsp
Since joining onsemi in February of this year, CEO Hassane El-Khoury and I, together with the rest of our leadership team, have been working on the transformation from the former 'ON Semiconductor' to the new 'onsemi.' On August 5 during our analyst day, we revealed our new trade name 'onsemi' and a refreshed brand as the next step in the company's evolution to establish itself as the leading provider of intelligent power and sensing technologies. With a continued focus on the automotive and industrial end-markets, onsemi has sharpened its strategy to drive disruptive innovation that contributes to a sustainable ecosystem of high-growth megatrends such as vehicle electrification, advanced safety, alternative energy and factory automation.
We consider the changes in strategy a transformation of the company rather than a turnaround. Instead of looking at product lines, we now focus on the markets where our solutions can add value. By moving capacity to markets and solutions we want to sustain, we are shifting our product mix. Our new company name shows that we are not about what we make but what we provide our customers with: intelligent power and sensing technologies that help our customers solve their toughest challenges.
The results over the last few quarters are evidence of this. Adding value to our customers' solutions has translated into a significantly increased growth margin, earnings per share (EPS), cash flow and record revenues. The new direction of onsemi, focused on our vision to empower a sustainable ecosystem, has already led to our transformation to a company with a more predictable financial performance.
Innovation-led sustainability
Today, the industrial and automotive end-markets are responsible for two-thirds of global greenhouse gas emissions. By applying its intelligent power and sensing technologies to these markets, onsemi has an immense opportunity to do its part in achieving a net zero economy. As we see it, climate change presents not only a risk to the environment, humans and animals globally, but plenty of opportunities for innovative business solutions.
We define disruptive innovation as providing our customers with differentiated solutions that add value to their own products and that contribute to a sustainable ecosystem. We are doing this at onsemi by powering the electrification of the automotive industry with intelligent power technologies that allow for lighter and longer-range electric vehicles and enable efficient fast-charging systems. We are also enhancing the automotive mobility experience with our intelligent sensing technologies with imaging and depth-sensing that make advanced vehicle safety and automated driving systems possible.
Sustainability is what governments are asking for, employees are demanding, shareholders are requiring, and companies are investing in
In the industrial market, we are propelling the sustainable energy evolution with our intelligent power technologies for the highest efficiency solar strings, industrial power and storage systems, while enabling Industry 4.0 with our intelligent sensing technologies for smarter factories, buildings and homes.
This includes high-efficiency power solutions with both insulated-gate bipolar transistors (IGBTs) and silicone carbide (SiC) for increased power throughput for charging stations and energy infrastructure. For factory automation, we offer high-speed sensing for robotics, scanning and inspection and the widest intelligent power portfolio across all voltages and technologies. In addition, we are leveraging some of our high-efficiency, intelligent power solutions to optimise power consumption in adjacent markets such as the cloud and telecom infrastructure.
Net zero emissions by 2040
While our company has a long history of dedicating itself to sustainable products and being a good corporate citizen, this year, onsemi has publicly committed to applying its research and design expertise and pledged to adapt its own operations to achieve net zero emissions by 2040. As our CEO stated on our analyst day, sustainability is what governments are asking for, employees are demanding, shareholders are requiring, and companies are investing in. But first and foremost, we are doing this because it is the right thing to do.
To achieve net zero emissions by 2040, we are implementing an aggressive strategy. But what it takes to get to net zero emissions is often misunderstood and not all climate pledges are created equally. So, what does net zero mean? How does this compare to what our competitors and other companies are doing around climate change? You have likely seen companies commit to being carbon neutral or net zero and there is a world of difference between the two of them.
Carbon neutral commitments do not require companies to eliminate any present or future emission from their operations. Instead, this type of commitment allows a company to continue its business-as-usual practices so long as it purchases enough carbon offsets to negate its emission activities. Carbon neutral pledges are not aligned with the Paris Agreement.
Before purchasing offsets equal to the emissions that cannot be avoided, net zero pledges require an ambitious 1.5 degrees Celsius aligned science-based target for emission reductions across the whole value chain. This means that the company ensures direct emission will not contribute to a global temperature rise exceeding 1.5 degrees Celsius above pre-industrial times. Net zero pledges align with the Paris Agreement.
The three pillar strategy
With this commitment, we have set the most ambitious goal among our competitors and will surpass the Paris Agreement's goal by a full decade. Our strategy is focused on three pillars:
Firstly, 'capitalise on efficiency': Every ton of carbon dioxide (CO2) avoided is a ton we do not need to eliminate or offset. Our employees have already demonstrated their innovative abilities to create such efficiencies. We reduced our emissions by 12,101 metric tons of CO2 in 2020 through 49 projects centred on increased energy efficiencies.
Investments in facilities, processes and equipment to increase energy efficiency can reduce our greenhouse gas footprint by as much as 15 percent by 2040. We will also be focusing on our process gas usage as there is substantial opportunity for efficiency in this area.
Secondly, 'renewable energy': To achieve net zero, companies need to invest in renewable energy equal to the emissions associated with their energy consumption. Offsets cannot be used for electricity-related emission in a net zero model. The company will transition to an emissions-free renewable energy portfolio to achieve this goal. We plan to use 50 percent renewable energy by 2030 and 100 percent by 2040. We will engage with energy providers to identify power purchase agreements in locations where it is feasible to recoup investment costs in long-term agreements. To assist in our shift to renewable energy, we joined the Renewable Energy Buyers Alliance to ensure a rapid transition to a cleaner zero-carbon energy future.
And the third pillar, 'offsets and influence': For non-electricity emissions that cannot be eliminated, we will purchase certified carbon offsets equal to their amount. Green-E and Gold Standard certified offsets are the most credible and will be prioritised in our strategy. Science-based targets also require goals for reducing emissions in the supply chain. We will leverage our Responsible Business Alliance membership to engage suppliers on emissions reduction.
No goal is worth the paper it is written on without continuous measurement of progress against it. Our CSR report will be a key resource for anyone wanting to see our progress toward net zero emissions. We will report our emissions on a scope one, two and three basis. The scope of the emissions speaks to what kind of emission it is and how it relates to onsemi business operations.
Scope one emissions are direct emissions from company-owned and -controlled resources. The company will focus on removing scope one emissions as part of its net zero goal by capitalising on efficiencies in locations we operate in. Scope two emissions are indirect emissions from the generation of purchased energy, which we will eliminate by converting to 100 percent renewable energy.
Finally, scope three includes indirect emissions that occur in the supply chain of onsemi, including both upstream and downstream. As part of our net zero strategy, we will eliminate these emissions by working with our suppliers to implement their own emission reduction targets and offsetting the excess. In 2020, we started tracking some of them and will build the rest of scope three emissions into our reporting as we continue on this journey.
Lastly, our efforts have not gone unnoticed. Our sustainability programmes have been recognised many times over the years. For a second consecutive year we were declared the winner of the 2021 World Finance Sustainability Award in the category of the 'Most Sustainable Company in the Semiconductor Industry – 2021.' Some other examples are our Platinum award from Ecovadis for 2020, only awarded to the top one percent of companies assessed. This year we are ranked number 10 and the top-rated semiconductor company on Barron's 100 most sustainable companies. For the fourth consecutive time, we are listed on the Dow Jones Sustainability Index for North America. We are also rated PRIME by ISS-ESG.
There is no question that there will be some learning on our way to net zero emissions, but our plan is in place and we are dedicated to its execution from the top down. We will measure our progress, make corrections as needed and pursue our goal with determination. In the end it comes down to what we started with: committing to net zero is the right thing to do.