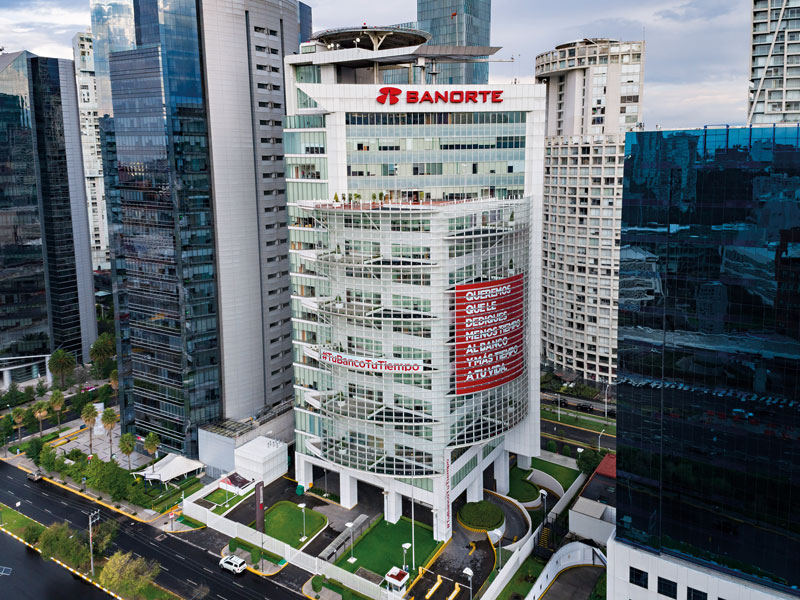 Banorte headquarters, Santa Fe, Mexico &nbsp
Author:
Carlos Hank-González, Chairman, Grupo Financiero Banorte
It has been more than 18 months since the COVID-19 lockdown and the pandemic has dramatically reshaped our lives both personally and professionally. While these have been challenging times to live through, we are also seeing first-hand how the pandemic is fuelling innovation at an extraordinary scale, from the scientific breakthroughs behind the lifesaving COVID-19 vaccinations, to the technological advances that have facilitated a worldwide pivot to working remotely.
Progress has been rapid, effective, and driven by need. Now, as the world looks to move towards recovery, these innovations will continue to revolutionise our post-pandemic lives. For the banking industry, the pandemic has served to accelerate many of the digital changes that were already well underway. For Banorte in particular, the challenge has been to expedite our digital programmes to meet the evolving needs of our customers.
The digital transformation at Banorte
For years, a digital revolution in the banking industry had long been overdue. At Grupo Financiero Banorte, we have been working steadily to expand our digital offerings for many years and have been paving the way into the Mexican banking sector when it comes to both digitisation and personalised services.
It is our goal to seamlessly combine our branch-based services with our digital efforts
As part of that journey, we have launched many innovations, including features for our mobile banking app 'Banorte Movil'; as well as passed several milestones by becoming the first bank in Mexico to offer a wide variety of digital features to our clients, such as: a mobile token in 2011; a digital debit and credit card that can be generated instantly in 2013; identity verification via selfie in 2016; and credit cards and mutual funds available from the app in a matter of minutes in 2019. For over a decade we have focused on our exploratory and research analysis on how to seize technological opportunities, and how best to meet the consumers' changing needs.
Undoubtedly, this preparatory work served us well when the crisis struck, and we were forced to accelerate what we had planned for the next five years to occur in less than one. Having laid the groundwork for that digital transformation, we found ourselves well-placed to serve our customers when the pandemic arrived. As social distancing guidelines impeded in-person branch visits, our customers pivoted to digital with remarkable ease. In just one year, we observed an increase of 1.2 million customers using our digital services, with only four percent of transactions taking place in branches. While this growth is certainly something to celebrate, Banorte is not stopping yet; we still have much more to do to achieve our digital vision.
Recently, we signed a strategic agreement with Google Cloud to continue the IT modernisation across all our platforms and services, truly propelling Banorte towards a more technological and innovative future. The agreement will also get Banorte closer to artificial intelligence (AI) when it comes to data analysis, which will allow us to provide hyper-personalised experiences for our customers as we deepen our understanding of their needs. In a similar vein, in 2020 we also signed a joint venture with Rappi, a Latin American tech 'unicorn,' to develop a new generation of digital financial services within the superapp, another exciting initiative to add to our growing portfolio.
A strategy with customers at the centre
When it comes to Banorte's approach to service, the pillar is quite simple: the customer is at the core of everything we do. That is why we are always working to better understand our customers, their needs, and their unique circumstances. We know that each individual – and indeed, each small business – is different, thus we strive to offer a highly personalised banking experience to each of our customers.
At Banorte, we believe that hyper-personalisation is the key to retain a competitive edge in this challenging industry. Increasingly, in all aspects of their lives, customers are demanding more personalised experiences and tailor-made offers, and banking is no different. Fortunately, every customer interaction provides us with valuable real-time data on their individual banking habits and lifestyles. We are then able to use AI to analyse this data, which helps us create a profile of each of our customers and offer them products and services in return, while simultaneously improving our branch efficiency in terms of sales and cost savings. This way, prioritising personalised experiences has proved beneficial to Banorte as well as to our valued customers.
Today, customers require access to a wide range of services while also feeling reassured that they are not compromising their security when banking digitally. If their needs are not met by their current bank, we can fully expect them to switch – after all, digital acceleration has made it easier than ever before for customers to change banks. With all this in mind, it is safe to say that the world of digital banking is becoming incredibly fast-paced and competitive.
While Banorte's portfolio of digital products has been incredibly popular with its customers, we also understand that some customers continue to value the traditional banking experience. It is our goal to seamlessly combine our branch-based services with our digital efforts, ensuring a flexible experience that works for all whether a customer prefers to bank in-person or on their smartphone.
Solidarity with Mexicans
However, it is not just our digital products that have aided customers during the COVID-19 crisis. Guided by solidarity and our commitment to Mexicans, we were determined to stand by our customers from the very beginning of the pandemic. We are proud to have become the first bank in Mexico to offer its customers a loan deferral programme in response to the pandemic. Since we introduced this scheme, which allows for deferrals on payments from four to six months, more than 630,000 loans were deferred, providing customers with buffer time.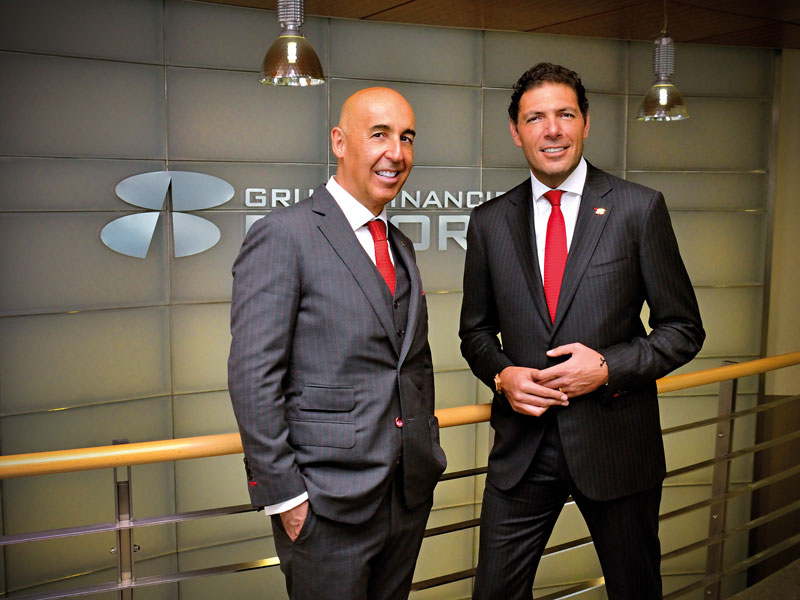 During these unprecedented times, we are also committed to keeping our staff and our customers safe. Our remote work policy is still in place, with 60 percent of employees continuing to work from home, which has proven a more efficient way to work – on top of the reduced COVID-19 exposure risks, of course. These actions are not only a result of our commitment to customers and employees, but they have made us aware of the profound reassessment of values all people and organisations are going through.
The financial industry is key
Understanding this new set of needs individuals have takes us one step further in the banking industry. As a part of the financial sector, we must find opportunities in the crisis and embrace our key role on the path of economic recovery, which will also depend on our capability to transform ourselves and upgrade our business as necessary.
To attain long-lasting relationships through value-added proposals, we should consider working with all our stakeholders and understand that the context has changed. For a true recovery to take place, it must be comprehensive and sustainable. We already see clear signs of recovery. The main economic indicators are showing us that people and investors' trust is back.
In Mexico, there has been an important growth in the economy as well as in consumption, investments, and credit. Although we should not claim victory yet, we must celebrate what we have already advanced together. Perhaps the challenges of the last year and a half did not allow us to go as far or as fast as we expected, but the pandemic has unleashed new opportunities. For Banorte, the mission is very clear: to be the engine of the recovery in Mexico by honouring our commitment to Mexicans to help them get ahead and fulfill their dreams.
Decarbonising our business
During the pandemic, we have kept our environmental, social, and governance (ESG) strategy at the core of our operating model and will continue to build on it in the years to come. This means that the environmental aspects of our commitment are as important as the social and governance ones.
As a founding member of the UN's Net Zero Banking Alliance, we are fully committed to decarbonising our operations, as well as our loan and investment portfolios by 2050. Moreover, we are also a founding member of the UN's Principles for Responsible Banking, and for over 10 years, we have pioneered best practices on social and environmental risk management in credit portfolios within the Mexican banking industry.
As we look towards the future, our ESG principles will continue to define our business model. In our digitisation strategy, we are also committed to exceeding and generating best practices by placing our customers first. Marrying the very latest technologies with our deep customer knowledge and understanding, we hope to go above and beyond our customers' expectations, always striving for excellence as we shape the banking industry of tomorrow.