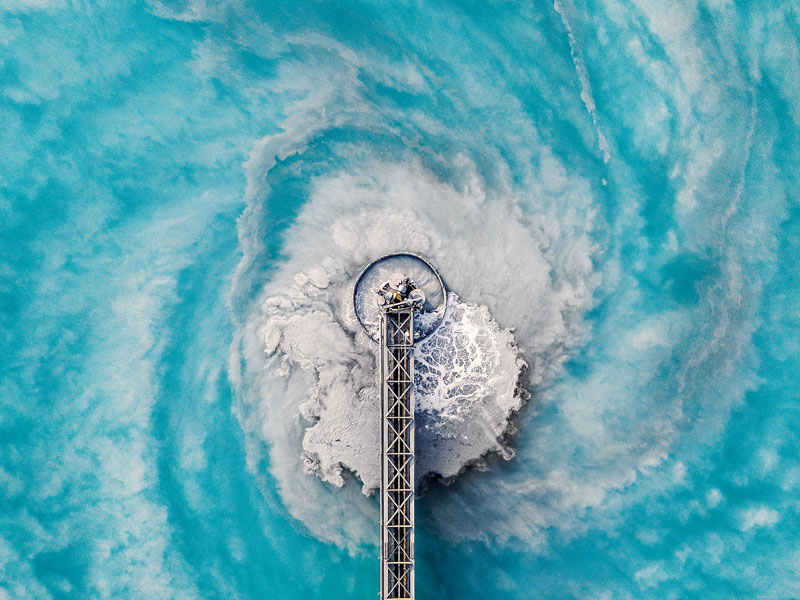 &nbsp
Author:
Antonia Di Lorenzo
August 31, 2021
Global energy-related CO2 emissions are heading for their second-largest annual increase ever, according to the latest report released by the International Energy Agency (IEA), marking the need for leaders across the globe to do their part in reducing their country's carbon footprint.
In response to the IEA's report, UK Prime Minister Boris Johnson has announced radical new climate change commitments, to set the UK on course to reduce carbon emissions 78 percent by 2035. For this to be successful, existing infrastructure will have to be updated and will need to be able to withstand extreme conditions, due to the impact of climate change. Commercial real estate represents a major portion of the infrastructure industry in the UK. Studies have shown that 20 percent of emissions originate from buildings and nearly half of those come from heating, ventilation, as well as air conditioning (HVAC) systems.
The adoption of proven technology innovations would be a key factor in addressing this issue. Frank Sullivan, chief business development officer at BrainBox AI, a company specialising in building automation, said that by employing artificial intelligence-driven solutions, buildings, including their HVAC systems, can autonomously learn how to efficiently reduce system operation costs, and more importantly, lower emissions significantly. "The existential threat of climate change is not going to just fade into the background any time soon, no matter what else is going on in the world. Legislation can only do so much, clear and decisive action is needed now, and a helping hand from leading digital solutions can provide a needed assist," Sullivan said. As the world struggles to emerge from the pandemic, there is a global imperative to build back stronger.
In the UK, the US and many other countries, significant infrastructure investment programmes are already being announced and emerging trends are accelerating fast, as a result of COVID-19. Derrick Sanyahumbi, CEO of business development organisation British Expertise International (BEI), said that climate change creates significant challenges to shift towards renewable and green energy in place of CO2, to decommission the legacy infrastructure that needs to be replaced so that we can build back greener and cleaner.
Turning challenges into opportunities
While these are challenges the industry has faced for many years, now there are emerging opportunities that should not be overlooked, and both are key as the UK establishes itself as an independent trading nation post-Brexit.
"In terms of enduring challenges, it remains a constant focus to navigate the complex world of UK and International Governments and their agencies, to find and build consortia, to build and maintain effective partnerships and to establish and secure funding, and compete successfully through the maze of procurement and the different requirements they set out," Sanyahumbi said.
"In terms of emerging challenges, we see a broadening of the term 'infrastructure' – with issues like digital and technology connectivity and cybersecurity rising rapidly in importance. We also see a growing focus on a real understanding and practical application of diversity and inclusion as well as safeguarding, and of course, the biggest challenge – and opportunity – lies in the global climate change agenda and the work towards carbon net zero," Sanyahumbi added.
Further, he revealed that one of the biggest challenges that the UK is facing is that relatively few UK SMEs use exports as a means of growth. "It has been proven that companies that export are more resilient and productive so the challenge we face at BEI is to support companies of all sizes in their pursuit of overseas business development. However, more needs to be done to help countries develop robust business cases and so attract much of the available finance, especially in the 'green' space," he said.
Likewise, Miriam Tuerk, co-founder and CEO of Clear Blue Technologies, a Canadian solar energy equipment supplier, said that predictive technology can be utilised to improve infrastructure resiliency. "Having an advanced warning about the weather and energy generation forecasting allows for reliable high-quality energy delivery from an off-grid system. This forecasting, paired with predictive data analytics based on vast amounts of operating data, will help in anticipating future problems for the maintenance and management of the systems, or even resolve them before they become an issue," she said.
Also, Tuerk highlighted that as the world continues to change, the infrastructure industry must change along with it and it is going to be up to investors to show the industry that these solutions are viable alternatives by investing in them, to best operate in a world that is attempting to both mitigate and manage the severe effects of climate change.