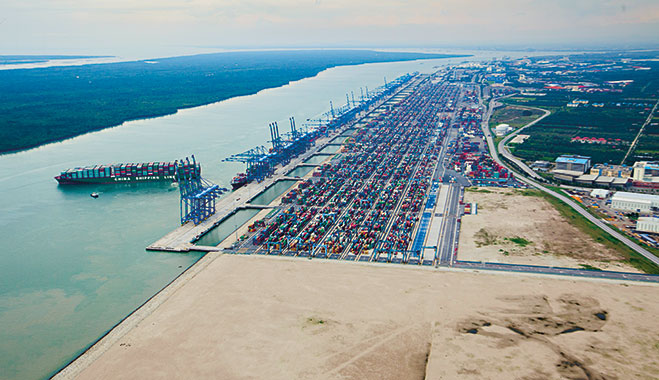 Container terminal facilities at Westports Malaysia. The organisation has been widely praised for its dedicated workforce and innovative approach&nbsp
Ruben Emir Gnanalingam joined Westports Malaysia 10 years ago, serving as an executive director for five years before becoming CEO. But while he may be responsible for stewarding the business and ensuring that the organisation operates successfully, his journey with the company began from far humbler beginnings, and ones that help others understand why he is the right man to lead Westports Malaysia into the future.
Gnanalingam, winner of one of World Finance's Entrepreneur of the Year awards, was quick to point out to us that this is in fact his second stint at the company. "The first one was for only six months where my dad placed me right at the bottom to make sure I understood the company from the ground up", he said. "That was in 1999. Then, I went on to do my own thing and came back in 2004 as a director. My dad had a five-year plan for me to become the CEO by 2009. The key part of that plan was to ensure that customers liked me, my colleagues respected me and that the board could trust me."
The period I was out of the company was really useful as it was a period I made most of my mistakes. I believe it is one of the best ways to learn
His father, Tan Sri Datuk G Gnanalingam is a well-established entrepreneur within the Malaysian business community, and his strong leadership skills, along with a keen eye for opportunity have clearly been infused within his son. The chairman no doubt wished to instil a level of discipline early on in his son's career, something that he is likely familiar with considering that he attended the Royal Military College before graduating from the University of Malaya and at the Harvard Business School.
After completing his short six-month apprenticeship, Gnanalingam was left to his own devices so that he could grow into his own person, developing his own unique style of leadership in the process, with the intention of eventually returning to the family business and assuming a more prominent role within it and armed with new outlook.
"The period I was out of the company was really useful as it was a period I made most of my mistakes. I believe it is one of the best ways to learn", explained Gnanalingam. "Having a clear five-year plan also allows you to focus on what it truly means to be a leader."
At Westports, the company believes that leadership is best, when it is kept simple.
"You are only a leader when you are making the lives and work of those around you better", said Gnanalingam. "If you are not, you are just a follower." This simplistic approach has served the company well so far. In fact, Westports Malaysia has grown year-on-year as a result of this simple leadership style to become one of the main ports of call for shipping lines and companies operating in Southeast Asia.
Winning formula
Over the years, this successful formula has helped increase container volumes (see Fig. 1), with Port Klang controlling more than 76 percent of the market share at the end of 2014, and all at Westports Malaysia will be hoping they can grab an even larger portion of it by the end of this year.
"We have handled 8.4 million 20-foot equivalent units (TEUs) of container throughput and 10.3 million metric tonne of bulk cargo in 2014", explained the chairman in his annual statement on the company website. "This is a phenomenal performance considering what we have achieved [over] the last 20 years when the port was privatised.
"The productivity in terms of container moves per hour (mph) in Westports is among the highest in the world, averaging 30 to 35 mph per crane compared to the industry standard of 27 mph, therefore translating into faster turnaround for vessels that makes our port their home. We are not resting our laurels but to continue to challenge ourselves to raise our performance bar, delivering our utmost best is the commitment that we have pledged to all our valued partners", he added.
While such productivity is already impressive, Westports Malaysia believes that it can strive further still. In the eyes of its management, the 4,600m long quay and 52 ship-to-shore cranes are more than capable of handling 11 million TEUs worth of containers.
And with the company scheduled to complete its CT8 wharf expansion at some point in mid-2017, management believes it will have the capability to boost its handling capacity by an additional 2.5 million TEUs to 13.5 million a year.
"Our focus is always skewed towards a supply-driven approach to meet our customer demand", Gnanalingam said in a speech to celebrate the maiden voyage of the world's most environmentally friendly and ultra large container vessel, MV Barzan, at Westports Container Terminal earlier this year. "With CT8, we will be able to handle big vessels while continuously maintain the highest level of productivity and all other service string."
The management's obsession with continuous innovation, combined with the hard work and dedication of its 4,500 strong workforce has driven Westports Malaysia to command the dominant position it holds today.
It is also why many were undoubtedly unsurprised when the company managed to achieve record profits last year, with net profit up 6.6 percent to MYR 139.8m ($31.8m) at the end of Q4 2014 – resulting in a net profit for the entire year of more than MYR 512.2m. And 2015 is likely to be another record year for the company going on the sentiments of its CEO.
"To enhance our growth momentum, Westports is laying the foundation for the next phase of expansion as we capitalise on the ever-rising container throughput levels while also supporting our clients' strategic requirements such as the Ocean Three Alliance (O3)", said Gnanalingam in a statement earlier in the year.
Balancing act
But all work and no play leaves even the best leaders feeling a little deflated, which is why the younger Gnanalingam has always kept a close eye on his work-life balance.
"I make sure that I have enough time for both", he said. "My family comes first. I have to travel a lot for work, so I try to make sure I spend as much time at home whilst in Malaysia." When at work, however, the CEO is always looking for innovative solutions to help improve the efficiency of the business in order to improve productivity and turnaround times, both of which are essential in order to stay ahead in the port industry.
For him, innovation is absolutely essential to the long term success of not just his, but any organisation. "The only constant is change and if we do not innovate to allow ourselves to adapt to change, we will be left behind", he said. "For many, innovation is about technology. For us, innovation is about adaptability."
This holistic approach to innovation is something that bleeds into the way the company makes decision, which is often a difficult balancing act between analysis and intuition. In the case of Westports Malaysia, he and his father represent two very different styles that combine in order to find the right solution.
"I prefer the analysis approach and my dad prefers to use intuition", explained Gnanalingam. "He has the experience, so to me, that makes sense for him to use that approach. However, for me, as there is so much available information these days, we might as well use it. This way, you only need to use your gut when you really have to."
Moving forward
The company has experienced a lot has changed in a very short space of time. Most notably, the business has made the transition from a private to a publicly listed entity, which has forced management to contend with a new set of stakeholders – namely shareholders.
This has meant that the business has had to learn to build ties with investors, something that was entirely foreign to Westports Malaysia up until quite recently. According to Gnanalingam this has meant a lot more travelling in order to liaise with shareholders in order to keep them informed and build good investor relations. All in all, however, his role has not altered all that much, partly because the company has had a strong governance structure prior to the company's public listing.
The primary concern for Gnanalingam now is the future of the business. His main priority of course is to ensure that the Westports Malaysia continues to serve its customers to the same standards that it has always done, despite the increased pressure that comes with having shareholders and also growing in the scale of its container operations. After all, he still has two more terminals to complete and phasing them into service in a timely manner is going to be crucial, and 2015 should be as momentous as the last.