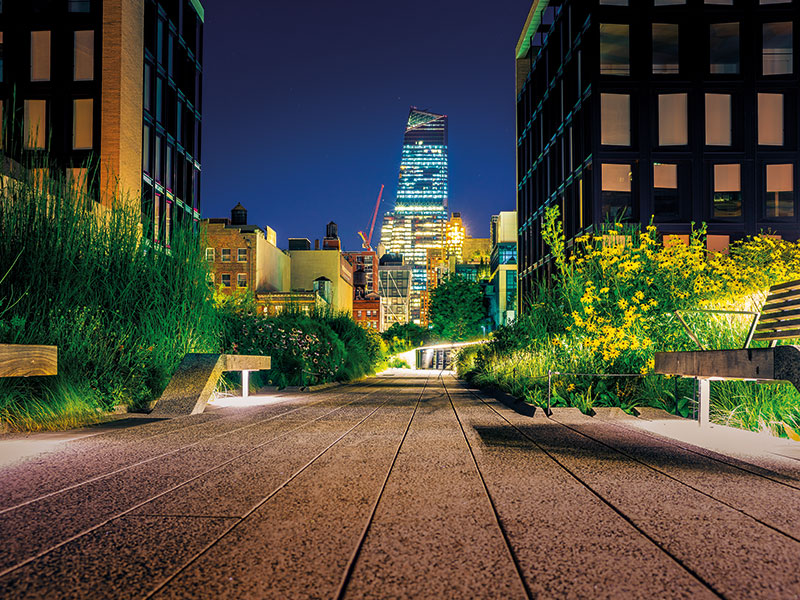 WSP's Future Ready programme accounts for coming trends in climate change, society, technology and resource use, and integrates these trends into the company's services&nbsp
Author:
André-Martin Bouchard, Global Director, Environment and Resources, WSP
Across the globe, there is a growing awareness of the urgent need to restore and protect the natural environment. Mitigating climate change through the reduction of greenhouse gases is at the heart of discussions between businesses, regulators and communities. As a result, environmental consultants are now in high demand.
As one of the world's leading professional services firms, WSP understands how important it is to deliver ecologically sound solutions to clients. This can be seen at each stage of every project we undertake: for example, the company cleans up environments and restores natural habitats that have been disturbed in the past, such as forests, streams and wetlands. We also improve our clients' processes to minimise their carbon footprint and waste generation, as well as help them achieve a net positive impact on biodiversity.
On top of this, WSP advises on the design and construction of a future-proof world. Through our Future Ready programme, we account for coming trends in climate change, society, technology and resource use, and integrate these trends into our services. In this way, we provide solutions that prepare our clients for today and the years to come.
Meeting today's challenges
With many clients adjusting their business strategies to include carbon neutrality as a top priority, global warming not only affects the way we operate, but also the types of services we offer. Through our environmental consultancy practice, Future Ready programme, company culture and purpose, we are positioned to become one of the leading firms supporting clients facing the huge climate challenge.
Our environmental consultancy services feed into our core role, which is to plan, design, manage and engineer our communities to thrive. We believe these services are as strategically important as our other engineering and professional services. At WSP, we place our environmental offering at the forefront of our strategy to ensure clients have access to high-quality, multidisciplinary advice.
Furthermore, we are committed to minimising our carbon footprint: we aim to achieve a 25 percent reduction in the market-based greenhouse gas emissions produced across our global operations by 2030.
Empowered by purpose
Environmental consultancy services are offered by large multidisciplinary firms, and by 'pure-play' consultancy firms of all sizes. Many consultants, however, position their environmental services as a support function for construction or as a commoditised service to secure permits and achieve compliance, rather than as a strategic benefit. At WSP, we stand out by offering an integrated strategic approach, leveraging the breadth of our services to take advantage of large multidisciplinary projects that pure-play consultants have difficulty accessing, while building the same renown for our environmental practice as said consultancies. We also offer those services on any scale, in any part of the world.
WSP's environmental services have enjoyed very strong growth, expanding 22.5 percent annually over the past five years – including six percent organic growth. We have also welcomed many firms to the WSP family, strengthening our services in the sector through partnerships with the likes of Orbicon in Denmark and Lievense in the Netherlands.
Our rapid growth can be attributed to the innovative work being carried out by our teams, which continue to step outside their comfort zones, penetrate new markets and grow relationships with existing clients. There is a strong sense of enthusiasm, dynamism and energy among our employees, largely because they all believe in WSP's key purpose: to future-proof our cities and environments.
Challenging the status quo
Our data shows that laws and regulatory frameworks have historically determined around 80 percent of market drivers in environmental consultancy services. Today, however, we are seeing a shift away from a highly regulation-driven market towards one where compliance alone is not enough. Businesses must go the extra mile – to stay competitive, we must show we can go beyond the minimum requirements.
At WSP, we are extremely excited about the future of the environmental consultancy services sector. We were named among the top 10 environmental consultancies by Environment Analyst and ranked in the top five of Engineering News-Record's list of top 20 environmental firms working in non-US locations. In the future, we plan to become the world's premier environmental consultancy. For us, success isn't defined by the size of our workforce or revenue sheet, but by market recognition and the positive influence we have within the sector through our value proposition and the quality of projects we deliver.