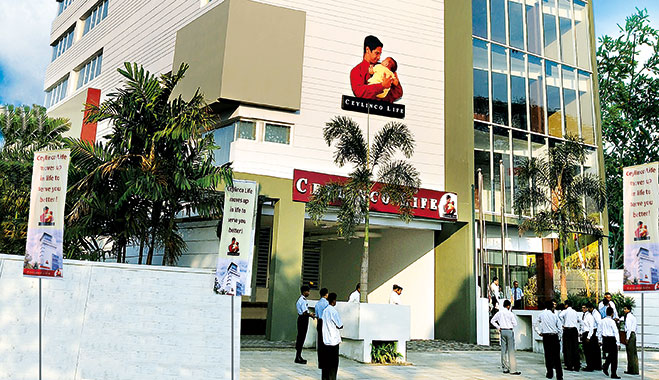 Ceylinco Life Tower, Colombo, Sri Lanka. The company is raising awareness of the importance of retirement planning&nbsp
Author:
Rajkumar Renganathan, Managing Director & CEO, Ceylinco Life Insurance
October 25, 2015
Sri Lanka is facing what's commonly referred to as a 'grey tsunami', and the socioeconomic challenges that an ageing population so often threatens look set to rise far into the future. Blessed in years past with a larger working-age population than either children or the elderly, the issue of an ageing population has since presented itself and, if allowed to go on unchecked, could profoundly impact the island economy for present and future generations to come.
Figures cited by Ceylinco Life Insurance show that in 1971 the proportion of the population aged over 60 stood at a mere 6.3 percent, for it to later reach 12.2 percent by 2012. Worse is that this same figure is projected to reach 24.8 percent by 2041, and, assuming this to be the case, Sri Lanka has one of the highest ageing populations in Asia, which, when coupled with a shrinking labour force and increasing inflation (see Fig. 1), makes clear the importance of retirement planning and its place in raising the profile of insurance.
It is never too early or too late to plan for
your retirement
The challenge is made to appear all the more confusing seeing that the country is one of the region's success stories in terms of human capital development. Going by the World Economic Forum's Human Capital Index, Sri Lanka placed 60 of 124 countries, ahead of China and one place behind Vietnam. The World Bank, for another, highlighted the importance of Sri Lanka's early stage investments in health and education in reducing infant mortality rates and – more pertinently in this instance – increasing average life expectancy. Human capital is important inasmuch as it plays a part in improving the country's competitiveness; the issue brings with it certain challenges when it comes to financial planning and social spending. World Finance spoke to Rajkumar Renganathan, Managing Director and CEO of Ceylinco Life Insurance about Sri Lanka's ongoing demographic changes, the changing labour market and the growing importance of retirement planning.
Retirement planning
Founded in 1988 with a view to creating Sri Lanka's premier life insurance company, Ceylinco Life has since done just that and is today a leading voice on the subject of insurance and retirement planning.
The company featured heavily in May when Sri Lanka played host to Retirement Planning Month, an annual campaign in which the country raises awareness about the importance of planning for the future. "The campaign in 2015 focused on an area that has significant impact on retirees and retirement planning, which is inflation. This spurred the campaign, aptly themed 'How Much is enough?' enabling the public to think about the funds they have saved for retirement, and whether it would be sufficient for their retirement, due to inflation", said Renganathan. "The campaign raised significant awareness among the masses, conducted through both mass media and below-the-line activities."
Asked about whether people are working longer as a result of an economic slowdown the world over, Renganathan said: "There is no conclusive data to support this. However with the economic slowdown it is apparent most people have looked for alternative forms of investment such as real estate in order to sustain themselves for the future."
On top of the inflationary considerations, there are further challenges facing retirees in Sri Lanka, and Ceylinco Life aims to not only raise awareness about these but also play a key part in overcoming a great many of the country's larger obstacles. Inevitably, the cost of living is greater now than it has been in years past, and for as long as the country's fortunes continue to improve the cost of living will increase in kind. On top of that, the majority of the population lacks social security coverage, which brings its fair share of problems, and there is poor access still to high-quality health systems, which are not yet ready for the influx of visitors.
Sri Lanka's insurance market is highly under-penetrated still, and will continue to be so in the medium-term if industry forecasts prove accurate. Despite clocking up impressive economic growth, over seven percent for 2015 by most estimates, income levels are still relatively low and a lack of awareness about its benefits has inhibited its progress on a national scale. The sector has grown for the most part, albeit modestly, for over a decade, yet lack of education means that few are informed enough to buy insurance or plan for retirement without first consulting with an expert.
Different walks of life
Fortunately Ceylinco Life is well placed to assist individuals when it comes to making preparations for retirement. "Our 4,000-plus sales force understands the significance of retirement planning and they take this message to people across all walks of life", said Renganathan. "They are equipped with product knowledge and technical expertise. Most of our agents are equipped with android tablets/laptop etc. to provide speedy information to policyholders and they're able to arrive at the retirement fund a person would need at retirement, upon doing a thorough 'need analysis'."
Given that the current market interest rates for savings and fixed deposits are comparatively low, according to Renganathan, the Ceylinco Life Retirement plan provides people with a better retirement option than what's available in the market. Asked about some of the common mistakes that the population makes when it comes to planning for the future, Renganathan believes that many fail to account for the intricacies of a retirement plan and how changes in the future can alter investments in the present. Not considering future plans at a young age and waiting until they reach the retirement age, for example, leaves the person in question with little to put aside for their future. Another common mistake, and one that featured heavily in this year's Retirement Planning Month, is a failure to factor inflation into the equation. Sole dependence on a single investment and a tendency to rely on volatile investments also rank among some of the more common mistakes made, and the majority of these issues boil down to saving based on current needs and not considering future requirements.
In answer to the market's prevailing challenges, "The Ceylinco Life Retirement Plan is a comprehensive retirement product, which allows customers to save and accumulate a large sum for their retirement. It also builds in life cover in the event of the death of the policyholder", said Renganathan. The product makes good on two of the sector's biggest problems: first, an under appreciation of the need to think about retirement earlier, and second, an unfamiliarity with the benefits that insurance can bring to customers.
Living in comfort
"A retirement policy ensures a happy and comfortable life for you and your loved ones when you retire. It is never too early or too late to plan for your retirement. Investing a small monthly premium policy will make it easier for you to retire when the time is right. If your hope is to retire rich, you have the flexibility of investing more on a policy", according to Ceylinco Life, which prides itself on the ability to tailor its products to fit individual customer specifications.
Renganathan adds that the Ceylinco Life Retirement Plan can be customised depending on the individual. What's more, it can be started with a minimum of LKR 1,000 (approximately $7.45) and customers can pay premiums on a monthly, quarterly, half-yearly or annual basis, which again introduces an element of flexibility into the mix. Customers can even make a single investment and watch the fund grow throughout his or her term. The plan can be obtained for a minimum of five years and continued until the customer is 70 years of age. For another, the accumulation rate offered by Ceylinco Life is by-and-large higher than bank and fixed deposit rates offered by local banks, which is due in large part to the performance of the investment portfolio of the company. Lastly, in the event that the premium is not paid, the policy will not lapse, rather, the fund will continue to accumulate. These points together make for an attractive package, and promise to improve retirement planning across Sri Lanka as the country enters into a challenging time.
Speaking on what the future holds for Ceylinco Life, Renganathan says that the goal for the company is to raise awareness about the importance of retirement planning, and, as a means to this end, increase the company's manpower. Should the company continue its good work on this front, expect to see Sri Lanka's understanding of retirement planning improve considerably.