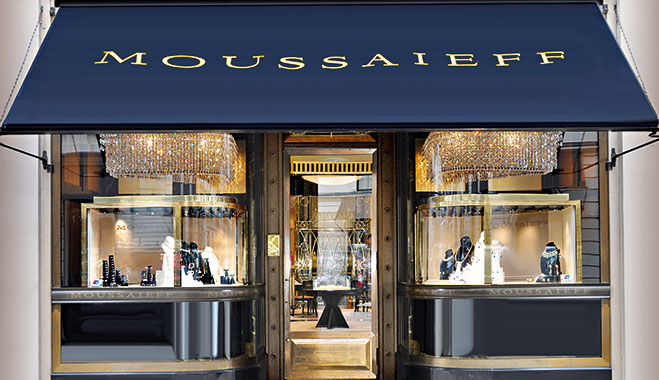 A Moussaieff shopfront. The first Moussaieff showroom was opened in London in 1963. Since then, the family has accumulated one of the most outstanding collections of coloured diamonds in the world&nbsp
Interview with:
Alisa Moussaieff, CEO and Creative Director, Moussaieff Jewellers
March 2, 2016
The Silk Road is the name given to the long, meandering network of desert trade routes that once connected the West to China, India and the Mediterranean. Those willing to make the journey could amass great fortune, bringing valuable goods and materials home with them to be sold for a handsome sum.
This stretch of road later played a hugely important role in the development of civilisations across the European and Asian continents, where trade has always facilitated improved social, political and economic relationships between nations. The Silk Road, therefore, not only allowed for the transport of goods from country to country, but for different religious and philosophical ideas to permeate the collective consciousness. So significant is the contribution of the Silk Road to ancient and modern global development that UNESCO named the Chang'an-Tianshan corridor a World Heritage Site in June 2014.
Working with the family jewels
Alisa Moussaieff, CEO and Creative Director of Moussaieff Jewellers, explained how the Silk Road contributed to her family's unique history.
"In the 1850s, my husband's grandfather (Moussaieff Senior) was a pearl merchant with a fearless passion for gems, and he would search for the most ravishing pearls from the Persian Gulf", Moussaieff told World Finance. "He handed his business over to his son, Remo, who established himself as a stone dealer in Paris during the Belle Epoque period in the 1920s, where he dealt with all the fine jewellery houses, such as Cartier and others. His son – my husband – and myself then opened the first Moussaieff showroom in 1963 in the Hilton Hotel in Park Lane. That boutique is still open today. Since then we opened a beautiful flagship showroom at 172 New Bond Street in 2007, and we also have stores in Geneva, Hong Kong and seasonally in Courchevel."
When asked about how she guarantees the finest diamonds for her jewellery, Moussaieff said, "When purchasing diamonds, I always follow my instinct. I started collecting coloured diamonds in the 1960s, long before they were considered beautiful: in the 1970s, the Gemmological Institute of America (GIA) was teaching its students that colour in a diamond is a flaw. Then only in the 1980s they were appreciated for their exquisite beauty and rarity."
There will always be a demand for diamonds, and there will always be a need for portable wealth
Since then, Moussaieff has accumulated one of the most outstanding collections of coloured diamonds available. Her knack for spotting truly beautiful specimens has put her in a unique position within the company.
"I find myself in a truly unique position, free to combine unconventional colours, textures and shapes according to my particular aesthetic sensitivities and perceptions – accountable to no-one. I take pleasure in creating designs which at first glance may seem whimsical, but which in the end always achieve a positive response. I am not afraid to use new materials and manufacturing techniques, and I love to give people an item of jewellery they'll cherish for a lifetime."
Rock-solid sales
Moussaieff continued: "As for coloured diamonds, the major auction houses have recently posted record prices. Because of the huge amount of information readily available on the topic, more and more people now are more knowledgeable about the subject of coloured diamonds. Not only that, but the luxury market is booming at the moment and more people than ever before can afford rare, high-quality pieces. This has led to a surge in the coloured diamond market, with the industry attracting strong levels of investor intrigue."
Within the Moussaieff collection there are also some of the most unique and rare coloured gemstones, from a lustrous and limpid blue 180ct star sapphire to a necklace containing a multitude of 20ct and 30ct perfectly matched Colombian emeralds. The company showcases many other gemstones, such as vibrant neon-coloured Paraiba tourmalines, natural pearls and naturally colour-changing purple sapphires.
When asked about the coloured gemstone market, Moussaieff explained how this market is quite different from that of diamonds: "They do not compete with each other. Fine coloured gemstones are for the collector who has got everything else. If you consider synthetics, the media loves to talk about lab-grown diamonds. Nowadays, clear stones of larger crystals are produced and marketed as 'conflict free' or 'socially and environmentally conscious' diamonds. This may well have an impact at the commercial level but not on gem quality – after all, there have been synthetic emeralds and cultured pearls on the market for a long time, but the price of natural pearls has skyrocketed in the meantime, and so too has the price of emeralds."
As she finally turned to the white diamond market, Moussaieff talked about how the prices have dropped because of the current dip in demand from Russia and China. "However, there will always be a demand for diamonds. There will always be romance, eternity and purity symbolised in a natural diamond. And there will always be a need for portable wealth."