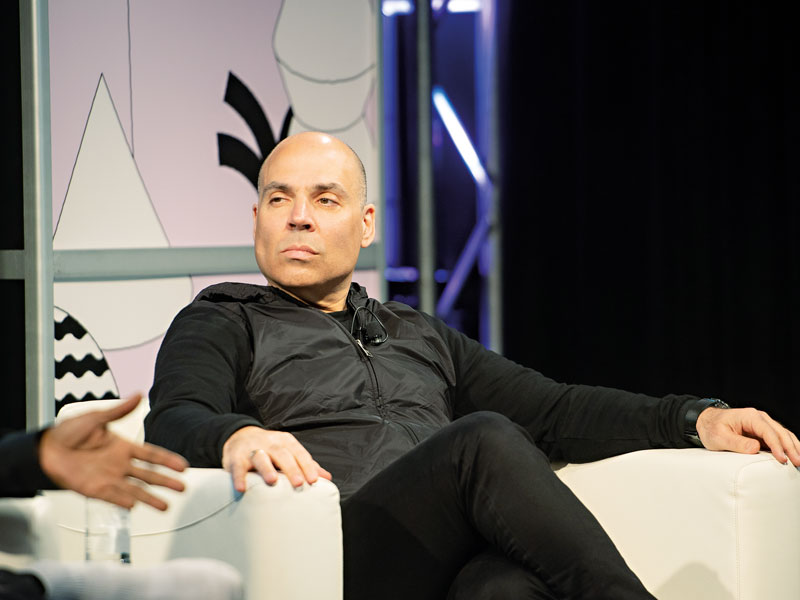 Merck Mercuriadis, founder of Hipgnosis Songs Fund&nbsp
Author:
Jo Caird, Investment Correspondent
March 9, 2021
The London Stock Exchange isn't the most rock 'n' roll of environments. Or rather, it didn't used to be. That appears to be changing however, thanks to the arrival to the market in recent years of music royalty investment trusts – funds that own the rights to pieces of music, including by some of the biggest names in pop and rock.
Hipgnosis Songs Fund, a British, Guernsey-registered investment company, floated on the LSE in July 2018, raising £200m for its IPO. Founded by Merck Mercuriadis, former manager to acts such as Elton John, Beyoncé and Guns N' Roses, the fund's first acquisition was a catalogue of songs from Terius Youngdell Nash, better known by his stage name, The-Dream. While not a household name himself, The-Dream is an award-winning producer and songwriter, having co-written hits for the likes of Justin Bieber, Beyoncé, Rihanna and Jay-Z.
Hipgnosis has subsequently raised an additional £845m through further share issues, most recently raising £186.4m in 72 hours in September 2020. An aggressive acquisitions policy has seen the fund add 117 catalogues comprising 57,000 songs to its pipeline, which together offer investors a yield of 4.17 percent, according to data by Winterflood. The fund has been part of the FTSE 250 Index since March 2020.
Two can play that game
Hipgnosis had long boasted of being the "first and only" UK investment company offering access to song royalties, but that all changed in November when Round Hill Music Royalty Fund announced that it had raised $282m from its own IPO on the LSE. The company, which is managed by New York City-based Round Hill Music (RHM), a music publisher and owner and operator of music copyrights, hoped to raise $375m, attributing the shortfall to the "global turbulence" caused by the COVID-19 pandemic. The fund is targeting total returns of 9–11 percent per annum, with a dividend yield of 4.5 percent. Since its launch in 2010, RHM has raised $472m in two private equity funding rounds and expects to raise an additional $250m in a third fund due to close soon. This war chest has enabled the company to acquire a portfolio of over 120,000 songs.
The strong market for these funds is driven by an evolution in the way we think about music, Mark Mulligan, managing director of media and technology analysis company MIDiA Research, told World Finance. "You've got pension funds and global asset managers looking at music as just another asset class to put within their portfolios of assets with a certain risk and opportunity profile," he explained. "Institutional investors have looked at music publisher catalogues in particular, at how the value of that asset class has augmented over the last half decade plus."
The figures are significant. In March 2020, Will Page, a visiting fellow at the London School of Economics and former chief economist for the music streaming service Spotify, published his annual report into the value of the music copyright business with the music industry publication Billboard. He calculated that in 2018 (the most recent year for which data was available) the music copyright business was worth $30.1bn, a 9.3 percent increase year-on-year from 2017. The music business is notoriously complex in terms of how royalties are apportioned and to whom, but the basic premise is that every time a song is purchased or performed, its copyright holders (and in most cases there will be several) earn some income.
Hipgnosis and RHM seek to pack their pipelines with high-earning songs: contemporary hits and classic tracks that receive a lot of radio airplay, are frequently streamed via services such as Spotify, or regularly licensed for use in films and advertising. Out of the many thousands of tracks in the catalogues these funds own, only a few dozen will yield very high returns by themselves. RHM's portfolio includes the rights to songs recorded by The Beatles and Frank Sinatra, while Hipgnosis owns copyright to songs by Barry Manilow and Dave Stewart of Eurythmics. By acquiring aggressively and widely, these funds increase the likelihood of a good return for investors.
The music copyright business has not escaped the impact of COVID-19. With bars, shops and music venues closed during local and national lockdowns, there have been fewer opportunities for song plays, which means a fall in earnings for copyright holders. The International Confederation of Societies of Authors and Composers (CISAC), whose members operate in 120 countries worldwide, anticipates a fall of $2bn–$3.45bn in royalty collections in 2020.
But Mulligan is hopeful about the sector's recovery from what he terms this "mini-recession. It's not a market like travel or movie theatres, which have been completely decimated," he said. "There's a very clear path to return because what's been happening to music publishing income splits over the course of the last five years is a rapid acceleration towards streaming, and streaming is booming. It has a dent at the moment after uninterrupted years of growth; however, compared to the broader economy, its relative value as an asset class actually holds up."