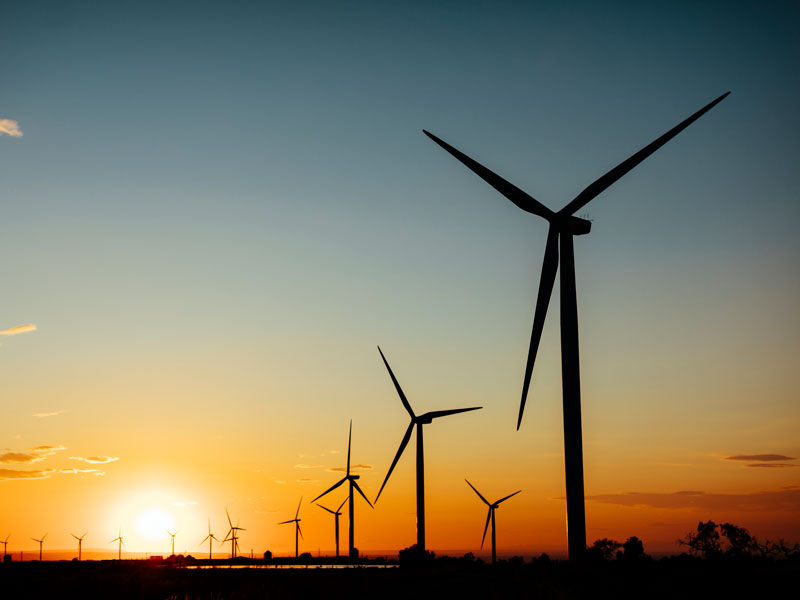 The heft of the finance industry helped make renewable energy the fastest-growing segment of the energy market last year&nbsp
Author:
Sasja Beslik, Head of Group Sustainable Finance, Nordea
Climate change is the biggest challenge facing our planet today. Many world-leading academics and national leaders have suggested ways of tackling the issue, but a consensus has yet to be reached. In a recent opinion piece for the Financial Times, however, Zoe Knight, Managing Director of HSBC's Centre of Sustainable Finance, was clear about what needs to be done.
We are at a point where the world economy has become very large in relation to the resources the planet has to offer
"Financing growth in a way that is transparent on addressing sustainability challenges is a must for future prosperity," Knight wrote. "There is no time to lose: sustainable finance is the answer." This newfound acceptance is well deserved, with the sustainable finance market estimated to be worth more than $380bn in 2016 (see Fig 1) – a figure that is surely set to grow. This financial heft helped make renewables the fastest-growing segment of the energy market last year.
Nevertheless, it is important not to get ahead of ourselves. If mankind is serious about ushering in a low-carbon economy by 2050 (as the Paris Agreement requires), then a significant financial cost will need to be accepted. Shifting the energy sector alone onto a sustainable footing comes with an annual price tag of $3.5trn. By that reckoning, meeting the planet's sustainability goals will be a hugely difficult task.
There is no doubt that everyone wants to live in a world that is socially, environmentally and economically sustainable. Despite this, poverty and hunger still exist, access to clean water is not available to all, and humanity's consumption of resources remains at dangerously high levels. In addition, our failure to limit greenhouse gas emissions to the necessary levels means that catastrophic natural disasters are likely to become more common and increasingly severe.
A fragile world
We firmly believe that sustainable finance is the answer to decarbonising the economy. However, for that to be achieved, the financial sector requires a radically different kind of leadership – one that is bolder, more transparent and more outward-looking than the one we have at present.
As the leading bank in the Nordic region, Nordea is able to play a key role in encouraging a more sustainable future. In 2017, we had 160 meetings with companies that we invest in, with approximately 65 percent of these related to environmental, social and governance (ESG) issues.
We are not just focusing internally, either. Our sustainable finance newsletter and our first-hand reports from glaciers, coral reefs and other vulnerable environments continue to shine a spotlight on environmental issues around the world. By conducting a transparent dialogue with our stakeholders, we ensure that our own expectations regarding ESG issues are made clear at all times.
Still, more work needs to be done. The world of finance must shift from the presumption that the climate is unchanging, that the resources of this planet are infinite, and that growth can be realised indefinitely. We are at a point where the world economy has become very large in relation to the resources the planet has to offer – we are continuously pushing the limits. In order to truly enable the transition to a low-carbon economy, the entire system needs to change so that it does not undermine the activities being pursued to mitigate climate change.
Our current economic model has served us well over the past 250 years, but today it is under pressure. Throughout history, mankind has been able to tackle great challenges, including devastating epidemics, world wars and severe recessions. Climate change could very well be the most difficult challenge yet.
Speaking out
We need a collective response and should start by changing the flow of capital. The finance sector – a global toolbox with huge investment and lending power – is greatly underestimated in its capacity to achieve sustainable development. No other sector in the world is as far-reaching as the financial sector: with its interconnected markets, money can flow all over the world in mere fractions of a second. Everything about the financial sector, from corporate lending to IPOs, is, by its very nature, global.
15%
of total global energy is renewable
1%
of US car sales are electric
39%
of total greenhouse gas emissions are caused by the construction industry
Everyone involved in the financial sphere, from investors to consumers, is aware of how international cash flows can promote or hinder sustainability efforts. Although no one has yet been able to change the system in order to help with the planet's decarbonisation, recent developments in sustainable finance
promise a brighter future.
Money, as everyone knows, makes the world go round. It is logical, therefore, to ask serious questions of today's moneymen: first and foremost, how did we get to this point? And, just as importantly, how are we going to get out of it? What strategies do they have for employing the capital under their control, for instance? What importance are they attributing to climate concerns?
Our skewed economy speaks for them. Today, renewable fuels still only comprise 15 percent of the global energy mix, and in transport, only one percent of US car sales are electric. For construction, the carbon footprint of buildings is stuck at a stubborn 39 percent of total greenhouse gas emissions.
It is impossible for the energy-intensive sectors of yesteryear to maintain their dominance without acquiring the right financing. Unfortunately, the sustainable finance sector is complicit in providing access to this financing. Not directly, perhaps, but the financial sector as a whole – to which sustainable finance firms inextricably belong – has helped to keep the lights on in these fossil-fuel-burning industries.
As sustainable financiers, we need to be bolder in addressing the blatant contradictions within our own industry. For too long, the financial sector has been helping the climate with one hand while damaging it with the other. This counterproductive use of capital won't stop until those within the industry speak up.
To do so will incur a backlash – of that, there is no doubt. Speaking truth to power is never easy. Yet, standing by in silence is no longer an option. We talk their language, we understand their world and many of us even share the same offices. At Nordea, we know that now is the time to make our voices heard.
Opening up
Globally, only a limited amount of total assets under management integrate ESG criteria in their investment decision-making processes. The uptake of these assets must accelerate faster to accommodate an effective transition to a sustainable future. If investors do not reevaluate the current capital flows to companies unwilling or unable to diversify their business models in line with a low-carbon economy, then these investors are expecting returns on assets that must eventually be written off in order for the planet to be safe. Increasing monetary flow to sustainable business models is imperative, from both an environmental and economic perspective.
Secondly, we need to become more transparent. Sustainable finance might be a small slice of the overall finance market, but its trailblazing ways are a beacon for everyone else. According to Knight's Financial Times article, governments, businesses and mainstream investors look at the flow of low-carbon capital and "make decisions accordingly".
If only this were the case. In reality, the investment trajectories of the sustainable finance market are more of a black hole than a bright beacon. For all but the most earnest analysts, spotting trends or identifying meaningful patterns is nearly impossible.
Opacity is hardwired into the culture of professional investors, but normalising a bad practice does not excuse it. If we are to genuinely act as a signpost for others, then we need to break ranks and demonstrate far greater levels of individual and collective transparency. As an absolute minimum, businesses must agree on a common system for disclosing climate finance flows and – just as importantly – for the action financed by these flows.
Finally, the sustainable finance sector is crying out for a more outward-looking model of leadership. Kick-starting and consolidating the sector has required huge internal focus and cooperation. Now, with the sector reaching maturity, we need to take those same attributes and direct them beyond our own inner circle.
Engaging the non-sustainable elements of our industry is just the start. We also have to be out there engaging with those who frame and fuel our modern economy – policymakers, legislators and company leaders alike. And not just in sub-committees with a sustainable finance label, but at the top tables of public debate.
The future of finance has to be sustainable. If not, it will have no future. We must step up and make that point loud and clear: if sustainable finance really is to be the answer to decarbonising our economy, then the hour has come for us to adopt a new form of leadership. On that score, there really is no time to lose.