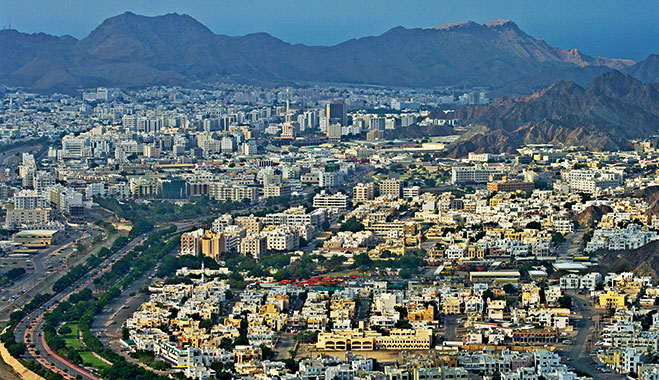 Muscat, capital of Oman, where New India Assurance Company has found great success in the insurance sector&nbsp
Not content with having recorded the highest profits of the entire Indian general insurance sector last year, the success of the New India Assurance Company (New India) is in large part indebted to a commitment to expand further afield and introduce excellent products and services to new markets. Throughout the firm's 93-year history, New India has extended its reach to 22 countries and five continents while simultaneously maintaining its high standing in the industry.
New India is among India's largest and most financially secure non-life insurance companies and has spearheaded a number of innovations in the industry, ranging from domestic airlines to satellite insurance. Moreover, the company has been awarded an 'A' rating by AM Best for each of the previous nine years, based on a healthy capital position, excellent liquidity, strong operating performance and a high insolvency margin. The company is also the first insurance provider in the region to have secured a 'AAA' status from the Credit Rating Information Services of India (CRISIL), which reflects the company's financial capacity to meet policyholders' obligations.
Success in Oman
One of the markets in which we've seen our business grow substantially is Oman, which has, since our establishment there in 1974, proven an extremely hospitable climate for the insurance sector. New India was the first Indian insurance provider to enter the sultanate and has since built and consolidated a strong insurance base, merited widespread customer praise and advocated transparency in the wider industry.
The ongoing industrialisation drive in Oman, along with continued growth in the oil sector, has given rise to new opportunities in general insurance – project insurance being the single biggest beneficiary. With the upward trend in infrastructure and commercial projects set to continue for the foreseeable future, New India's high standing in the market ensures the firm is well positioned to capitalise on this growth in the years to come, which will no doubt prove mutually beneficial to both company and country.
New India sees Omanis and Indians working together at every juncture, with more than 60 percent of the company's workforce made up of Omani nationals
Oman's insurance market consists of 20 general insurance companies, 10 of which are national and the remaining 10 foreign. Among the 10 foreign general insurance companies in operation, New India is the leader by some margin, with 34 percent of the market share and a reputation that is unmatched by any other in the region. As an indication of New India's market dominance, the firm boasted gross premiums of RO27.5m ($71.5m) last year alone.
Nurturing the industry
New India stands at the forefront of devising unique insurance products and services and offers a range of value added services in catering to its exhaustive range of clients. The personal accident insurance cover, devised for customers of money exchange transfer companies in Oman, is testament to this commitment, as well as to the company's wider efforts to address insurance shortfalls in the surrounding region.
Aside from matters of business, New India also seeks to consider those in the communities in which it works by introducing Omani nationals to the staff and providing them with the appropriate training and experience to progress in the region's budding insurance sector. New India sees Omanis and Indians working together at every juncture, with more than 60 percent of the company's workforce made up of Omani nationals. Far from an unfamiliar resident to Omani shores, at New India well-trained Omani personnel play a crucial role in nurturing the nation's thriving insurance sector.