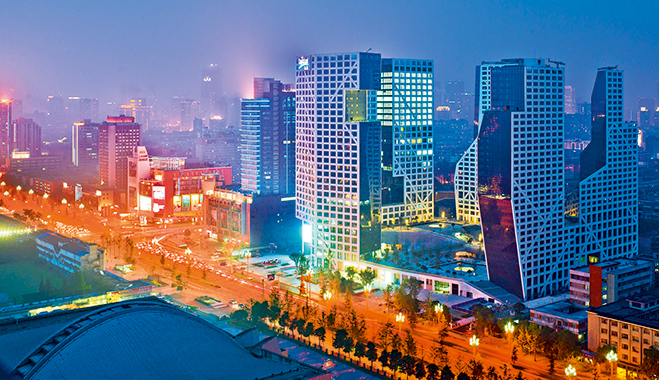 Raffles City Chengdu, in China. CapitaLand has nine Raffles City projects in total, in both Singapore and China. Their total value will exceed SGD 12bn ($9bn) upon completion&nbsp
Interview with:
Lim Ming Yan, President & Group CEO, CapitaLand
March 14, 2015
The rapidly growing ASEAN market offers infinite opportunities for real estate developers and fund managers. CapitaLand, a Singapore-based real estate firm that boasts a diversified portfolio as well as one of the largest real estate fund management businesses with assets in Asia, is one company that has made the most of this. World Finance spoke to Lim Ming Yan, President and Group CEO, about the company's focus on integrated developments, and what it has planned for the future.
What is the rationale behind CapitaLand's focus on integrated developments, and how does it intend to execute its strategy?
An emphasis on integrated developments allows us to leverage our competitive strengths in the retail, office, serviced residence, residential and fund management businesses. This, therefore, maximises economies of scale and increases our competitive edge, as well as provides stable and sustainable returns from both recurring and trading income. CapitaLand has an established track record in integrated development projects, differentiating the group from its competition.
The growing trend of decentralisation to reduce the load on transport networks will further enhance the prevalence of integrated developments
CapitaLand's nine Raffles City projects in Singapore and China are testament to our leading position in integrated developments. In fact, the Raffles City collection is our most recognisable brand in China today. The completed Raffles City Shanghai, Raffles City Beijing, Raffles City Ningbo and Raffles City Chengdu are all landmarks in their respective cities, while the remaining four Raffles City projects – Hangzhou, Shenzhen, Changning in Shanghai and Chongqing – are in various stages of development. CapitaLand's Raffles City developments will total more than three million square metres, with their total value exceeding SGD 12bn ($9bn) upon completion.
Typically, CapitaLand's integrated development ventures are well-designed, well-built and well-managed projects that sit atop easily accessible transportation hubs or in prime locations. In addition, these projects are more resilient despite the continued growth in mobile connectivity and e-commerce.
Riding on the two megatrends of urbanisation and social media, CapitaLand will build a Pan-Asian portfolio with a central focus on integrated developments. China and Singapore, where CapitaLand already has a significant presence, as well as ASEAN capital cities in Malaysia, Vietnam and Indonesia, will be the core markets. Urbanisation that drives the growth of infrastructure developments, for example, the MRT/transportation system, has the potential to change the face of cities, as well as provide endless opportunities for integrated developments within close proximity to transport hubs. Even with the proliferation of social media and e-commerce, consumers still want unique experiences, and transportation nodes continue to be the focal point.
CapitaLand intends to develop a total of 12 integrated developments, of which five would be in the city clusters of Beijing/Tianjin, Shanghai/Hangzhou/Suzhou/Ningbo, Guangzhou/Shenzhen, Chengdu/Chongqing and Wuhan in China, and another five from Singapore and ASEAN capital cities such as Kuala Lumpur, Ho Chi Minh and Jakarta over the next three years.
Alongside integrated developments, we will also continue to expand our ventures in shopping malls and the residential market, as well as double the number of serviced residence units to 80,000 by 2020. In fact, around 50 projects totalling an investment value of SGD 36bn ($27.1bn) are due to be completed over the next three years, with over half of those in China. We will also press forward with our existing business model, which involves capital recycling with our Real Estate Investment Trusts (REITs) and fund platforms, providing diversified sources of capital to grow our assets under management, which amounted to SGD 68.1bn ($51.25bn) as at September 30 2014.
Our strong balance sheet, together with diversified capital sources and capital partners, will allow us to invest in new opportunities as they arise. CapitaLand is in a strong position for its next stage of growth and to achieve its vision to be a leading global enterprise that enriches people and communities through high-quality real estate products and services.
How does CapitaLand intend to compete?
Over the next three to four years, besides residential projects, about 15 major investment projects will be completed, all of which will complement our existing portfolio well. These include an additional four Raffles City projects in China, Jewel Changi Airport, an integrated development at Cairnhill which comprises a serviced residence with a hotel licence and a residential component, and a further 10 shopping malls. Once these are completed, CapitaLand will be in possession of one of the most enviable investment portfolios in Asia.
To further strengthen our position, CapitaLand will continue to grow. In addition to our residential projects, we aim to secure another 12 new investment projects in China, Singapore and Southeast Asia over the next two to three years, some of which will involve the redevelopment of our existing projects. In Shanghai, we have obtained planning approval for a new Capital Tower Shanghai as well as a Hanzhonglu integrated development, which comprises retail, office and residential components. Aside from the redevelopment of existing projects there are endless opportunities in many of the key gateway cities that CapitaLand is operating in. That said, it's important for us to pursue projects with the right economic fundamentals.
What measures will the company take in the next 12 months to improve its competitive position?
Despite the headwinds and ever-changing operating landscape, CapitaLand is in a strong position relative to many pure residential peers. With a diversified portfolio made up of assets that generate trading and investment income, we are better able to ride property booms and busts. As at September 30 last year, CapitaLand's residential portfolio constituted 26 percent of its SGD 31.6bn ($23.8bn) total assets, with Singapore and China contributing 21 percent and 32 percent respectively. In addition, three quarters of CapitaLand's assets from integrated developments, shopping malls, offices and serviced residences generate recurring income, which will help to mitigate any slowdown in the Singapore and China residential markets.
Where will the company's investments be focused over the next year?
Trends in Asia favour integrated developments, and this sits well with CapitaLand's integrated development strategy. The growth of mega cities combined with the increasing population density in Asia leads to traffic congestion, which then causes increased demand for public transport. Given the high investment cost of transport infrastructure, the land surrounding subway stations or transport nodes will be put to best use to yield maximum value, and integrated development is the natural outcome. The growing trend of decentralisation to reduce the load on transport networks will further enhance the prevalence of integrated developments.
In China, opportunities could emerge within the next few years as the real estate market consolidates. Weaker players in the commercial space could be flushed out. Moreover, few competitors are competent in the full suite of shopping malls, offices and serviced residences, and only a few have experience in integrating various real estate products.
We will expand our footprint beyond Singapore into an ASEAN presence by adding on Malaysia, Vietnam and Indonesia. In Malaysia, Kuala Lumpur and Penang offer great opportunities for CapitaLand, while there is good long-term growth potential in Vietnam, given macroeconomic stability in the past year. CapitaLand has been in Vietnam for 20 years and is one of the leading foreign developers there, further supported by new government policies to encourage more foreign property ownership. For the Indonesian market, CapitaLand recently entered a joint venture agreement to develop an integrated development in central Jakarta. Globally, we are also actively seeking investments in gateway cities through Ascott, CapitaLand's serviced residence business.
We are well-positioned to execute our strategy. We have a robust operating portfolio, a steady pipeline of projects under development, potential projects in China and the broader region, and a strong team to make it all possible. CapitaLand's current organisational structure will allow us to do many things that we've set out to achieve. We firmly believe that we are well poised for growth; to be a leading global enterprise that enriches both people and communities through high-quality real estate products and services.
How do you think technology will have an impact on your businesses and how will CapitaLand respond to take advantage?
Technology has changed the business environment and looks set to continue to do so. This is evident by the shift to mobile internet through the use of smart phones, which will change the way we operate through e-commerce, online reviews and social media platforms. We will utilise technology to complement our real estate, so as to deliver even better customer experiences.
Therefore, to respond to this fast changing world, we will harness the talents and creativity of all our people. We will need to change to be a more inclusive and open organisation. In fact, CapitaLand has embarked on various initiatives, including the setup of an innovation hub in Singapore, as well as a lab to pilot test projects for our shopping mall business.