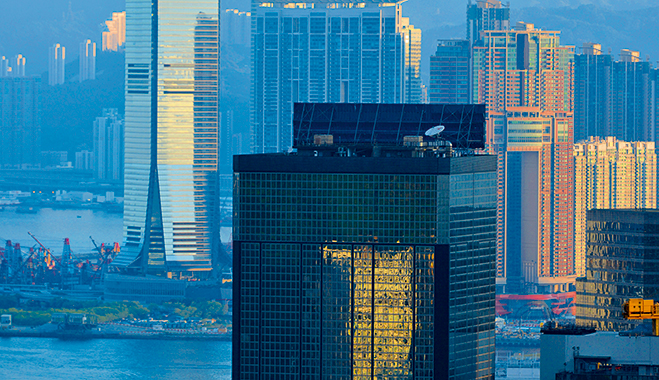 The 118-story International Commerce Centre building in Kowloon Hong Kong, China. The city has some of the priciest properties in the world&nbsp
The scramble for even the smallest piece of real estate in Hong Kong over the last few years has led to the island experiencing an ever-expanding property bubble. It has become so inflated that many people have become priced out of the market. While this has predictably caused resentment from people towards the richest in Hong Kong's society, the unfolding corruption scandal to hit the island's real estate market during the last year has merely exacerbated the rage.
Last year, Hong Kong saw a series of prolonged, initially peaceful pro-democracy protests transform into a huge wave of violence as demonstrators complained of potential changes proposed to the electoral system on the island. The news swept around the world, as China's government faced one of the largest challenges to its authority in recent years.
However, while all this was going on, another similarly damaging story was unfolding in the courtrooms of Hong Kong. Thomas Kwok, the property mogul and billionaire, was being tried in a corruption scandal that had lasted for seven months. Eventually sent to prison for five years, Kwok, 63, was convicted of bribing one of the city's most senior officials, former deputy leader Rafael Hui.
14,600
Houses to be built each year until 2020 in Hong Kong
The scandal went right to the top of Hong Kong's business and political establishments, with one of the city's most recognisable business figures and one of its leading politicians at the centre of the issue. It gave Hong Kong's already angry citizens even more reason to hate the elite, not least because it showed how developers like Kwok were getting unfavourable advantages in an already hugely competitive and astronomically expensive property market.
Family feud
The Kwok brothers have played a prominent role in Hong Kong for many years now and are responsible for a lot of the dazzling new skyline on the island. The owners of Sun Hung Kai Properties – the most valuable real estate company in Asia and second largest in the world – the Kwok brothers have accumulated personal wealth of around $10.6bn each. Their firm has a market value of $32bn, which is around 14 percent of Hong Kong's entire economy. Sun Hung Kai has become renowned for constructing some of Hong Kong's tallest and most eye-catching buildings. These include the International Commerce Centre (ICC), which was built in 2010 and is the city's tallest building. It is the world's eighth tallest, and houses a number of leading businesses. It is one of many Sun Hung Kai buildings that adorn the city's skyline, and shows how the city has become the financial capital of Asia over the last two decades since being returned to China by the British.
The Kwok family got their wealth from their mainland-China born father Kwok Tak-seng, who immigrated to Hong Kong after the Second World War. The family were in the news during the 1990s when Thomas Kwok's elder brother Walter was kidnapped, kept within a wooden crate and tortured for days as part of the gangster Cheung Tze-keung's efforts to bribe Hong Kong's richest 10 citizens. The Kwok family eventually paid the ransom of HKD 600m ($77.37m), although Cheung was eventually caught and executed in 1998.
After the incident, Walter withdrew from running the company, eventually handing over the reigns to his mother, who in turn gave control to her two younger sons. However, a family feud emerged in 2008 that saw Thomas and Raymond remove Walter from the board, and he was then removed entirely from the family trust. Some observers think that it was this snub that led to Walter approaching the police over the bribery claims, although the authorities have refused to confirm who provided the evidence.
The scandal emerged in 2012 when Kwok, his younger brother Ramond and Hui were arrested by Hong Kong's anti-corruption agency, the Independent Commission Against Corruption (ICAC). Pleading not-guilty the following year to corruption charges that involved loans and payments to Hui, the trial began in 2014.
Eventually, Raymond Kwok was cleared of all charges, but Thomas and Hui were found guilty in December. It marked the end of a turbulent year for Hong Kong's elite, who now face far greater scrutiny than they had before the protests erupted earlier in the year.
Amid the backdrop of the protests, both Kwok and Hui were convicted of serious misconduct, further damaging the reputation of the establishment in Hong Kong. Before being sentenced, Judge Andrew Macrae told Hui that his crime was particularly noteworthy at a time when the eyes of the world were on Hong Kong's political class. "To know that the former number two in government had received bribes must be a deep disappointment to many people in Hong Kong. It is vitally important in these times the Hong Kong government and business community remain and are seen to remain corruption free, particularly when the mainland is taking obvious and positive steps to eradicate the cancer of corruption in their own jurisdiction.
Progress or stagnation
While the scandal that has struck Hong Kong's most famous real estate developers has rumbled on, the market itself has continued to swell ever larger. Hong Kong's real estate industry has been in an ever-inflating bubble for a number of years now, and the city is currently the most expensive place in the world to acquire property. The scandal of the most prominent property developers in Hong Kong has only heightened the sense of feeling that something needs to be done to redress the balance in the market, so that there is more competition to build properties.
However, despite the scandal and tentative calls for reforms, some analysts believe that 2015 will see considerable gains in Hong Kong's property values. According to analysts Cushman and Wakefield (C&W), Hong Kong's property market is likely to experience even further gains during 2015.
Kent Fong, C&W's Executive Director for Investment, Hong Kong, said in a report that the residential sector in particular was likely to remain strong. "We expect the residential sector to stay buoyant in 2015, while fundamentals in most non-residential sector will remain intact, further supporting investors' confidence in the wider property market."
Another senior executive at C&W, Vincent Cheung, added: "First hand sales will further increase in 2015 as developers launch more projects and capitalise on the strong demand for smaller units and mid-priced flats. Homebuyers will continue to execute purchases in 2015 due to expectations that it will take several more years for new supply to outstrip demand and that prices will continue to rise until this situation materialises. Exceptionally strong demand for properties priced below HKD 10m ($1.2m) will support another year of healthy price growth in 2015, whereas I expect prices for these properties will increase by an additional five to 10 percent."
Hong Kong's Chief Executive Leung Chun-ying told reporters in January that the island faced a difficult period in the coming months unless measures to take the heat out of the price of houses were made. In his annual speech he said that reforms were vital to regain the trust of protestors, as well as making a fairer society. "We must make choices. We have to choose between implementing universal suffrage and a standstill; on the economy, between progress and stagnation; and on people's livelihood, between reforms and clinging to the status quo."
With regards to increasing the supply of land for housing developments, and therefore helping to bring down the price of homes, Leung revealed that there would be around 14,600 new private homes built each year until 2020, which would represent a 30 percent increase over the last five years of building. "The consultation process for land planning and development has become drawn out with increasing controversies and uncertainties. Society as a whole must make hard choices."
Last May, sensing the need to make things easier for buyers, Hong Kong's government relaxed its rules over its double stamp duty policy. Before the changes, buyers were forced to sell their homes within six months of agreeing to buy their second if they wanted to receive a stamp duty refund. The changes meant that it wasn't until the sale of the second home was secured that the six month time period began.
Cheung added that some of the reason for buyer confidence had come as a result of the changes to stamp duty rules last May. "Following the slight relaxation of double stamp duty in May, enhanced buyer sentiment lifted both first and second-hand sales in the second half of 2014 and helped push residential prices to a new record high. Strong first hand sales performance this year is credited to developers launching more projects with smaller units, which were met by ample demand among end-users and first-time buyers. They first-hand market continues to account for 25 percent of total transactions, with sales still heavily driven by developers' more aggressive pricing strategies and the narrow price gap against second-hand homes."
Too little, too late
Despite these steps towards reforming the real estate sector in Hong Kong, many observers believe that is not enough to placate the disgruntled population over high land values and a sense that those at the top have an unfair advantage within the market.
According to Hong Kong Baptist University political science professor Jean-Pierre Cabestan, Leung's reforms are not likely to bring about an end to the resentment felt by large parts of the island's population. Cabestan told Bloomberg Business in January, "Leung has decided to stick to his guns, unwavering, on the political reform. [His] proposed welfare and housing reforms may help him regain some popularity, but it will not solve the challenges that his government is facing. As a consequence, I sadly predict more trouble for the government, its relations with the community and the central government-Hong Kong society relationship."
The past year has proven particularly challenging for Hong Kong's elite. If it is to avoid the scenes of last year, the government needs to first distance itself from cosy relationships with high profile real estate developers, while at the same time making things far easier for its population to get a foothold in the city's incredibly pricey property ladder.