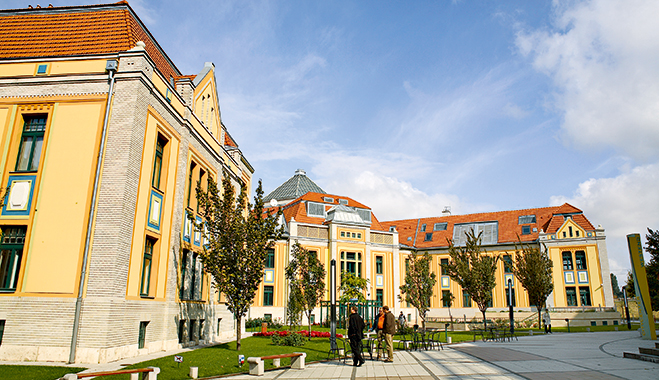 TriGranit's headquarters in Sohaz, Hungary. E-commerce has revolutionised the shopping experience, and retailers need to adapt if they are to retain their customers&nbsp
Consumers are constantly evolving, adapting to the dynamic retail market and the rapid development of new technologies. With the type of visitor and the market changing so quickly, in-depth consumer research conducted on a regular basis is essential in order to evaluate, track and benchmark key metrics such as a visitor profiles, dwelling time, conversion rates, visiting frequency, spend, satisfaction and penetration rate for retail outlets to remain competitive, successful and, most importantly, relevant.
Changing priorities
Social communication has far greater importance today than it had in the past. Global social responsibility also weighs heavily on a number of people's minds, along with the needs of family, community, society and the environment – which greatly influences purchasing decisions. Accordingly, shopping centres need to place a higher value on family, community and experiential retailing. Leisure-based centres catering for families are more likely to entice higher-spending visitors with a more directed dwelling time.
Modern consumers are quickly adapting to the digital revolution. E-commerce, combined with smartphones and tablet devices, not only offer consumers very competitive prices due to lower operational costs of electronic retail, but also provide the largest assortment and quantity of products ever available to them, just a few clicks away, accessible from anywhere. Consequently, modern consumers have become more comfortable, knowledgeable, and aware of opportunity. The shopping centre model is losing ground as the convenient shopping solution.
The shopping centre model is losing ground as the convenient shopping solution
As convenience and the internet create a breakdown in community structures, retail shops may respond by increasing their size, and become more like showrooms – providing customers with an interactive experience. Early e-commerce experiences were designed where retailers tried to replicate their retail stores online. Now cutting edge retailers are duplicating their online experience in-store.
Today, shopping centres are becoming more than just a shopping destination. Industry leaders are beginning to position their centres as a place that offers meaningful lifestyle experiences, a fun destination for all age groups and families to spend quality free time together. This is something web-based experiences cannot offer. Shopping centres therefore need to provide consumers with more non-retail experiences in order to compete with the convenience of e-retail, and to meet the increasing demand for physical leisure and entertainment.
Electronic retail is progressing, and now offers a wider range of collection and delivery options, including same-day delivery. However, the market seems to be shifting towards the click-and-collect formula. The click-and-collect model is welcomed by shopping centre managers and landlords alike, the trendsetters of which are already devising future concepts to meet these consumer demands. However, the traditional stores will still remain.
As shopping becomes more and more of a leisurely activity, and mobile technology fundamentally changes the way that consumers interact with brands – this allows consumers to shop while on the move. Shopping centres need to embrace new technology as well and incorporate synergic solutions into modernised business models.
Non-retail tenants
Services, including the post office, dry cleaners, telecommunications, fitness, medical and shoe repair are vital to accommodate the daily non-retail needs of consumers. These should be complemented by unique, specialised services that can offer a more pleasant, convenient and comfortable shopping centre experience, with concierge and VIP services, centralised home delivery, free Wi-Fi, work areas with power outlets for laptops and mobile phones, children's play areas, valet parking and car wash, expert product advice and consultancy, electric vehicle charging station, bicycle related services, and well-trained customer service staff. Moreover retail outlets should tailor to the demographic profile of the catchment area and the current market intricacies.
Leisure and entertainment are both gradually becoming an integral part of shopping centres' marketing strategies, and for now, they are still an effective means of image differentiation.
Shopping centres need to move away from costly architectural features like fountains, and include factors such as climbing walls or other high-adrenalin based activities that encourage shoppers to pause and watch. 'Edutainment' concepts can cater to both children and adults, and provide excellent synergy with brands and tenants. In the retail market of the future, these shopping centres will represent an average lifestyle. Shopping centres of the future are not likely to be termed in this way, but described more accurately as 'lifestyle' centre.
These will offer a complete real-life experience focusing on leisure activities, entertainment and edutainment, services, along with food and beverages. A typical shopping journey will likely to begin online, and in many cases, will continue inside lifestyle centres providing visitors with experiential retail. An unprecedented proportion of space will be allocated to leisure, entertainment and edutainment functions, including new and unique concepts targeting all age groups.
Multi-channel marketing
Lifestyle centres will perfectly merge the physical and online world through sophisticated multi-channel strategies, the development and gradual implementation of which can already be seen from industry leading shopping centre managers today. As one of the largest fully integrated regional real estate investment, development, and management companies in Central and Eastern Europe, TriGranit is also going to use this channel.
With operations in nine countries across central and Eastern Europe, the company has a large portfolio of completed trophy assets, and a pipeline of over €4bn of major mixed-use developments, as well as a number of public private partnership (PPP) investments, and is positioned well to participate in the expanding real estate markets.
In shopping centres, this means that not only all communication channels – touch screens, websites and mobile applications – should share the same content management system, but that offers, messages or interactions should also look and behave the same. More importantly, they should be personalised based on customers' interactions in other channels. This will create unique experiences, which will lead to increased customer engagement and loyalty, as well as an increase in conversion rates as a result of precisely targeted messages.
Lifestyle centres will facilitate social interactions and provide a full day's experience for families and groups of friends alike. At the heart of a lifestyle centre will be leisure activities. Food and beverage will not be limited to an improved food court, but will provide a wide range of options from fine and family dining to casual dining, cafes and bars that interact with the entertainment components.
Retail in lifestyle centres will comprise mainly of showrooms accompanied by click/reserve, and collect points. Many online orders will be placed for delivery, but most will be reserved or purchased online and collected at click-and-collect points located within the lifestyle centres. Showrooms will provide consumers with the opportunity to test, see and feel products including electronic equipment and devices, and to try on clothing.