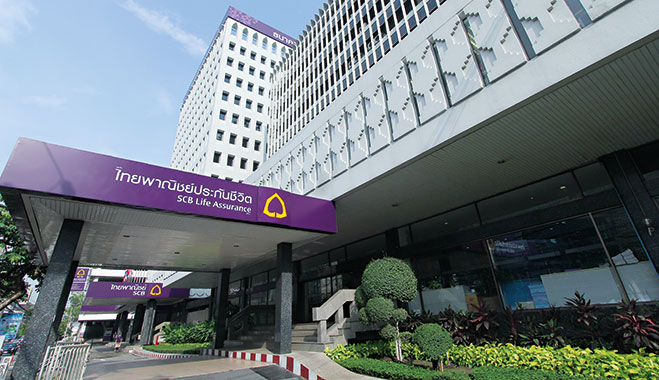 Bangkok, where SCBLIFE is based. The ageing population poses challenges to the insurance industry&nbsp
Interview with:
Stephen Appleyard, Managing Director, SCB Life Assurance
October 30, 2015
Thailand's insurance industry is undergoing an overhaul thanks to rapidly changing customer demands, as well as new trends in sales and digitisation. As a result of changing demographics in the country, the demand for life and health insurance is experiencing an upward swing, which is resulting in impressive growth revenue year-on-year. In order to meet such rising demand, insurance companies in Thailand must maintain robust internal mechanisms and processes, which includes implementing the latest mobile and internet platforms that can help ensure customer satisfaction and survival in an increasingly competitive market. Leading the industry in terms of innovative models and technological tools is SCBLIFE, a subsidiary of the Siam Commercial Bank (SCB) Group. World Finance got the chance to speak with Stephen Appleyard, Managing Director of SCBLIFE, about recent trends and what the company is doing to maintain its position as an industry leader in Thailand.
Can you tell us about the recent insurance industry trends in Thailand?
The insurance market in Thailand is rapidly evolving, both in terms of channels to market and customer needs. Historically agents distributed insurance, but over the past 10 years this has changed significantly. In 2007, bancassurance made up only 24 percent of new business, but now it equates to over 50 percent of all new sales. Although banking products tend to be simpler and more savings-orientated, we are seeing several leading banks using point-of-sales technology to provide needs-based selling tools in order to facilitate learning and increase sales.
In terms of products, we are seeing clear trends related to the macro environment. As a result of a rapidly ageing population, customers are increasingly looking for retirement solutions. We are also seeing a growth in health insurance due to medical inflation. In addition, the current low interest rate environment drives a higher demand for insurance, as returns appear more attractive relative to other low risk investment vehicles. These three factors contribute to the growth of the insurance market, which has been relatively consistent over the past 10 years, at a growth rate of 15 percent per annum. We expect these mega trends to continue supporting the growth of the insurance sector for the next 10 years at least.
Bancassurance in Thailand
24%
Of new business in 2007
50%
Of new business in 2015
What challenges still exist for the insurance industry in Thailand?
Unlike most markets in Asia, the Thai insurance market is still heavily skewed towards the sale of products with guaranteed returns, whereby the insurance company carries all the risks and associated costs. This is in stark contrast to many other markets in Asia, where customers purchase 'non-guaranteed' (participating) or investment linked products. That being said, the current low interest rate environment places increasing pressure on the balance sheets of local insurers and we believe this will drive leading players to start investing in non-guaranteed savings.
Another challenge for insurers in Thailand is to keep up with customer expectations in regards to service. The banking sector is very advanced in Thailand and as the majority of insurance products are sold through banks, there is an expectation that insurance must provide comparable levels of service. The customer experience from online non-financial retailers also continues to raise customer expectations. We are living in a digital world where everything is connected and shared rapidly; hence, it is vital that we maintain a fast pace to match our customers' needs and desires.
How has SCBLIFE responded to these trends and challenges?
One of SCBLIFE's core strategies is customer-centricity, whereby our products and services are being developed around needs-based solutions. As a result, we have developed a deep understanding of our target customers' demographics and we now have a better understanding of their insurance needs at different life stages. We strive to help our target customers fully understand insurance frameworks by elevating the buying experience through multi-distribution channels. We hope to make the decision process for our customers easier by making it more engaging and informative.
We also coach the bank's staff and our agents via development roadmaps, training, and multimedia tools that aim to maintain, refresh, as well as strengthen their product knowledge and sales ethics in order to ensure the best possible quality in terms of service and products. We believe that this is the key way to sustain SCBLIFE's strong and long-standing reputation.
In addition to customer-facing service upgrades, SCBLIFE is also investing in a new policy administration system, image and workflow, as well as a new contact centre and digital point of sales technology. This will ensure that we are able to deliver consistent customer service for the 300,000 to 400,000 new customers that we acquire each year. The new platform will also allow SCBLIFE to communicate with its customers more efficiently and effectively.
What impact does Thailand's economy have on the country's insurance industry?
Unfortunately, the Thai economy is slow at the moment; however, this lull provides an impetus for us to focus on innovation, for now and for the future. Not all companies can invest during these difficult times, but SCBLIFE needs to take this chance to keep up with changing consumer demands and stay ahead of the competition. We are determined to create insurance solutions that offer great value, while giving people throughout the country the chance to experience world-class service from our dedicated agents and
network branches.
How did SCBLIFE become the leading insurer in Thailand?
At SCBLIFE we are delighted to have been protecting the lives of Thai people for over 40 years now. As part of the larger SCB Group, SCBLIFE successfully leverages the strongest and most trusted financial brand in Thailand. With over 14 million customers in Thailand, SCB has developed a deep understanding of the local population; as a result, SCBLIFE is able to develop innovative products and services that meet our customers' ever-evolving needs.
What are SCBLIFE's biggest achievements?
Our biggest achievement is the consistent growth in the number of policy-holders we serve. This is a result of the high level of customer satisfaction that we achieve and the value of our products. We are humbled to be able to contribute to the strong economic foundation of our country and to help enable Thai people to improve their quality of life through financial stability in a sustainable way.
SCBLIFE is committed to providing needs-based insurance products, which positively contribute to local communities. We are proud to have celebrated many milestones, including the launch of our consumer education platform, digital marketing platform for My SCBLIFE, and plug and play services, which all provide us with direct channels to communicate with customers.
What differentiates you from your rivals?
We have a highly integrated strategy with SCB to develop insurance solutions and customer experiences that are complementary to the bank's other offerings. By leveraging the bank's infrastructure and reach, SCBLIFE is able to enhance the overall brand value of the SCB Group through a customer-centric approach. Another attribute that makes us stand out in the market is our innovative employees who drive our business forward in a highly competitive landscape that continues to experience rapid changes in consumer behaviour.
What does the future hold for the company?
SCBLIFE's vision for success is to keep our business true to its core values and continue honouring our commitment to offering unparalleled value and service to our customers. It is also vitally important for us to uphold a culture of passion and commitment among our employees.
We aim to become the number one life insurance company in Thailand within the next five years, which will be driven by our 'four winning' missions. The first is 'winning people'; SCBLIFE wants to be a great place to work. We believe that the future of our company lies in each employee believing in himself or herself, actively tackling challenges and pursuing their dreams. At SCBLIFE, we assist employees with career development through various training and staff engagement programmes, which empower them to develop and diversify their skill sets. Then there is 'winning customers', whereby SCBLIFE's products are developed under our 'needs-based' philosophy, which is enriched via customer feedback and research.
'Winning distribution' pertains to our distribution network, which consists of 12,000 licensed SCB Bank sellers and 4,000 SCBLIFE agents. We strive to constantly improve and upgrade the services we provide to our distribution partners so that they can offer superior customer service. Finally, we have the 'winning process and platform'; SCB LIFE sees itself as an industry leader in Thailand and constantly invests in its platforms and processes in order to meet the new demands of consumers in the digital age. Our goal is to have the most productive insurance business in Thailand and to leverage SCB's experience for our new administrative system, which will be cashless, paperless and chequeless. SCBLIFE continues to embrace the latest technology in order to improve the customer experience and our efficiency, which both translate back into higher added value for our customers.