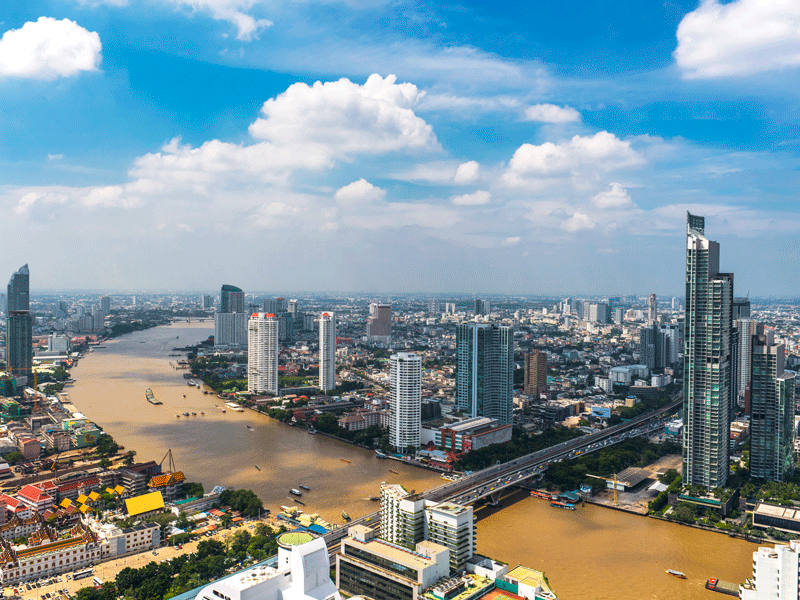 Bangkok, Thailand. UOBAM has more than 20 years experience in this space and has been able to introduce a range of funds to make the most of investment trends and opportunities&nbsp
Interview with:
Vana Bulbon, CEO, UOB Asset Management Thailand
Thailand has quickly progressed from a low-income country to an upper-income one, with citizens experiencing declining poverty, increasing levels of educational attainment and rapid economic growth over the past few decades. Tourism and manufacturing exports have played a significant role in the country's success story, but the financial sector has also proven to be important. UOB Asset Management Thailand (UOBAM Thailand) is one of the industry's leading lights.
In an effort to capture a larger online customer base through a first-mover advantage, the financial sector has begun to offer an expanded suite of digital products and services
With more than 20 years of experience, UOBAM Thailand advises its clients to carefully assess wider economic conditions before committing to an investment. It continues to seek innovative investments across different asset classes in line with its active investment strategy by exploring new fund ideas that are appropriate for different market cycles. So far, the asset management firm has established a variety of funds – including foreign investment funds – which have been launched to capitalise on income trends and investment opportunities. For example, in 2017, UOBAM Thailand also launched a United Global Income Strategic Fund for retail investors seeking a steady interest income and a diverse portfolio of fixed-income investments, including mortgage-backed securities and asset-backed securities.
Furthermore, UOBAM Thailand's United Fund-Linked Complex Return (UFLINK) enhances returns by investing in options connected to PIMCO's Global Investors Series income fund. UFLINK is the first fund in Thailand to enhance returns on fixed-income investment through a derivative instrument, and has successfully raised the fund size to $147.25m. At the end of 2017, UOBAM Thailand managed to grow its business – particularly in the areas of mutual funds, private funds and provident funds – to reach assets under management (AUM) of $8.6bn. World Finance spoke to Vana Bulbon, CEO of UOBAM Thailand, about the company's success so far and what the future holds for Thailand's financial services sector.
UOBAM Thailand has launched a number of funds recently. What new opportunities will they bring to clients?
UOBAM Thailand is always monitoring the market so we can foresee upcoming investment opportunities and identify innovative investment products for our clients. For instance, although the market has exhibited a measure of volatility this year, we have launched the United Global Equity Absolute Return Fund (UGEAR) to enable less risk-averse clients to make the most of these market conditions. UGEAR is also the first absolute return, long/short strategy mutual fund in Thailand to offer retail clients who invest over THB 1m ($30,000) life and health insurance benefits from Prudential Life Assurance (Thailand). At UOBAM Thailand, we believe there's a lot of opportunity in every market situation.
$8.6bn
UOBAM Thailand's total AUM
15,000+
Number of UOBAM Invest downloads (first six months)
How does UOBAM Thailand help to promote sustainable investing?
At UOBAM Thailand, we employ a fund management team with more than 20 years of investment experience to closely monitor market conditions and offer the right investment recommendations to our clients. We routinely encourage and recommend that our clients plan their investments for the long term. We have designed our investment strategies to ensure that our clients' portfolios are accompanied by a level of risk that they are comfortable with. We also prioritise investment schemes that will have a long-term positive impact on the environment and wider society.
How has the asset management market in Thailand changed in the years that UOBAM Thailand has been operating?
In recent years, Thailand has witnessed an increasing number of users accessing the web, primarily via their smartphones. In an effort to capture a larger online customer base through a first-mover advantage, the financial sector has recognised these developments and begun to offer an expanded suite of digital products and services. This includes the introduction of online and mobile banking platforms, which have proliferated as Thai consumers have become more familiar with the innovative trends brought about by digitalisation, such as cashless payments.
The UOBAM Invest mobile app was successfully launched in November 2017 as an online digital investment advisory service for retail investors in Thailand. The app offers an advisory function, which creates a portfolio allocation suited to a client's desired level of risk and is based on a proprietary investment tool. Clients can buy and track their investments, as well as update their personal information, 24 hours a day.
UOBAM Invest was downloaded more than 15,000 times on both iOS and Android systems during the six-month period following its launch. The application has garnered positive reviews, with transaction numbers and AUM having both grown as a result of the mobile platform. UOBAM Invest has outshone its competitors, with clients now gaining access to real-time alerts that provide updates on their funds, as well as periodic overviews of the market and fund investment strategies.
How does UOBAM Invest help Thailand's retail investors?
UOBAM Invest is the first asset management mobile application in Thailand with full functionality regarding mutual and pension funds. The interactive and user-friendly app essentially allows clients to conduct transactions more easily through multichannel payments. In addition, the foreign investment fund calendar has become a popular tool for clients wanting to follow the progress of their funds. UOBAM Invest delivers prompt and functional asset management advisory services. It is designed to serve retail clients and savvy digital investors by enhancing the clients' investment experience through mobile trading.
The app provides features that complement a digital lifestyle. This includes a portfolio recommendation tool, a profit and loss tracker, and a multi-method payment channel that includes direct debits, online payments and credit cards from six major banks in Thailand. An interactive access feature keeps clients engaged with fund information, net asset value movements and holiday notification updates associated with foreign funds.
Corporate governance and social responsibility are important values for modern businesses. In what ways does UOBAM Thailand support this?
One of the key milestones in the mutual fund business was the launch of a new fund with tax benefits – the Good Corporate Governance Long Term Equity Fund (CG-LTF). The fund mainly invests in listed companies with good corporate governance and sustainable growth potential. With profound investment management expertise, CG-LTF has recently been ranked as the best performing fund among 62 long-term equity funds for its five and 10-year track records, and was given a four-star rating by Morningstar Thailand. We also provide our Corporate Good Governance Retirement Mutual Fund for retirement planning proposes.
Moreover, we recently launched the United Thai Equity CG Fund (UTHAICG), which invests in Thai-listed companies that have been awarded a corporate governance rating of four or above by the Thai Institute of Directors and have been certified by the Private Sector Collective Action Coalition Against Corruption. The launch of UTHAICG is part of UOBAM Thailand's participation in the Association of Investment Management Companies' campaign to promote sustainable investing. The campaign also aims to encourage listed companies to improve their corporate governance and social responsibility. Therefore, UOBAM Thailand has launched the fund in order to ramp up investment in stocks that promote good corporate governance.
Regulations are forever changing in the financial sector. How does UOBAM Thailand ensure it always meets legal requirements?
At UOBAM Thailand, we place a strong emphasis on risk management and ensure that all company activities adhere to in-house regulations. The company's compliance and risk management programme covers not only the legal requirements encompassing the business, but also best practices regarding the internal development of business systems, as well as the education, training, monitoring and discipline of our employees. By meeting our reporting requirements and valuing transparency, we are helping to create a more accountable and responsible investment climate in Thailand.
How important is customer satisfaction to UOBAM Thailand? How do you ensure that the highest possible standards are maintained in this area?
We continue to place a great deal of emphasis on customer satisfaction. We are constantly exploring new product distribution channels and investment innovations to ensure that our highly professional team delivers the excellent service that our customers deserve. Our business utilises knowledge sharing and cutting-edge technology to provide better returns for our shareholders, employees and the community.
Our efforts have resulted in UOBAM Thailand receiving a number of awards over the years and being recognised as one of Asia's leading asset managers. We are uniquely positioned to provide a wide range of financial investment solutions to cover local and foreign investment. We have more than 20 years of experience investing in equities and fixed-income instruments across regional and global markets. Through our strong alliances, we offer a comprehensive suite of investment products to our clients, both individual and institutional.
What does UOBAM Thailand have in store for the future?
As market conditions are always changing, we will continue to use our in-house expertise to keep a close eye on developments and provide the best possible advice to our clients. We believe that our experience and knowledge means we can provide investment solutions to suit all market conditions. Also, UOBAM Thailand will continue on its digitalisation journey, offering customers the online and mobile solutions they need to stay informed and connected in the modern world of investing.